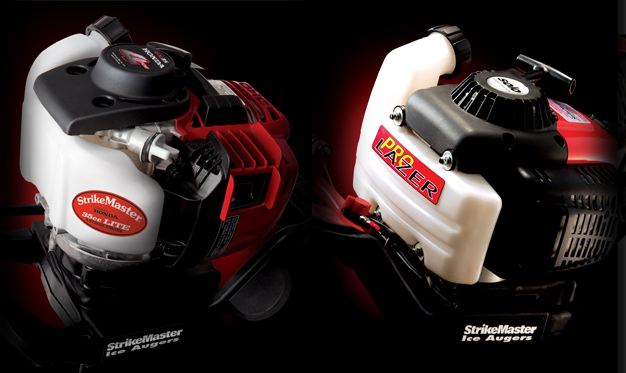 Whether you most value cutting speed, weight or clean emissions, there's a StrikeMaster power auger perfect for your ice-fishing needs.
"Every choice that you make with a StrikeMaster, you're going to very satisfied, because it's going to be the best craftsmanship you can have in your hands," says Mark Martin, an ICE FORCE Pro-Staffer, fishing guide, educator, author and decorated tournament pro. "StrikeMaster gives you a wide variety of tools to use out there on the ice." www.markmartins.net
That includes different augers suited to different ice-fishing styles.
"Nowadays, people fish very differently on ice from one person to the next," explains Joel Nelson, an ICE FORCE Pro-Staffer and TV personality on In-Depth Outdoors on Fox Sports North. "Person A might fish in a wheelhouse and never drill a hole outside the shack. Person B might roam the open ice, drilling more holes than a dentist. While Person C might do a good mix of both."
We polled fishing guides, ICE FORCE pro-staffers and recreational anglers just like you, seeking advice on the best power augers for specific ice-fishing applications. Their recommendations follow.
Honda Lite For Hard-Side Houses
Ice anglers that fish predominantly in permanent, hard-sided icehouses will love StrikeMaster's 4-stroke Honda 35cc Lite [Product 'Honda%2035cc%20Lite' not found!]. For starters, it's quiet and won't fill your shack with smoke when drill your holes.
"The Honda Lite is a great auger for inside a big ice house, because the four-stroke doesn't give off a lot of exhaust," says Martin, who has run StrikeMaster augers for more than 20 years in his Ice Fishing Vacation School in Michigan's Upper Peninsula.
Jason Revermann, a recreational angler from New Munich, Minn, recalls the first time he drilled six holes with the 4-stroke Honda 35cc Lite in a wheel house. "It burned so clean there was no odor in the house when I was done," he reports.
"I love everything I own not smelling [after drilling]," adds Jake Bohnsack, a fishing guide based in Montrose, Minn.
Another plus for wheelhouse anglers? The Honda 35 cc Lite is the only 4-stroke power auger you can run with a 10-inch drill. Not only does a 10-inch hole better accommodate lunker fish, it allows for more time fishing and less time drilling.
"Guys that fish in hard-side houses want bigger holes, so it takes longer for them to ice back up," explains ICE FORCE Pro-Staffer James Holst, host of In-Depth Outdoors TV on Fox Sports North.
'Run And Gun' With Solo Lazer Mag, Lazer Pro
For anglers that primarily run and gun, punching dozens of holes like famed "ice troller" Tony Roach, StrikeMaster's Solo-powered augers fit the bill. Both the Lazer-Mag [Product 'Lazer%20Mag' not found!] and Lazer Pro [Product 'Lazer%20Pro' not found!] feature German-engineered Solo engines.
"You'll drill more holes in less time with a StrikeMaster Solo-powered auger," Roach says. "They're the fastest, lightest, most powerful augers on the ice."
The Lazer Pro is a little faster, as it comes with a 54 cc, 3-horsepower motor. The Lazer Mag runs on a 42 cc, 2.5-hp motor.
An innovator of "ice trolling," Roach drills hundreds of holes and stays on the move, fishing multiple productive spots much in the same way he would in the open-water season. "I drill a lot of holes," he says, verging on understatement. "Sometimes as many as 500 to a thousand. I don't know anyone that drills as many holes as I do."
For an angler on the move like Roach, power and cutting speed are not the only important considerations. Weight is important too. That's why StrikeMaster augers are made lighter than their major competitors, often by a significant amount.
Fit with 8-inch drills, both the Lazer Mag and Lazer Pro weigh only 26 pounds.
"You want something light and portable? You want a StrikeMaster," Martins says. "I don't think there is anything in the StrikeMaster lineup that's heavy."
This allows anglers to punch more holes, with less effort, while searching for that next hot school.
"The fish don't lug gear when they move, so they've got a head start on us ice anglers," Roach says. "My StrikeMaster Solo Lazer helps me catch up to them quicker. If my auger was heavier and slower cutting, it would be hard to keep up with the fish and stay on a bite."
The Lazer Mag and Lazer Pro both feature
twin, stainless steel Lazer blades made by Mora ICE of Sweden.  No blades are sharper or cut as fast.
"You're going to zip right down through the ice with the Lazer blades," Martin says. "They're just fantastic."
Combo-Platter Perfection
Because he both runs and guns and fishes in a shelter, Nelson favors StrikeMaster's 4-stroke Honda 35 cc Lite.
"It's quiet and relatively low-smoke, but more importantly for my kind of fishing, its shaver blade system drills holes without costing you too much in performance," he says.
It's light too. Fit with an 8-inch drill, the Honda 35 cc Lite weighs only 23 pounds. The 10-inch version weighs 26 pounds, making it the lightest 10-inch auger in the world.
"If you drill a dozen or more holes each outing, extra pounds becomes a deterrent for drilling more holes," Nelson says. "And when the fish move and you don't move with them – because you don't feel like slogging out to drill with your heavy auger – you're off the bite, you're not catching any more fish."
Revermann also likes the Honda Lite for both fishing in a shelter and running and gunning.
"It is really light, quiet, runs very clean, and one tank drills tons of holes," he says. "It was a great tool for me to be on the move and drill a ton of holes to locate a bunch of crappies on Upper Red Lake."
Kevin Sack, a recreational angler from Fargo, N.D. has enjoyed similar experiences. In one week last January, he drilled 200-300 holes with a StrikeMaster Honda 35cc Lite in sub-zero conditions.
"And I have not one bad thing to say about it," he says. "I would recommend it to anyone."
So would Rick Vandehaar, a recreational angler from Mitchellville, Iowa. On a multiple-day fishing trip to Lake of the Woods last February, he drilled 150 to 175 holes through 30 to 36-inches of ice "and had zero issues."
Not only do StrikeMaster Honda 35cc Lite augers burn clean, they also burn less fuel.
"A lot of times, I only fill that thing up twice a year, and I'm drilling hundreds and hundreds of holes with that," Martin says. "They're misers on gas. So if people are looking for something with gas economy and quietness and power, those four-strokes are the way to go."
In one weekend last winter, Bohnsack reports, he punched 38 holes with his Honda Lite on less than a half of tank of gas. "Crazy!" he says.
Both performance and weight are concerns for ICE FORCE Pro-Staffer Dave Koonce, who drills "countless holes per outing" on his home ice on the Mississippi River backwaters near Prairie du Chien, Wis.
"The Solo is a fantastic machine, but for this old dawg, I will take the lighter 4-stroke Honda!" says Koonce. He likes that he doesn't have to sacrifice performance for weight.
Not only is StrikeMaster's Honda auger fast and light, it's reliable even in the coldest of weather. Bohnsack has run his Honda Lite with no problems in temps as low as 20 degrees below zero, he says.
Koonce sings a similar tune. "I don't have any issues with mine," he says. Not even when he ran it one weekend last winter on a day the mercury plummeted to 10 below. "Four pulls and she ran like a champ," he says.