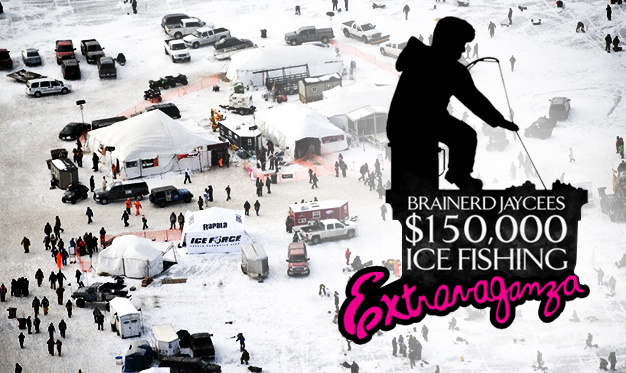 Brainerd, Minn. – ICE FORCE brands MarCum and StrikeMaster are again sponsoring the Jan. 25 Brainerd Jaycees' 24th Annual $150,000 Ice Fishing Extravaganza on Gull Lake's Hole in the Day Bay.
More than 10,000 anglers are expected to compete in the noon to 3 p.m. contest, vying for one of 150 prizes with a combined value of more than $200,000. Throughout the history of the event, contestants from as far away as India, Germany, and Hawaii have participated.
Recent cold weather has been beneficial for ice conditions on Gull Lake. As of last week, 12 to 16 inches of ice was reported throughout the contest area.
"Although it has been a cold couple of months, we are very excited that the conditions are favorable for the Extravaganza," said Matt Castle, event organizer with the Brainerd Jaycees. "Planning has been smooth and we are looking forward to another successful contest."
Completely volunteer run, The Brainerd Jaycees $150,000 Ice Fishing Extravaganza donates all proceeds to deserving entities. More than 50 organizations in the Brainerd Lakes area have received donations in the history of the event, which is likely to exceed $3 million in charitable donations this year. The primary beneficiary is Confidence Learning Center, an outdoor recreational facility and camp for individuals with developmental disabilities.
Contestants in the event will have the opportunity to win large prizes at various places on the leader board – 1st place wins a GMC or Ford pick-up truck, 100th place goes home with a hard-side fish house, and 4-wheelers are spread throughout the list.
The Big Fish Bounty is back again this year, as well. The 24th-place winner can earn $3,000 in addition to the $2,400 on the prize list if they catch the winning fish on a qualifying lure. Also returning this year after a one-year hiatus is the Catch of the Day Extravaganza Give Away. An additional contest within the Extravaganza, it gives participants the chance to win a prize package valued at $9,000 for an additional $5. Stamps for this contest can be purchased online and at Mills Fleet Farm in Baxter, Minn.
Tickets cost $45. You can buy them online, at several Brainerd-area outlets and at all 34 Mills Fleet Farm stores. For more information and official updates visit the website at icefishing.org.