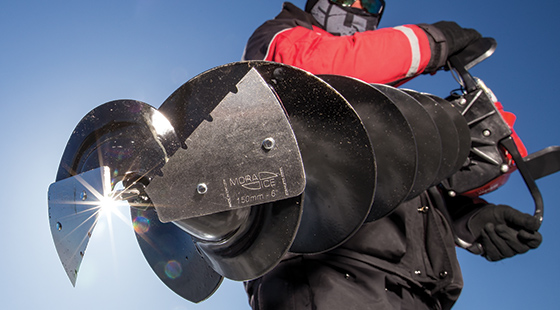 Powerful. Fast. Efficient. Reliable. Although all true, none of these do enough to describe a StrikeMaster® ice auger. After more than 60 years of offering all of the above and more, only one word fits — Legendary.
"When it comes to quality components that deliver performance and reliability, StrikeMaster doesn't cut corners," says  Tony Roach, an in-demand fishing guide and media personality who spends more than 90 days a winter on the ice.
Where other companies will use lower-quality powerheads made in China, StrikeMaster uses German-engineered Solo motors on its 2-stroke augers and Honda motors on its 4-stroke models. Only StrikeMaster augers feature heat-treated gears machined and made in the U.S. And only StrikeMaster augers come standard with Swedish-made Mora blades, the sharpest and strongest available.
"No other augers cut faster, with less effort," Roach says. "In ice fishing, you can live without a lot things – certain creature comforts. But I can't get by without a StrikeMaster."
In the decade-plus that Roach has enjoyed the legendary edge only StrikeMaster offers, the company has led the way in making augers lighter, faster and more efficient. That meets the needs of modern ice anglers who, following Roach's "ice trolling" lead, stay on the move, rather than waiting for the fish to come to them.
"I approach summer and winter fishing the same way," Roach explains. "I use my boat engine in the summer to push me along to multiple spots, and in the winter I use my StrikeMaster in the same way – it's a fast and efficient motor that allows me to cover the ice sheet and put my baits where the fish are. So without having that StrikeMaster, there's no way I could do what I do."
What Roach does is drill from 500 to 1,000 holes a day, following active, biting fish. And because the fish always have a head start on fishermen, "a lightweight, easy-starting, fast-cutting auger helps me stay on 'em," he explains. "If I was lugging around a heavy, slow-cutting auger that was temperamental in starting, I couldn't keep do that."
StrikeMaster augers are lighter than their major competitors, often by a significant amount. This allows anglers to punch more holes, with less effort, while searching for that next hot school.
"If drilling new holes feels like a dreaded chore rather than an exciting opportunity — because your auger is heavy and clunky — it's time to get a StrikeMaster," Roach says. "Because if that's your mindset, you're going to sit too long on unproductive holes and revert back to the old waiting-game style of fishing. That's just not an option for me."