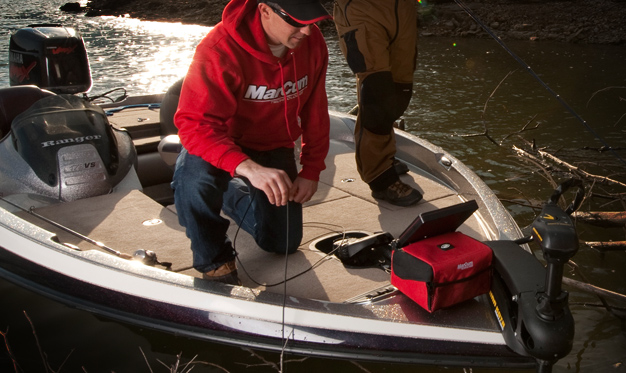 Should I stay or should I go?
How many times has that question crossed your mind when anchored on a spot that you just know should hold fish, but has for some reason not yet yielded even a nibble.
Should I stay or should I go? … If only there were some way to know! 
There is! It's a MarCum underwater camera system.
"I like to use my MarCum underwater camera to search for and find fish, much like I do for hunting season, putting out trail cameras before the deer season to know, exactly, deer movements," explains MarCum Pro-Staffer Tony Roach, a year-round fishing guide on Mille Lacs Lake. "It's no different with fishing. I want to get these underwater cameras down and find out where these fish are at."
An angler, guide and innovator on hard water, Roach is no slouch on open water. In all seasons, he uses MarCum technology to locate fish-holding structure and eliminate dead water.
"At any given time, they say, 90 percent of catchable fish are in 10 percent of the water," Roach recalls. "An underwater camera, paired with your boat's sonar unit, will tell you in no time which percent you're fishing in, and whether you should move."
When Roach scouts likely open-water hot spots with his MarCum camera, he looks for structure and breaklines, the presence of baitfish or other forage, and schools of game fish. Ice Force Pro-Staffer and In-Depth Outdoors TV Holst James Holst uses a MarCum underwater camera similarly.
"I'll drop a camera when I want to better evaluate something intriguing I'm seeing on my electronics," Holst explains. "That might be something as simple as verifying a transition in weed types, or rock size and composition."
Holst will sometimes lower a camera over a school of fish he's located on his boat's sonar unit to determine if the fish are the species he's targeting – walleyes rather than redhorse suckers, for example. The two often share similar real estate.
"I don't fish for suckers, so I've found the camera to be an invaluable tool for sorting the wheat from the chaff, so to speak," he explains.
Scouting potential ice-fishing spots
Even in the dog days of summer, ICE FORCE Pro-Staffer Will Roseberg has ice fishing on his mind. Hence the MarCum underwater camera in his boat.
"The best time of year to use your underwater camera for ice fishing is right now," he explains. "To get ready for ice fishing, head out to potential areas and use your camera to locate not only weed patches and rock piles, but to find the best types of weeds or larger boulders."
When he sees potential fish-holding cover and structure, he drops a waypoint on the handheld GPS unit he uses on the ice.
"Then I'll return to those waypoints this winter," Roseberg explains. "It's much easier to cover water and find a spot-on-the-spots now, rather than when you've got to drill holes!"