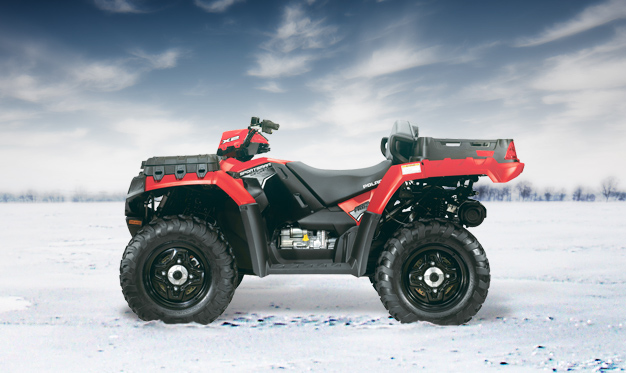 For the ice angler that works as hard as he plays, there's the Sportsman X2 550, an ATV that meets your needs whether you're punching holes or punching the clock.
With 1-up and 2-up seating versatility, the Sportsman X2 550, easily switches from work to play in seconds. That's a huge time saver for guys that have to knock out a honey-do list before they head out to their favorite fishing hole.
And of course, all Polaris ATVs are reliable for long journeys in challenging winter conditions.
"With my Polaris, I can confidently fish anywhere I want on big lakes, or I can wind my way through the woods to those secret lakes that just don't see much pressure because they can be a bit of a challenge to access," says ICE FORCE Pro-Staffer Bryan "Beef" Sathre, owner and founder of Bemidji, Minn., based Fathead Guide Service and Promotions. "It gets pretty cold up here, but my Polaris ATV has never missed a beat and lets me focus on fishing."
Featuring a 550cc engine, the Sportsman X2 550 delivers smooth, efficient power and plenty of it. You can tow up to 1,500 pounds, carry as much as 120 pounds on the front rack and 400 pounds in the rear dump box. The box converts in three easy steps from 1-up work mode to 2-up play mode in less than 10 seconds.
"With its onboard storage and towing capacity to pull fully-packed Otter sleds, the Sportsman X2 550 allows fishermen to be as well equipped and portable in the winters as they are in the summer in their boats," Beef says.
Additional features include a rolled independent rear suspension for a smoother ride, and on-demand true All-Wheel Drive (AWD). True AWD keeps you moving automatically, engaging all four wheels when you need more forward traction and reverting back to 2WD when you don't.