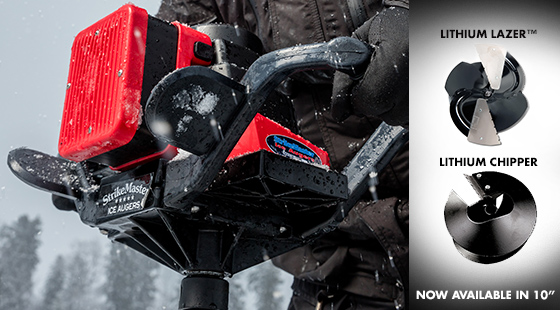 The StrikeMaster® Lithium Lazer™ auger can still cut an amazing 56 holes through two feet of ice on a single charge, but now it can cut or chip holes two inches wider.
Lithium Lazer augers are now available with 10-inch and 8-inch blades, affording anglers two additional inches of room to pull up fish from below. Both drill diameters are available with twin Swedish-made Mora stainless steel Lazer blades or a new Boron steel chipper blade option.
With a removable 50-volt lithium ion battery under the hood, the Lithium Lazer and Lithium Chipper provides consistent speed and torque from hole to hole without reduced power or slow-down from waning battery. Updated circuitry provides dependable, quiet cutting power.
"Providing clean, quick, efficient power, the Lithium Lazer is the perfect choice for permanent houses, wheeled fish houses and general use," says Tony Roach, an in-demand Minnesota guide and media personality. "You're able to quickly get through thick ice and crusty holes with zero emissions."
Built on a proven American-made 25:1 transmission with heat-treated steel gears and lightweight polymer gear casting, the Lithium Lazer and Chipper delivers maximum efficiency in a lightweight package. Fitted with 8-inch Lazer or chipper blades, it weighs in at only 24 pounds. With either style 10-inch blades, it weighs 27 pounds.
The Lithium Lazer and Chipper come with a limited three-year warranty on its motor and a limited one-year warranty on its battery.