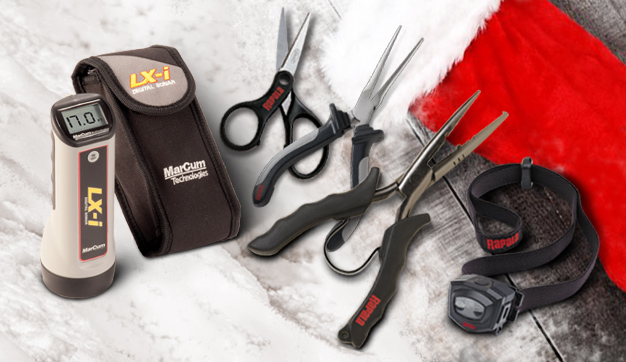 Sugar plums? Hardly! As anglers, visions of fishing gear dance in our heads the night before Christmas.

 So when you take the kids to see Santa, see if you can slip him this list of first rate stocking stuffers for you!
StrikeMaster Bait Puck [Product 'Bait%20Puck' not found!]
Insulated to maintain a perfect temperature, the StrikeMaster Bait Puck offers military-grade protection for your maggots, waxworms, mousies and other ice-fishing live baits. A quarter turn of the trademark, impact-proof lid you're your creepy crawlies are at your fingertips. Bait pucks come in five- and three-inch sizes.
LX-I Digital Handheld Sonar [Product 'LX-I' not found!]
The difference between fishing and catching is often locating the spot on the spot. MarCum's LX-I flasher brings a whole new meaning to run-and-gun fishing.
The ultimate portable sonar, the LX-I is the size of a flashlight, making for a simple and lightweight way to check depth and find fish through the ice. No cords, no external transducers, just set the LX-I on the wet ice and get a digital depth reading instantly.
No matter what kind of ice you need the depth of, the LX-I provides a quick and accurate reading every time. It comes with a 6-volt battery with up to 20 hours of battery life. Saving time and money, the LX-I is a smart choice for quick, precision depth checking.
Otter Sportman's Rod Case [Product '200065' not found!]
"I wish I had a stocking big enough for an Otter Sportsmans Rod Case!" says ICE FORCE pro Will Roseberg.
Made of the same rugged, 100-percent roto-molded polyethylene from which Otter's legendary sleds are made, the Sportsmans Rod Case is both lightweight and durable.
"The Sportsmans Rod Case is the gift that everyone needs – they just might not know it yet!" ICE FORCE Pro-Staffer Joel Nelson says. "Soft-sided cases offer little protection for long hauls across rough ice. Once you start using a Sportsmans Case, you'll wonder why you hadn't sooner."
Foam lined, the 40 x 13-inch Sportsmans Rod Case protects as many as six ice-fishing rod-and-reel combos. "How you stored your rods before closing it up is exactly how they will be when you open it up and are ready to go fishing," says full-time fishing guide and ICE FORCE pro Paul Delaney. "No more tangled rods." For added piece of mind, the case comes with a one-year warranty.
Super Line Scissors [Product 'RLS' not found!]
Designed with a sharp, serrated, stainless steel cutting edge and oversized finger and thumb holes, Rapala's Super Line Scissors grip and hold braided line for easy non-slip cutting.
"These scissors are great for trimming line, especially Sufix 832 braid and ice-fishing tip-up line, which you can't snip with your teeth as easily," Nelson says.
4-inch Panfish Pliers [Product 'RPP4' not found!]
Featuring a specially designed narrow gripping nose, Rapala's 4-inch Panfish Pliers provide excellent control and reach for work in small places – perfect for those papermouths!
Features include carbon steel construction, nickel-plated finish, double-leaf spring and co-molded grips.
Stainless Steel Fishing Forceps [Product 'Stainless%20Steel%20Fishing%20Forceps' not found!]
An indispensable tool to have at your side on the water, Rapala's Stainless Steel Fishing Forceps are excellent for removing hooks – but they do so much more! Constructed of rust-resistant stainless steel, they also include a built-in scissors for cutting line and cleaning up stray knot ends. Oversize thumb holes and soft-grip handles ensure a solid, slip-proof grip. Locking handles allow hands-free use, and an adjustable hand lanyard will keep them secure. The forceps come in 5 1/2 or 7 1/2 inches.
Stainless Steel Pliers [Product 'Stainless%20Steel%20Pliers' not found!]
More than just a pair of pliers, this tool is packed with features, including a side-cutter for cutting thin-wire leaders and hooks, a lure-tuning tool and a split-shot crimper. Additionally, the nose features a split-ring tool for making fast work of changing out hooks in the field. 
Soft grip handles add comfort and a slip-proof grip. Leaf-spring engineering allows one-handed operation. An adjustable hand lanyard will keep them secure. They are available in 6 ½ and 8 ½ inches.
Pedestal Nylon Tool Holder [Product 'PTH' not found!]
Rapala's New Pedestal Nylon Tool Holder borrows a trick from the professional bass circuit, where every wasted moment can cost you money. Simply mount this convenient holder to any seat post and get instant access to the tools of your choice. A hook and loop strap secures tools in place while running from spot to spot.
Magnetic Tool Holder [Product 'Magnetic%20Tool%20Holder' not found!]
Rapala's Magnetic Tool Holders securely hold your tools. Mount one in your boat and you'll never be tripping over or searching for your tools again. One, two and three-tool holders are available, allowing you to customize your tool configuration. Mount a single on your console for pliers and a triple near the back seat, where serious work needs to be done.
Features include a durable collar and magnetic backer and screws or high-strength bonding tape for easy installation. Tools are not included.
Fisherman's Cap Light [Product 'FCL' not found!]
Designed specifically for anglers, the wide-vision LEDs on Rapala's Fisherman's Cap Light concentrate light where an angler needs it most – in and around the boat. The dual-mode light also includes a long-range spot focus for navigating.
Water-resistant, the light pivots up and down, features 15 lumens of light with up to 30 hours of run time. It operates on two lithium coin batteries, which are included.
Fisherman's Mini Headlamp [Product 'FMNHL' not found!]
Interchangeable between a head-strap and ball-cap mount, Rapala's versatile Fisherman's Mini Headlamp features both wide-vision and spot-focus settings. The former illuminates the area in and around your boat; the latter directs a focused beam to guide your way.
Water-resistant, the cap's built-in light pivots up and down, features 10 lumens of light with up to 30 hours of run time. It operates on two lithium coin batteries, which are included.