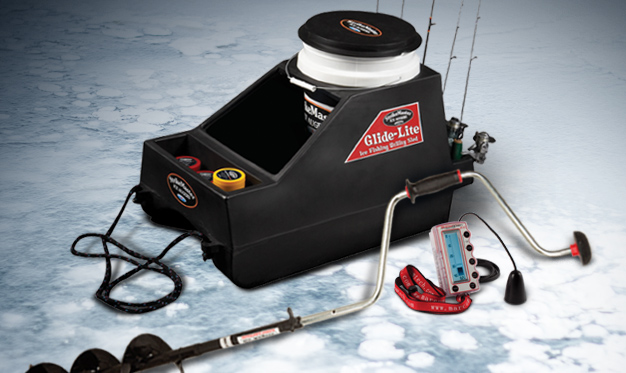 Traveling light at first-ice doesn't mean hitting the hardwater without the best tools for the job. From augers, to sleds, to sonar units, ICE FORCE has all you need to hole hop safely and successfully on early ice.
"When I'm venturing out on three to four inches of ice in the early season, I take precautions to both keep safe and keep from spooking the fish," says ICE FORCE Pro Dave Koonce. "For me, that means heading out on foot with spud bar, ice picks a hand auger and a smaller sled."
For years, Koonce has carried a StrikeMaster Lazer hand auger [Product 'Lazer' not found!] with a six-inch bit when he searches for early-ice panfish on Mississippi River backwaters near his home in Prarie du Chien, Wis.
"It's sturdy but light, really easy to carry and it buzzes through thin ice," Koonce says. "That's great when I pop a dozen holes in a spot. I'm 52 years old and I don't get too tuckered out."
When the ice is four to five inches thick, Koonce uses elbow grease alone to power his Lazer hand auger's chrome-alloy stainless steel Lazer blades. When the ice thickens to six to 10 inches, however, Koonce runs his Lazer's drill with an 18-volt cordless drill via an after-market conversion kit.
"I can buzz probably 20 holes on one battery," he says. "Once we get to 10 inches of ice, that's when I'll pull out my StrikeMaster Honda 35cc Lite." Later, towards the end of the season when ice thins, "I'll pull the Lazer back out."
Featuring cushioned, ergonomically designed handles, the Lazer hand auger adjusts from 48 to 57 inches and breaks down into two pieces for transport and storage. Powder-coated paint reduces ice build-up.
An ever lighter hand-auger option is StrikeMaster's Lazer Synthetic Ultra-Lite [Product 'Lazer%20Synthetic%20Ultra-Lite' not found!].
Also featuring cushioned, ergonomically designed handles, the Lazer Synthetic Ultra-Lite boasts an ultra-light, rugged, synthetic auger flight and blade carriage with Mora Ice chrome-alloy stainless steel Lazer blades. It too adjusts from 48 to 57 inches and breaks down into two pieces for transport and storage.
First-Ice Sleds
Although it's natural to be excited in the early season, resist the urge to pull your full portable shelter and sled behind you on your first few outings. Instead, consider a smaller, lighter option and carry less and lighter gear.
Traveling light on first ice cuts down on weight and allows you move quietly. Pulling a full-size, fully loaded sled could create noise that might prevent you from hearing warning signs.
"Early ice, you need to hold back a little bit," says ICE FORCE Pro James Holst, who, as host of In-Depth Outdoors TV, has filmed several shows in which he demonstrates safe tactics for fishing early ice. "If I need to retreat, I want to be able to beat feet and reverse very quickly."
That's easier to do when you're pulling a StrikeMaster Glide-Lite utility sled [Product 'GL-1' not found!]. "It's a nice, portable, easy-to-use, handy option to load up your MarCum flasher, some ice rods, your jig box and a minnow bucket," Koonce says.
Featuring skis made to withstand sub-zero temperatures, the durable but lightweight, Glide-Lite features five vertical rod holders molded into the base. Its removable seat cover will fit a standard five- or six-gallon bucket, which fits perfectly into a specially designed compartment. The main compartment is perfectly designed to hold your flasher, underwater camera and other gear
Another option is Otter Outdoors' Sport Sled. Available in three sizes, Sport Sleds are the lightest sleds in Otter's line-up. A Sport Sled is a great tool for both early ice and light duty around the home, such as landscape and garden projects.
"The Sport Sled is lighter than most other sleds, making it the perfect tool for early-season ice," Koonce says. Made from a proprietary blend of super-strong roto-molded polyethylene, "it can take anything you can dish out and maintain its flexibility," he adds. "That means no cracks, even when its bitterly cold."
The Sport Sled's front-end attack angle is engineered to allow easily travel over deep snow and slush. Wide tracks ensure exceptional stability and tracking. It comes with a tow rope.
First-Ice Sonar
Getting on first ice safely is only half the challenge. Once you're on the ice, you've got to get on a bite. MarCum's Troller 2.0 [Product 'SHWDT-2.0' not found!] is the perfect tool to do so.
A smart-phone-sized device with big fish-finding power, the ShowDown Troller 2.0 is small enough to fit in a parka pocket – an asset for the early-ice angler on the move and traveling light.
"I like the flexibility of having it in my pocket," says ICE FORCE Pro Tony Boshold.
But don't let the Showdown Troller 2.0's size fool you – it packs a punch with two-inch target separation, 10-level Interference Rejection system and Auto Bottom Lock Zoom, which tracks and magnifies structure so you never miss a bottom-hugging fish again.
"With Auto Bottom Lock Zoom, you can skip from hole to hole, shallow to deep, and always stay zeroed in on that critical area near bottom swarming with gills and fins – from walleyes and perch to sunfish and pike," Boshold explains.
On the Troller 2.0's unique, vertical display, the top is the top and the bottom the bottom – just like the water column. And any signal in between is either your lure or a fish about to bite it.
It also features an internal heater that keeps you finding fish on even the coldest days on the ice. When used with an optional ShowDown Performance Pack, the Troller 2.0 can run on a 12-volt rechargeable battery for days on end.
Safety Precautions
While the early-ice season is many anglers' favorite time of year, as it often offers some of the best fishing, the lure of beating the crowds to a favorite spot should never get in the way of putting safety first. Follow these precautions:
• Buddy System – Travel with a friend, who can watch from shore with a 100-foot rope in case you break through he ice.
Carrying throwable flotation devices is not sufficient.
• Ice Picks – Always carry ice picks. Wear them around your neck to ensure they're easily accessible.
• Ice Chisel/Spud Bar – Thrust a spud bar into the ice ahead of you with every step, to check for thickness. If the ice cracks, or the bar breaks through, turn back, you are not in a safe spot.
• Gear on Shore – Travel light and leave most of your gear on shore when you first walk onto the ice. This cuts down on weight and allows you move quietly. Pulling your sled could create noise that might prevent you from hearing warning signs.
• Distribute Your Weight – If the ice does begin to crack, quickly get down on your hands and knees – or even lay down on the ice – to distribute your weight. Then slowly crawl back in the direction you've just come.
• Rope – Have your buddy carry a 100-foot rope, just in case the preceding precautions fail and you break through.
About Dave Koonce
Koonce has been fishing the Mississippi River backwaters since the 1960s, when jiggle-sticks and cup-augers were the tools ice anglers wielded. As his fishing evolved, so too did his technology, with Dave getting the very most from the highly matched components that make up his backwaters system. With nearly five decades of river-system fishing in his blood, Dave is a mastermind of the patterns and techniques used to catch current- and flow-oriented river species.