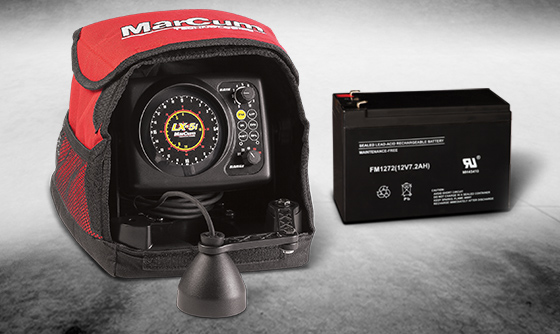 MarCum® flashers are as durable as they are dependable, enabling ice anglers to find and catch more and bigger fish season after season. Still, the physical rigors of ice fishing can cause wear and tear, and tune-ups are needed from time to time. And whether your flasher remains under warrantee or not, MarCum will get it back on the ice as good as new.
"Whatever is wrong with your flasher, when we're finished tuning it up, it will be as good as the day you bought it," says MarCum Technical Support Jeremiah Cich.
In the unlikely event you've had a problem within MarCum's two-year warranty period, your tune-up/repair will be free. Start the process by completing and submitting to customer service the Warranty Return Authorization form located on MarCum's website here. If you've had your flasher more than two years, MarCum will tune-up/repair it for a flat rate. Contact MarCum's customer service department for more info, or order a tune-up/repair on MarCum's website here  Turnaround time for flasher tune-up/repair is 3 to 5 days.
Symptoms of internal issues requiring a tune-up/repair include:
• Unit turns on, but makes steady loud beeping sound
• Bottom signal shifts or bounces
• Unit will not mark bottom or fish, transducer not clicking
• One or more colors missing from display
• Have to turn gain very high to mark lure or fish
"If your flasher is exhibiting any of these symptoms, we recommended that you send it back to us right away," Cich says.
Send in both the transducer and the flasher — but not the shuttle, soft case, or battery –packed securely with bubble wrap in a box. Write your order number on the outside of the box, and ship it to MarCum's Minneapolis address:
MarCum Technologies, Attention – Service Dept., 3943 Quebec Ave North, Minneapolis MN 55427
Be sure to include a copy of your order and a brief letter that with your contact info and description of the problems you have experienced. MarCum is not responsible for items damaged in shipment to its facility.
Check Your Battery First
Before you send in your MarCum, however, make sure your problem is not as simple as a weak battery.
"The normal lifespan of a battery is 3 to 4 years, but for a variety of reasons they can last much longer, or fail much sooner," Cich says. "During the winter, hardly a day goes by without a unit coming in here for service that works perfectly – the only thing wrong with it was a weak or dead battery."
If your flasher is exhibiting any of the following symptoms, there's a good chance a weak battery is to blame.
• Unit will not turn on
• Unit turns on, motor spins, but there are no lights
• Unit turns on, but only works for a short time
• Unit will not mark bottom or fish, with transducer clicking
To check, you can power a MarCum flasher with any 12 volt battery, including one from your boat or truck.
Off-Season Battery-Care Tips
To avoid damage to your flasher battery during off-season storage, charge it every 30 to 60 days. That will ensure reliable sonar next winter and for years to come.
"If you've ever had trouble with your sonar unit, the culprit was most likely an improperly charged or stored battery," Cich says. "So take time in the offseason to take care of the battery that runs your flasher."
Over time, all lead-acid batteries will lose their charge. Without regular re-charging, even the highest quality battery can become so damaged it will refuse to take a charge. Worse yet, it could appear to take a charge, only to fail on the ice, rendering your sonar unit unusable.
After charging your battery every 30 to 60 days during the off-season, leave it disconnected from your sonar unit. Doing so ensures that a stray current draw won't slowly drain its charge over time.