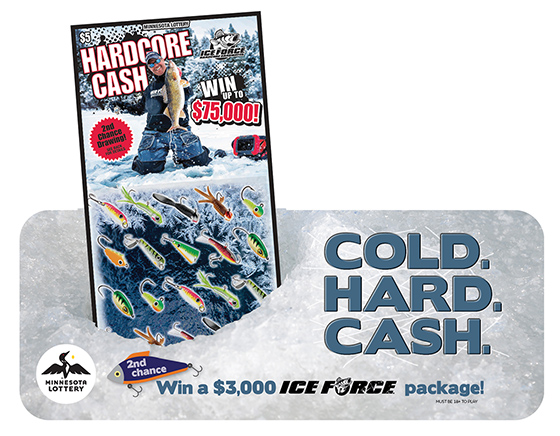 Anglers know better than anyone that small offerings can bring big rewards. And just as a 1/8th oz. lure can yield an 8-pound walleye, $5 can ice up to $75,000. Drop a jig down an ice hole for the fish, but buy a Hardcore Cash scratch game for a chance at the thousands.
"If you can't wait for your favorite lake to freeze over so you can get out and 'drop a line,' then we've got just the ticket for you," says the Minnesota Lottery, which partnered on the Hardcore Cash Scratch Game with ICE FORCE, the leader in ice-fishing tools, tackle and accessories. The scratch-off ticket features a photo of ICE FORCE Pro-Staffer James Holst and images of a host of VMC and Rapala ice-fishing lures, including Jigging Raps, Tingler Spoons and Tungsten Jigs.
"I consider it a fantastic honor and now I know what everybody in my family is getting for Christmas!" Holst said in Minnesota Lottery blog article. "I think I'll give them lottery tickets and they can hopefully channel some of the luck that I find out there on the ice and hopefully win something."
Here's how to play the Hardcore Cash Scratch Game: After purchasing a card*, scratch off all 20 ICE FORCE fishing-lure symbols on it. If you reveal a stack-of-cash symbol, you will win the amount of cash shown under the symbol. If you uncover a fishing rod symbol, you win double the cash amount shown. Reveal a fish symbol and you'll win 5 times the amount shown!
ICE FORCE provides anglers and tackle dealers with a complete line of ice-fishing products, including augers, electronics, lures, line, accessories, snowmobiles and off-road vehicles. It comprises the ice-fishing industry's premium brands, including VMC, Sufix, and Minnesota-based Rapala USA, StrikeMaster, MarCum Technologies and Polaris.
Like a fish that comes back for a second bite, the Hardcore Cash game offers a second chance for success. You can enter non-winning tickets in a drawing to win a combined prize of $1,500 in cash and a $1,500 ICE FORCE gift card to be used toward a StrikeMaster auger, Rapala and VMC lures, and a MarCum sonar unit or underwater camera.
Additionally, 15 Second Chance winners will win a $50 ICE FORCE gift card and a $100 Visa gift card. A list of all winners will be posted on the "Contest Winners" page at mnlottery.com following the drawing and after winners have been verified.
* You must be 18 years of age or older to play all Minnesota Lottery games.
Entry in the Second Chance promotion requires becoming a member of the Minnesota Lottery's Players Club via mnlottery.com, supplying all required registration information, and entering the 10-digit validation number that appears under the latex of a non-winning Hardcore Cash Scratch Game Ticket.