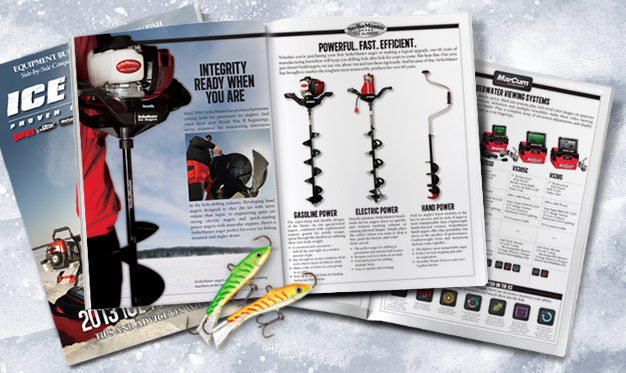 ICE FORCE 'Ice Guide' takes the lead in angler education
Guides lead – line guides, from reel to rod tip; fishing guides, from dock to hot spot; the ICE FORCE "Ice Guide," from dream to decision, from passion to purchase.
A full-color, 23-page publication packed with side-by-side product comparisons, detailed feature descriptions, ICE FORCE's 2013 Ice Fishing Guide is available at fishing retailers throughout the Ice Belt and available as a downloadable PDF file.
"When anglers buy big-ticket, premium-quality items, they understandably do a lot of research, consult people they trust, and compare and contrast, before making a final decision and feeling good about their decision," says ICE FORCE Project Manager Lucas Farm. "The Ice Guide brings together in one place the information people are looking for, as well as insight from top anglers who know the products better than anyone on ice."
ICE FORCE pro-staffers enjoy among the best reputations in the fishing industry. Top names include Tony Roach, Tom Neustrom, Chip Leer, James Holst, Bryan "Beef" Sathre and Brad Hawthorne. ICE FORCE comprises the ice-fishing industry's premium brands ­–Rapala, StrikeMaster, MarCum Technologies, Otter Outdoors, Sufix and Polaris – providing a complete line of ice-fishing augers, shelters, sleds, electronics, lures, line, accessories, snowmobiles and off-road vehicles.
"So many of your serious ice anglers won't buy anything but the best – a MarCum, an Otter, a StrikeMaster, a Polaris – but deciding which model best suits their specific needs often takes a little more legwork," says Roach, ice-fishing's most famous "ice troller," and no stranger to legwork. "The Ice Guide is a great take-home piece for helping anglers drill down on the details that matter most to them."
Taking a list, checking it twice …
Ice anglers will also find useful the Ice Guide's "Ice Equipment Checklist," a full-page list of all of the equipment you'll need to make any ice fishing trip a great one.
"We get so excited to get out fishing, especially this time of year at first ice, that's it's easy to overlook something when you're getting your gear ready," says ICE FORCE Pro Mark Martin. "It's nice to have a visual reminder like this checklist that you can look over as you pack your truck, and make sure you're good to go."
Talk the talk …
Newly bitten by the ice-fishing bug and still learning the lingo? You'll love the Ice Guide's Glossary of Terms. Learn the difference between "target separation" and "interference rejection," and why those features make MarCum sonar units your best bet for under-the-ice eyes.
"More and more avid fisherman have stopped putting their passion into hibernation over winter and are getting out on the ice, as advanced electronics and quicker, cleaner-drilling augers allow them to better find, follow and filet bigger fish,"
"But between having those tools at your disposal and knowing which tools best fit the way you want to fish, there can be a learning curve, especially for anglers first transitioning from open water to hard water," says ICE FORCE Pro Tom Neustrom. "Knowing the terminology will help you make a purchase that will best meet your needs."