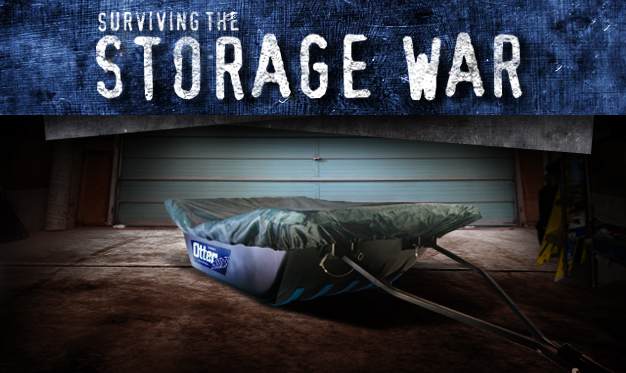 Winter's gauntlet poses less threat to your Otter ice house than a summer in your garage. So no matter what your Otter survived last winter – gale-force winds, rocky portage trails, 30-mile tows – how and where you stored it after ice-out will determine how much maintenance it requires before this season's ice-up.
"Mice and mold should worry you more than what Mother Nature throws at you in winter," says Ice Force Pro-Staffer Chris Granrud. "My fool-proof method for storing an Otter over the summer starts with completely drying the outer shell, removing it from the frame and storing it over the off-season in a plastic tub."
And if your storage method is a touch less proactive?
"Now is the time to inspect your shell for mold and mouse damage – holes or tears," Granrud says. "Trust me, you want to make repairs now, versus waiting until the night before your first big ice-fishing trip."
If you do discover damage to your Otter's shell, you can get yourself an Otter patch kit.
Otter's patch material will work on any Otter Pro, Otter Wild or older Otter models, as well as on other fish houses. Available in black, purple, blue camo and gray camo canvas swatches, as well a clear plastic, the patches don't require sewing. Rather, they come with easy-to-use adhesive backing.
Frame care
Constructed from aircraft-grade aluminum square tubing anodized to ensure smooth operation, your Otter's frame is designed to survive both use and storage without incident.
"That said, it's never a bad idea before ice-up to wipe down the tubing with a rag sprayed with WD40," says longtime Otter Pro-Staffer Chip Leer. "This serves three purposes – to lubricate; to remove any grime or debris that might have accumulated; and to create a barrier that will prevent water from freezing on the poles. This will ensure that your tubing slides effortlessly all winter long."
Screw loose …
The next step in your pre-season prep should be to check for loose fasteners, Leer says.
"Although Otter Ice houses can withstand some major abuse, long, bumpy runs across frozen lakes can loosen nuts and screws," he says.
Seat-base bolts and frame-pole screws often can use a turn a two at the onset of a new season.
Hitch in your giddyap …
Don't forget to check your hitch, Granrud says.
"This is a critical connection to your ATV or snowmobile, and a failure caused by a loose bolt could be disastrous," he cautions. "Especially considering it could occur while driving at highway speed."
Fax it …
To extend your sled's service, consider installing Hyfax runners. At 5/8ths-inch-thick, the high-density plastic runners bolt into the molded-in pockets on the bottom of your Otter Sled.
"These are perfect for the high miler who needs extreme durability," Ice Force Pro-Staffer James Holst says.
Once installed, your Hyfax will extend the life of your Otter considerably and will actually improve the towing characteristics at speed behind your ATV or snowmobile.
"The Hyfax runners act a bit like mini-keels that keep your Otter tracking straight and true in the snow behind your tow vehicle," Holst says.