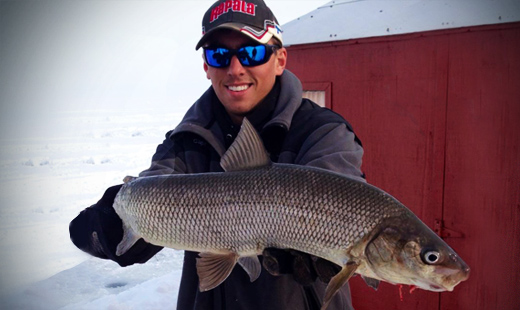 Heading out on Green Bay soon? Anchor a Slider Rig with a No. 3 Jigging Rap, dress your "cheater hook" with half a Mustache Worm and hang on, says in-demand Door County guide and ICE FORCE Pro JJ Malvitz.
"The whitefish bite has been amazing," he says. "And the cool thing about whitefish is that they're really easy to catch and you can catch a lot of them."
There's more to whitefish angling than just quantity though, Malvitz notes – the fish provide a quality fight as well, especially in the deep water in which they're often found in Green Bay this time of year.
"You're catching them in super-deep water – 50 to 100 feet – so you get a lot of time on the rod to really play them out," Malvitz says. "Any time you can prolong a fish on the end of your line, it maximizes the fun factor. It provides a lot of action, so it's really good for kids and people who have not ice-fished much before."
Also, whitefish are delicious.
"They are great table fare," Malvitz says. He likes them deep-fried, pan-fried and says "you can't beat smoked whitefish."
A good keeper whitefish is anything 16 inches long or better, Malvitz says – "you can really get a really good filet off of them." A whitefish big enough to brag about a bit will be 21-plus inches, about 4 to 5 pounds. "That's a really good one," he says. Most you'll catch on Green Bay will weigh around 1 ½ to 2 pounds. The bigger ones taste better smoked, he says. Wisconsin's daily limit is 10 whitefish.
"We just started in the first weekend in January to be able to get on this bite safely – to get to that offshore structure where we catch whitefish," Malvitz says. "We've been catching limits from the get-go."
Slider Rig
Finding whitefish can often be the hardest part of catching them. Once you find a group of fish, though, getting them to bite a Slider Rig is usually pretty easy.
"It's really kind of a neat little rig," Malvitz says. "It's a lot of fun."
Malvitz' Slider Rigs comprise a main line of 6-pound-test Sufix 832 Advanced Superline, a six-foot tip line of  6-pound-test Sufix Invisiline 100% Fluorocarbon, a 12- to 16-inch leader of the same Sufix fluoro and four pieces of tackle:
•  A heavy, bottom-pounding anchor bait like a No. 3 Jigging Rap or 1/8th oz. VMC Rattle Spoon. Black-gold, silver-black and Firetiger color patterns have all been "producing pretty good," Malvitz says.
•  A small VMC swivel
•  A No. 6 VMC Octopus hook
•  A brown Trigger X Mustache Worm with one of the arms pulled off. (The brown color is named "Natural"
Here's how the rig all comes together:
•  Use a double-uni knot to connect the main line and the six-foot section of fluoro
•  Thread the Octopus hook onto the fluoro, point up, then tie the swivel to the end of the fluoro. Some people call this section of the rig the "cheater hook or slider hook" Malvitz says. (Note: Don't tie on the hook – after threading it on the line, just let it slide around, free)
•  To the other end of the swivel, tie the leader.
•  Tie the Jigging Rap or Rattle Spoon at the end of the leader
•  Nose-hook the center bulb of the half Mustache Worm on the cheater hook
Fish the rig by dropping it to the bottom, banging the anchor bait around a bit and then lifting it all up. Repeat until you get bit. "Sometimes they'll pin the Jigging Rap on the bottom and we'll catch 'em on that, but 75 to 90 percent of our fish come on that top, slider hook," Malvitz says.
More times than not, you won't feel your bites. "It's not a detection bite like when you're walleye or bluegill fishing, where you'll feel the fish smoke your lure," Malvitz explains. "You'll be lifting upward and all of a sudden, the weight of the fish is just there."
Steep and Deep
As safe ice allows, Malvitz targets steep drops from 15 to 25 feet of water to 40 to 90 feet. "You want steep breaks with an edge that has some structure. The fish will hold on those breaks. They'll be running all over those edges."
Because whitefish are in the salmon and trout family, productive areas will have current as well. "They really relate to current," Malvitz says. You'll know you found adequate current when your line very obviously drifts to the edge of your hole.
Unlike some other freshwater fish, whitefish can survive trips to the surface from very deep water, Malvitz says. "They have the ability to 'burp' themselves," he explains. "Sometimes, when you're reeling up, you'll have this surge of bubbles come up through your hole. That's the fish purging its air bladder. They don't puke up their air bladder like perch out of deep water."