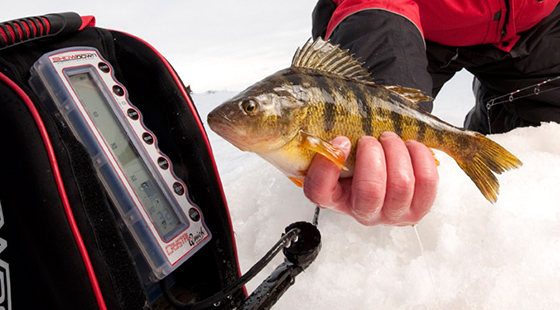 For ice-fishing newcomers, success doesn't come much easier than with a MarCum ShowDown sonar system. On a ShowDown's unique, vertical display, the top is the top and the bottom the bottom – just like the water column. And any signal in between is either your lure or a fish about to bite it.
"If you're just starting to expand from open water to ice fishing but are so used to your boat's sonar graph that you'd rather not have to learn to interpret the circular display of a flasher, consider a ShowDown," says in-demand Minnesota fishing guide Tony Roach, an ICE FORCE pro. "For someone that's just getting into ice fishing, by far, a Showdown unit makes the most sense."
It doesn't take a pro like Roach to find and catch fish with a Troller. A numeral indicates water depth. A thick black bar marks the bottom. Each crisp, quivering blip on the vertical LCD screen above that bar is a fish.
Offering an amazing arsenal of powerful features packaged into small, user-friendly packages, both the ShowDown Troller 2.0 and the ShowDown 5.6 display the water column so obviously that even beginners recognize what they're seeing.
"It's really easy to pick up," Roach says. "There's my jig coming down. There's the bottom. There's the fish.' That's why ShowDowns are so popular."
Plan on fishing with friends? Hit the ice with a ShowDown unit and no nearby buddies' sub-par units will jam your signal. That's thanks to a proven, patented and impenetrable interference rejection system, which features 10 levels of adjustability.
Both the ShowDown Troller and ShowDown 5.6 feature Auto Bottom Lock Zoom, which tracks and magnifies structure so you never miss a bottom-hugging fish again. "With Auto Bottom Lock Zoom, you can skip from hole to hole, shallow to deep, and always stay zeroed in on the money zone — that critical area near bottom swarming with gills and fins – from walleyes and perch to sunfish and pike," Roach says. "And it's easy to use – just drop your transducer into the water and start fishing."
Being digital, ShowDown units operate without any moving parts. No moving parts mean a long battery life and improved durability in extreme cold conditions. An Ice-Mode activated internal heater aids ShowDown LCD screens in extreme conditions. "Cold weather might cause your fingers to fail, but it will have little ill effect on the screen," Roach says.
Troller 2.0
Driven by an intuitive, push-bottom operating system, the ultra-portable Showdown Troller 2.0 is a major concept in a micro package – a smart-phone-sized device with big fish-finding power, small enough to fit in a parka pocket.
"It's a great introductory unit for someone that's just getting into ice fishing," Roach says. "It's also a great complementary unit for anglers that want to get out and hole hop, ice troll."
But don't let the Troller's size fool you – it packs a punch with a 120-foot range with 25 sensitivity settings and two-inch target separation. Its 5-inch LCD screen shows depth, fish, lures and structure in staggeringly sharp resolution.
Exceeding MarCum's own benchmarks in sonar design and performance, the Troller generates a snappy 4,000 watts of power, and functions continuously for 20 hours on just six double-A batteries. When used with an optional ShowDown Performance Pack, the Troller 2.0 can run on a 12-volt rechargeable battery for days on end.
So it's a great tool too for experienced anglers who simply want to travel light, like on first-ice, on secluded walk-in Boundary Waters lakes, or in regions where thinner ice prevents vehicle travel to and from your honey hole.
"It's perfect when you have to bring as little gear as possible," Roach says. "Hang it around your neck with the lanyard and you can check for depth and fish with one hand and jig with the other hand. No lugging all sorts of stuff around."
Showdown 5.6 Sonar System
ShowDown 5.6 Sonar Systems are great for both newcomers to ice fishing and experienced anglers alike.
"A mechanical flasher can only write so small, because of the bulbs in them," Roach explains. "A ShowDown's LCD screen can write much, much smaller – it paints a better picture of what's going on down there."
With 8,000 watts of power, the ShowDown 5.6 provides an incredibly discerning half-inch target separation.
"That's really powerful," Roach says. "I can tell if a fish is within a half-inch of the bottom, if it's within a half-inch of my bait, or anywhere in between."
That's really important when fish are belly to the bottom. "I can tell a fish from a change in bottom depth," Roach explains. "And that's really, really important when you're on the move and you're looking for fish fast."
Another great feature is an infinitely adjustable Zoom. "You can zoom in anywhere in the water column and really get dialed into a particular bite and how a fish reacts to your presentation," Roach explains. You'll be able to determine the mood of a crappie, bluegill, perch or walleye and match your jigging stroke accordingly, triggering a bite.
The Showdown 5.6's transducer provides a 20-degree coverage cone. "That cone gives you a wide look below your honey hole," Roach explains.