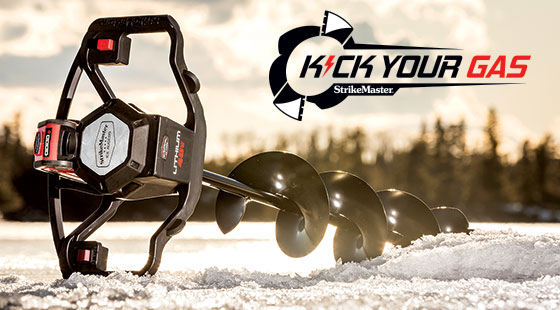 Ice anglers can share their excitement – and photos of their StrikeMaster augers and big fish they catch – on social media with the hashtag #KickYourGas. Each week for the next two months, the StrikeMaster team will review all posts including the hashtag and award one lucky winner with a StrikeMaster sweatshirt and beanie. Be sure to like/follow StrikeMaster's social media platforms to learn about additional giveways and deals.
Travel faster and lighter on the ice and catch more and bigger fish by drilling your holes with a battery-powered StrikeMaster® auger. Then celebrate your success with a photo and the hashtag "KickYourGas" on social media for a chance to win StrikeMaster Garb!
StrikeMaster's new "KickYourGas" campaign highlights what savvy anglers already know – the future of ice fishing is battery-powered. Drilling the holes to find and catch the fish of a lifetime no longer requires burning gas.
"The reason why we can kick gas is because StrikeMaster is investing in establishing products that bring the benefit of not having to use fuel, without sacrificing the reliability consumers are used to with gas – and all at the same price points," explains Bart Rosen, a StrikeMaster Project Manager. "We are focused on performance, while accomplishing lighter products on the ice across our entire assortment. We are excited where StrikeMaster is heading into the future."
The first StrikeMaster auger to empower anglers to kick their gas was the Lithium 40v, which revolutionized ice fishing with its release the last two seasons. StrikeMaster's Lite-Flite Lazer Drill Unit is the second
"There's no more waiting for augers to warm up, no more hard starts, no more messing around with gas and oil," says James Holst, an ICE FORCE Pro Staffer and host of the influential In-Depth Outdoors TV show. "I haven't touched a gas auger in two years, and I'm never going back.
Lithium 40v

Harnessing the most modern technology available, StrikeMaster's Lithium 40v can cut an impressive 100 8-inch holes, or 70 10-inch holes, on a single charge (based on repeated tests through 16 inches of ice).
"It doesn't matter if its 30-below or 30-above, this thing rips," says ICE FORCE® Pro Staffer Tony Roach, an in-demand guide on Minnesota's famed fishery, Mille Lacs Lake. "I can get a ton of holes out of it on a single charge. It seems like it never runs out of battery power."
A removable 40-volt, 5-amp-hour Lithium Ion battery powers an electric DC brushless motor that provides reliable, consistent speed and torque from hole to hole without reduced power or slow-down from waning battery. A planetary gear system provides lightweight durability and high-power density for unmatched performance.
Innovative, high-performance cutting via StrikeMaster's legendary twin serrated stainless steel Lazer™ blades gives the Lithium 40v the fastest cutting edge, period. Forward/reverse controls allow for easy switching from cutting to flushing slush.
Featuring an 4-LED charge indicator for easy battery-level checks, the Lithium 40v comes with a fast-charging, 2-amp charger capable of restoring full power in 2 ½ hours. A limited 2-year manufacturer's warranty on motor, battery and charger provide piece of mind.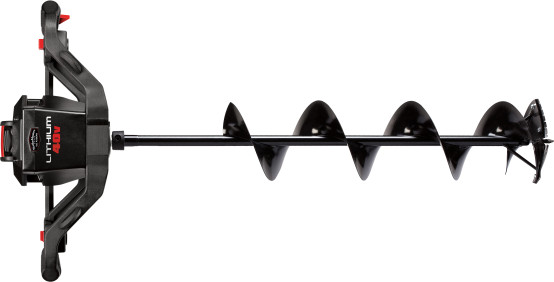 Lite-Flite Lazer™ Drill Unit

The ultimate advancement for run-and-gun ice trolling, StrikeMaster's Lite-Flite Drill Unit can be powered by any professional-quality, 18-volt (or higher) brushless, handheld, cordless electric ½-inch chuck drill. Its twin serrated stainless steel Lazer blades ensure a smooth, clean cut every time.
"After a hard winter of testing it, I can say without hesitation the Lite Flite is, hands down, the fastest-cutting, most-efficient and lightest-weight ice auger I've ever used – bar none," Holst says.
In head-to-head speed-drilling match-ups, the Lite-Flite Drill Unit beat two other drill-powered augers three out of three times. An identical cordless electric drill was used to power each auger.
The Lite-Flite's full-length, synthetic resin-molded segmented flighting cuts weight by 40 percent. A blade-attachment carriage formed from exclusively engineered compounds guarantees a perfect cutting angle that will never go out of adjustment.

The 6-inch Lite-Flite Drill Unit weighs 4.4 pounds – 1.6 and 2.6 pounds less than StrikeMaster's two other 6-inch auger drills. The 8-inch Lite-Flite Drill Unit weighs 5.3 pounds – 2.7 and 3.3 pounds less than StrikeMaster's other 8-inch auger drills.