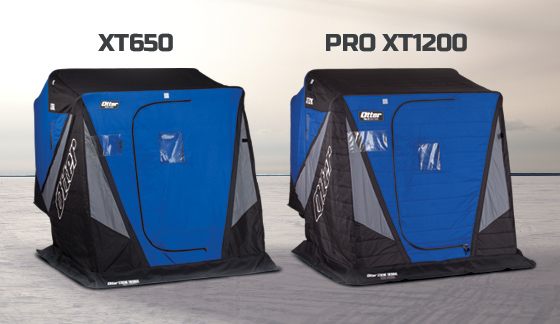 Whether you're a lone wolf or the life of the party, there's an Otter portable ice shelter that fits the way you fish.
"Otters aren't one-size-fits all shelters, because ice fishing is a very personalized sport," says ICE FORCE Pro-Staffer Chip Leer. "Everybody fishes a little bit differently, and they have different goals. No matter how you fish, there's an Otter shelter that suits your needs."
If you fish hardwater no matter how far the mercury falls, you'll stay warm and comfortable on even the coldest days in a full-thermal Otter Pro XT1200 [Product 'Pro%20XT1200%20Shelter%20Package' not found!] shelter. All XT1200 models feature an industry-leading three-layer thermal system which comprises a 900 Denier Outer Shell, High Loft Insulation and 300 Denier Inner Shell. A "denier" is a measurement unit. Much in the same way a higher thread count denotes better quality bedsheets, a higher denier count indicates a stronger, warmer ice house shell.
Perfect for solo and party-fishing fun on the ice, the XT1200 is available in four models, one of which will meet your needs: Pro XT1200 Ultra-Wide (one-person model); Pro XT1200 Cabin (two-person model); Pro XT1200 Lodge (two-to-three person model); and Pro XT1200 Resort (three-person model).

If you ice fish in more temperate winter conditions, an Otter XT650 [Product 'XT650%20Shelter%20Package' not found!] will suit your needs. Featuring a dual-layer 650 denier shell with full thermal top, XT650 models all eliminate black-out interior coating, provide better wear resistance, lock in heat, and significantly reduce overhead condensation, allowing for a more comfortable fishing experience.
"If you hate moisture build-up and water dripping on you head, you'll love an Otter," Leer says. "They don't drip!"
Otter's XT650 line features three models, one of which will suit your needs: XT650 Cottage Ultra Wide (one-to-two person model); XT650 Cabin (two-person model); and XT650 Lodge (two-to-three-person).

No matter which Otter model you choose, you can rest assured it was crafted with the four S's in mind at all times — sled, structure, seating and shelter.
Sled
If you plan to pull your fish house with an ATV or snowmobile, an Otter's really the only choice. Over time, other brands will fail, especially in difficult conditions over punishing terrain.
"One of the most common things I hear people complain about within days of buying another portable shelter is the sled," Leer says. "And I can relate – I had the same complaint before I upgraded to an Otter."
All Otter sleds are constructed by roto-molding polyethylene. The process results in a stronger sled, because it allows for no thin spots. Some other sleds – those made in the same way backyard kiddie pools are made – are thin and weak at corners and other stress spots. Inferior sleds often shatter in the cold. Otter sleds do not.
"With the durability you get with the roto-molded Otter sled, there's nothing you can't drag that thing across," Leer says. "If you've got to go across asphalt, or down a road, before you get on the ice, that's no problem. It's the toughest sled on the market."
Both Pro XT1200 Series and XT650 models offer incredible convenience for towing. Each has a custom trim-lock system that gives anglers the ability to attach their shelter to their sled in less than one minute. Molded-in hitch pockets seal the deal by making towing the sled to the perfect honey hole as easy as can be.
Structure
The key to an Otter shelter's sturdiness is it's heavy-duty, oversized square tube aluminum frame, integrated with anodized receiver tubes with an ultra-glide system.
"A sturdy structure is a big part of enjoying your day on the ice," Leer says. "With those support bars, you can get up off of your seat and move around inside your shelter and not worry about that fish house blowing away. And that's pretty important."
Seating
All Otter Pro XT1200 models feature an exclusive cross-link seating system with multi-directional deluxe padded swivel bucket seats.
XT650 shelters feature foam-padded bench seats that offer anglers all-day comfort. Flip the seat up, and you can access gear from a convenient, built-in storage compartment.
"Everybody I know that takes kids fishing likes that bench seat," Leer says. "There's no ifs, ands, or buts about it!"
Shelter
With its three-layer system, an Otter Pro XT1200 will outperform every other shelter on the market in all key categories:
•    Construction, durability and longevity
•    Wind-stopping ability and noise reduction
•    Heat retention and condensation control
•    Extreme weather protection and longevity.
"I don't like being able to see through my ice shelter wall," Leer says. "The only place you can see through an Otter is the window – not the stitching."
Pro XT1200 and XT650 models all feature interior draft skirts and extra-long perimeter skirting to deliver unbelievable insulation, complemented by crack-resistant windows equipped with insulated covers to keep out unwanted drafts or let in light on warmer, sunny days.
"If you like comfort and durability, you're going to love an Otter," Leer says.
Learn more about Otter's superior portable shelters by watching this video. Order an Otter online here, or visit your favorite local retail store, where a trained sales staffer will be happy to help answer any additional questions you might have.