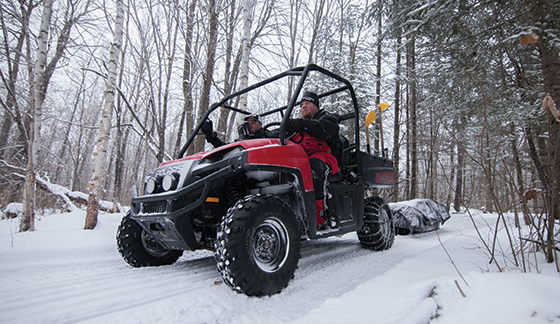 How far you go to reach your favorite ice fishing holes will help determine which Polaris vehicle you need to get there and back.
Need a vehicle to work as hard as it plays? Haul across the hardwater on a new Indy Voyageur 155.
Fish with friends? Ice-roadtrip together in a RANGER XP 900 side-by-side.
Indy 550 Voyageur 155 Snowmobile
What the Sportsman is to Polaris ATVs, the Voyageur is to Polaris snowmobiles – a rec-utility sled well-equipped for both work and play.
"The new Voyageur 155 is a great performing sled that's as fun as it is hard-working," says ICE FORCE Pro-Staffer James Holst. "It's comfortable too – standing or sitting – and comes with all the little touches that make getting to your fishing spots more enjoyable."
The 550 Indy Voyageur 155's ability to perform well at work and play stems from a longer rear suspension and longer rear track than other sleds in its class.
"That gives you the advantage of getting more track on the snow and ice, giving you a little bit more ability to go through deep snow," Holst explains. "That's what helps make the Voyageur a great multi-purpose-type vehicle."
Providing the power is a liquid-cooled engine that delivers outstanding throttle response and instant acceleration. Producing impressive power-to-weight ratios that deep-snow riders demand, it also starts easily and reliably and calibrates automatically as temperature and elevation change.
"You won't have to worry about the engine keeping cool, even in deep-powder snow," Holst says. "The Voyageur's set-up is purpose-built for getting you and everything you need to get on fish out on the ice and back."
Built on Polaris' proven PRO-RIDE™ Chassis that's 300 percent stiffer for precise, intuitive handling, the 550 Indy Voyageur 155 features electric start, RydeFX MPV Shocks and a PRO-RIDE seat. The seat features a wider surface than other sleds in the Indy's class, providing enhanced comfort during long days on the snow. The seat design allows easy transition between seated and standing positions.
Featuring wide PRO-Float Skis and unique dual stepped keel design, the 550 Indy Voyageur 155 offers great traction and great flotation. "It kind of has the heart and soul of a mountain sled, with both great off-trail and on-ice capability," Holst says. "It gets you up on top of the snow and ice, keeping you from getting stuck."
A lightweight, aluminum front bumper features extra protection for wherever your Voyageur takes you. "If you need to push something, or bump something out of the way, or bust through some brush, it's really good for protecting that front end," Holst says.
Because less wind makes for a warmer ride, the Voyageur's tall windshield directs wind and snow up and around the rider while the side panel-mounted wind deflectors force wind and snow outward, away from the rider. It comes standard with a hinged tow hitch for towing Otter sleds and a rear cargo rack large enough to accommodate a 5-gallon bucket.
Ranger XP 900 Side-by-Side
Able to move more than a ton of guys and their gear, the Polaris RANGER XP 900 is the perfect utility vehicle for fishing with friends. Not only can the RANGER XP 900 tow 2,000 pounds, it can also carry a 1,500-pound payload in its bed.
"This go-anywhere machine can move an entire ice fishing contingency, carrying more gear and towing more weight than any other vehicle in its class," Holst says.
The Ranger XP 900 features on-demand true All-Wheel Drive. True AWD keeps you moving automatically, engaging all four wheels when you need more forward traction and reverting back to 2WD when you don't. Versatile Carlisle 489 tires offer great traction and easy steering. With a rounded corner tread pattern, the tires provided extra grip while turning.
Designed with an ideal seat height combined with wide foot clearance for easy entry and exit, the Ranger XP 900 features a plush split bench, a full 10 inches of tilt steering adjustment and room for three full-sized adults. A heated cab provides comfort in inclement weather, and accessories like windshield wipers, running lights and defrosters increase ease of operation in even the nastiest of winter weather.
About ICE FORCE & Polaris
ICE FORCE comprises the ice-fishing industry's top anglers and premium brands, including Rapala, StrikeMaster, MarCum Technologies, Otter Outdoors, Sufix and Polaris.
"Polaris is synonymous with ice-fishing enthusiasts as the top brand for getting them and their gear on and off hardwater," says Rapala USA president Tom Mackin.
A recognized leader in the powersports industry, Polaris designs, engineers, manufactures and markets innovative, high quality off-road vehicles (ORVs), including all-terrain vehicles (ATVs) and Ranger side-by-side vehicles, snowmobiles, motorcycles and on-road electric/hybrid powered vehicles.
Learn more about the complete line of Polaris products, apparel and vehicles accessories at www.polaris.com,  www.facebook.com/PolarisOffRoad and www.facebook.com/PolarisSnowmobiles. Or visit your favorite local power-sports store, where a trained sales staffer will be happy to help answer any additional questions you might have.