You'll find fish faster and follow them more efficiently this winter with a StrikeMaster® Pro Lithium 40-volt Lite electric ice auger over your shoulder or in your sled.
"No other electric auger on the market today has the muscle to match the StrikeMaster Pro 40V Lite's ability to make short work out of chasing down your next big bite," said in-demand Minnesota fishing guide Tony Roach, an ice-trolling innovator and trendsetter. "It packs serious power in a much lighter package.
StrikeMaster created the ultimate auger for on-the-move, drill-and-drop ice-trollers like Roach by upgrading and streamlining its vaunted Lithium 40V electric auger with a new, higher-capacity 6-amp battery that with a single charge can punch as many as 115 8-inch holes through 16 inches of ice in repeated tests. And tipping the scales at a mere 21 pounds, it cuts significant weight by making a Lite-Flite Lazer Drill Unit standard equipment.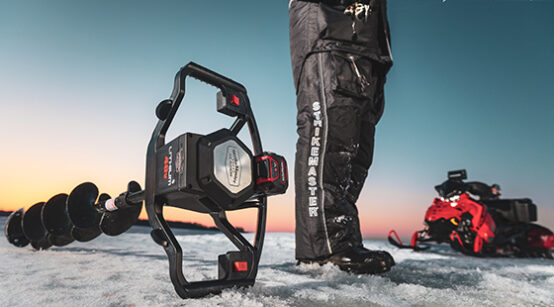 With plenty of muscle to drill hole after hole, the new Pro Lithium 40V Lite's electric DC brushless motor delivers reliable, consistent speed and torque without reduced power or slow-down from a waning battery. The Lite-Flite Lazer Drill Unit combines proprietary synthetic materials with legendary twin, serrated stainless-steel Lazer blades to produce the ultimate in lightweight and fast drilling.
"StrikeMaster has truly reached the pinnacle of ice-shredding performance with the Pro 40v Lite," Roach said.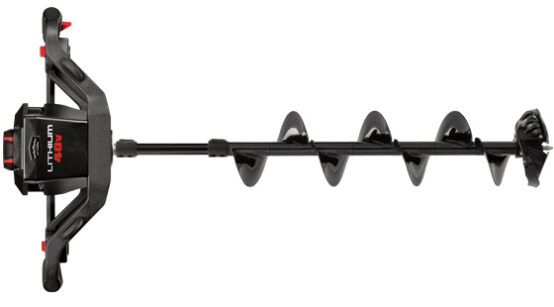 Featuring a planetary gear system with a 15.9:1 gear ratio, the Pro 40V Lite provides lightweight durability and high-power density for unmatched performance. Its forward/reverse controls allow for easy switching from cutting to flushing slush. Its custom, impact-resistant handles feature ergonomically placed opposing deadman/power switch and built-in LED lights. A limited two-year manufacturer's warranty on motor, battery and charger provide piece of mind.
In addition to a 4-LED charge indicator for easy power-level checks, the Pro 40V Lite's 40-volt, 6-amp-hour Lithium Ion Battery features an indispensable USB port for charging all your portable electronic devices, including cell phones, hand-held GPS units and tablets.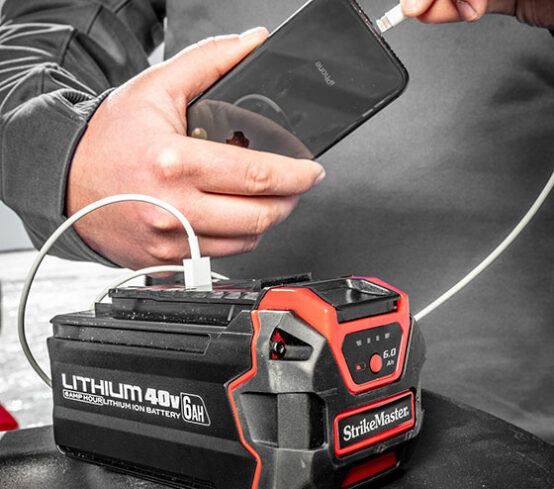 The battery – also sold separately – comes with a fast-charging, 2-amp charging station capable of restoring a full charge in 3 hours. It includes a battery-management system that will ensure battery longevity.

Drilling holes to find and catch the fish of a lifetime no longer requires burning gas. Without sacrificing the reliability and performance ice anglers have long enjoyed with its gas-powered augers, StrikeMaster is committed to establishing products that extend the benefit of modern electric augers. The company's #KickYourGas campaign highlights what savvy anglers already know – the future of ice fishing is battery-powered.
"There's no more waiting for augers to warm up, no more hard starts, no more messing around with gas and oil," said James Holst, an ICE FORCE Pro and host of the influential In-Depth Outdoors TV show on Bally Sports North channel. "You put the battery in place and as soon as you push the go button, it's ready to drill. I haven't touched a gas auger in more than a year, and I'm never going back."
StrikeMaster's new Pro 40v Lite offers the "perfect combination" of convenience and durability, said Holst, who films and airs a new ice-fishing show every week during the hardwater season.
Lite-Flite Lazer Drill Unit
Pound for pound, StrikeMaster's Lite-Flite Lazer Drill Unit (sold separately) is the undisputed champion of cutting speed and efficiency in the ice-fishing market, knocking out all rivals. Its twin serrated stainless steel Lazer blades ensure a smooth, clean cut every time.

"I can say without hesitation that the Lite Flite is — hands down — the fastest-cutting, most-efficient and lightest-weight ice auger I've ever used – bar none," Holst said.
What makes the Lite-Flite Drill Unit truly innovative and unique is full-length, synthetic, resin-molded segmented flighting and a blade-attachment carriage formed from exclusively engineered compounds. The synthetic flighting cuts weight by 40 percent and the molded blade attachment guarantees a perfect cutting angle that will never need adjustment.
The 6-inch Lite-Flite Drill Unit weighs 4.4 pounds – 1.6 and 2.6 pounds less than StrikeMaster's two other 6-inch auger drills. The 8-inch Lite-Flite Drill Unit weighs 5.3 pounds – 2.7 and 3.3 pounds less than StrikeMaster's other 8-inch auger drills.
The Lite-Flite Drill Unit can be powered by any professional-quality, 18-volt (or higher) brushless, handheld, cordless electric ½-inch chuck drill or StrikeMaster ice auger powerhead. Additional features include:
•  Heavy-duty, steel hex shaft and a reinforced "T" carriage connection, for strength.
•  Power Point to keep the drill unit in place while drilling
•  NDA-3 Drill Adapter and Safety Flange
See StrikeMaster® Pro Lithium 40v Lite available at supporting dealers this season.