Like a featherweight prizefighter, the new StrikeMaster® Lithium 40v Lite Electric Auger punches above its weight. Weighing in at just 21 pounds when paired with an 8-inch-diameter Lite-Flite Lazer Drill unit, it can cut as many as 100 holes through 16 inches of ice on a single charge. It crushes the performance of standard cordless drills.
Pound for pound, StrikeMaster's Lite-Flite Lazer Drill Unit is the undisputed champion of cutting speed and efficiency in the ice-fishing market, knocking out all rivals. The 10-inch-diameter drill can consistently cut as many as 70 holes through 16 inches of ice on a single charge.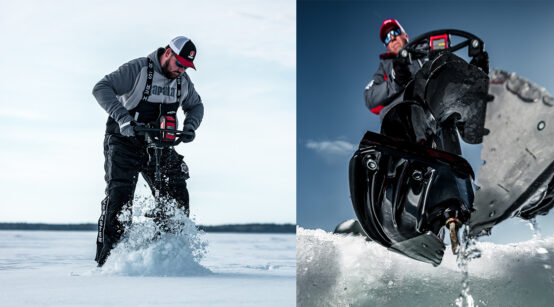 "Light to carry with heavy punching power – that's a great one-two combo for drill-and-drop ice-trollers like me," said Minnesota fishing guide Tony Roach, an ice-trolling innovator.
That combination makes the Lithium 40v Lite the ultimate power auger for on-the-move ice anglers like Roach. "With a Lithium 40v Lite over your shoulder or in your sled," he said, "you'll find fish faster and follow them more efficiently across the ice."
The Lithium 40v Lite's electric, DC-brushless motor delivers reliable, consistent speed and torque without reduced power or slow-down from waning battery. Its forward/reverse controls allow for easy switching from cutting to flushing slush. A 15.9:1-ratio planetary gear system accounts for its lightweight durability, high power density and unmatched performance.
"There's not another electric auger on the market with as much muscle as StrikeMaster's new Lithium 40v Lite," Roach said. "Absolutely nothing can match its ability to make as little work in the chase for big bites."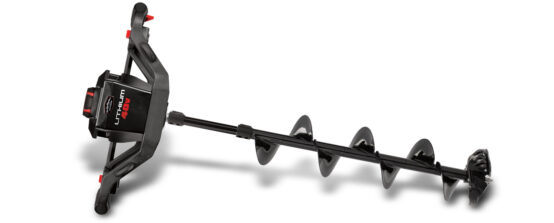 Lite-Flite Lazer Drill Units combine proprietary synthetic materials with legendary twin, serrated stainless-steel Lazer blades to achieve the ultimate lightweight, fast-cutting performance. Available in 10-inch- and 8-inch-diameter models, they ensure a smooth, clean cut in every hole. The new Lithium 40v Lite comes with a Lite-Flite Lazer Magnetic Snap Cover that enables hands-free attachment and detachment. It comprises strong connecting magnets and locking tabs.
The Lithium 40v Lite features ergonomically designed, impact-resistant handles with built-in LED lights and a power button with a "deadman" safety switch. Its 40-volt, 5-amp-hour Lithium Ion battery – also sold separately – comes with a fast-acting, 2-amp charging station capable of restoring a full charge in 2 1/2 hours. A built-in USB port enables on-the-ice charging of all your portable electronic devices, including cell phones, hand-held GPS units and tablets. A 4-LED charge indicator provides easy power-level check.

What makes the Lite-Flite Drill Unit truly innovative and unique is full-length, synthetic resin-molded segmented flighting and a blade-attachment carriage formed from exclusively engineered compounds. The synthetic flighting cuts weight by 40 percent and the molded blade attachment guarantees a perfect cutting angle that will never need adjustment.
The Lithium 40v Lite's motor, battery and charger comes with a limited 2-year manufacturer's warranty.
Quick Summary: The new StrikeMaster 40v Lite Electric Power Auger is lighter by design. It weighs a mere 21 pounds (with 8-inch drill) allowing for the ultimate run and gun ice fishing experience. Anglers can cut as many as 100 holes through 16 inches of ice on a single charge. In addition, StrikeMaster upgraded the combo by including the new Lite-Flite Lazer Magnetic Snap Cover, so no more bending over or turning the auger to get a blade guard on and off. The ice auger's powerhead/motor features an electric DC brushless motor, a planetary gear system. The power button includes a deadman safety switch, forward and reverse action, built-in LED lights, and impact-resistant long filament handles. The Lite-Flite Lazer Drill unit features a proprietary synthetic resin molded flighting, twin serrated stainless steel Lazer™ blades, a carriage formed from exclusive engineered compounds, a reinforced "T" connection to carriage with heavy-duty steel hex shaft, a power point that keeps the drill unit in place while drilling, and a Lite-Flite Lazer™ magnetic snap Ccver blade guard. The is powered with a 40v, 5-amp hour lithium-ION battery and comes with a UM 40V charging base.