When cold-front walleyes aren't found deep, target shallower flats with the Rapala® Slab Rap® and VMC® Rattling Spoons. And feel free to try offbeat tactics to elicit strikes. That's what the In-Depth Outdoors TV crew did last week to put 'eyes on the ice on Lake of the Woods.
"You get that high-pressure system roll in and 'the book' says they're supposed to go deeper," explains James Holst, founder and host of In-Depth Outdoors TV. "Well, we followed and they weren't there. … Where we ended up finding these fish is kind of an unexpected place."
After a full day of unproductive fishing around deep reefs, Holst, IDO TV co-host Dave Koonce and Northwest Angle guide Eric Grundahl approached a second day on the ice with a shallow-water game-plan that yielded several nice-sized walleyes. "Where we ended up contacting our best numbers of fish – and certainly the most aggressive fish – was up very shallow," Holst says.
The baits that "saved our bacon," Holst says, were Rapala Slab Raps and VMC Rattle Spoons. You can learn more about these baits and how the IDO crew caught walleyes with them in this episode of In-Depth Outdoors TV, which was filmed on Lake of the Woods only a few days before it aired January 10 on the Fox Sports North channel and published on IDO's YouTube channel.
'If they're not out deep … they gotta be shallow'
When a high-pressure weather system ushers in a cold front, Holst says, Lake of the Woods walleyes usually abandon the tops and sides of reefs and relocate to deeper haunts. "Normally, I would expect those fish, in a high-front situation to come off those reefs and sit out in the mud," he explains. "They'll be grumpy, but you can usually catch them."
So on its first day on Lake of the Woods, Holst says, the IDO crew moved off "the shoulders of the reefs" in 18 to 25 feet of water and fished further out. "It seemed like they were pushing deeper, so that's how we reacted," he explains. "We went deeper with the fish and totally struck out. … Everything out there deep around the reefs that we caught was tullibees or just tiny little saugers."
The next day, Holst, Koonce and Grundahl hit the ice with open minds, good attitudes and a new game plan. "If they're not out deep and they're not on the reefs, they gotta be shallow," Holst says. "We're sitting on the edge of a break here. There's a really nice rocky flat inside of us that starts to break sharper at about 16 feet, where we're sitting right now. We're starting to see some decent activity from sizable fish."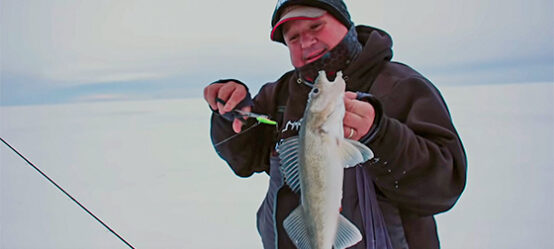 The walleyes they've found are not in big schools and don't bite in quick succession. Rather, "they are just moving fish," Holst says. "They're wandering through, nomadically. Everyone has a bite – or at least has a fish come on their flasher – and then it might be 5, 10 minutes before they come back again."
Holst describes the area they are targeting as a "gradually tapering" sand flat punctuated by areas of gravel and rock. "We set up in 16, 17 feet of water, right on those gravel sections, and that's where the active fish cruise through in small pods."
Fish with the Slab Rap®, 'Get Rewarded'
Koonce catches the walleye that signals the wisdom of the IDO crew's shallower gameplan. He catches it in 17 feet of water on a ¼ oz. Slab Rap in the Green UV color pattern. "If I wouldn't have pulled it and have him chase, I don't think he would have hit it," Koonce says.

"That's typically the case," Holst agrees.
A No. 5, 2-inch Slab Rap weighs 1/4 oz. A No. 4, 1 ½-inch model weighs 1/8 oz. Both come armed with two No. 12 VMC® Black Nickel Round Bend Hooks. Slab Raps are available in 10 color patterns: Chrome, Chrome Blue, Gold Chrome, Glow Hot Perch, Glow Tiger, Green Tiger UV, Glow Yellow Perch, Orange Tiger UV, Pink Clown, Pink Tiger UV.
In the late afternoon, Grundahl catches a 23-inch walleye on a No. 5 Slab Rap in the Glow Hot Perch pattern. "I dropped that Slab Rap right back down and he just hammered it," he says. The fish came out of 15 feet of water with "a little bit of false bottom," he says.
"You get rewarded for fishing with the Slab Rap," Holts observes. "That bait's kind of a staple of yours, isn't it?"
"It is," Grundahl agrees. "You got me on that a couple of years ago and I haven't stopped using it. It keeps producing."
VMC Rattle Spoons Make a Racket, Draw Fish In
Another bait that yields several walleyes for the IDO team on this day is a minnow-head-tipped ¼ oz. VMC Rattle Spoon. Two walleyes Koonce caught back-to-back came on a Rattle Spoon in the Glow Hot Perch color pattern. "It's a Rapala color, but now they're making it in the VMC Rattle Spoons," he says.

Rattle Spoons feature a specially designed resonance chamber. Made of heavy-duty brass and multiple beads, they allow anglers to make a racket with just a subtle jig stroke, while still delivering action. Rattle Spoons are available in three sizes – 1/16, 1/8, and 1/4 oz.
Try Offbeat Presentations To Get Bites
With both Rattle Spoons and Slab Raps, Koonce on this day is enticing 'eyes to bite with an unconventional tactic – a method Holst adopts successfully after laughingly describing it as a "crazy drop-it-down-below-them thing."
"Very rarely will I respond to a negative walleye by throwing the spoon right in his face and dropping it down below him, but Mr. Koonce over there has been making that work," Holst explains. "To the point where he's out-fishing the heck out of both me and Eric. So I gave it a shot. I had a fish that came up and looked at that spoon, [but] didn't eat. I dropped it right past him, he followed it down, and for whatever reason, that's what's turning them on. Nothing's making sense today – we've got fish in high pressure coming shallow – so why not? We'll drop it back in their face and if that's what takes to make them eat, so be it."
Holst's first walleye with the off-beat tactic comes on a Rattle Spoon in the Green UV color pattern. Although that color is "pretty much a staple up here," Holst says, the Glow Hot Perch pattern has been the most productive on this day.
Before dusk, a No. 5 Slab Rap in the Glow Hot Perch color produces again for Koonce. He reels in a walleye as big as, or bigger than, Grundahl's 23-incher. "He'd come up, stop, he'd run back down; he'd come up, stop, run back down; and I'd go below him," Koonce says. "And he came up and hit it … Put a good bend in this rod." He catches another nice walleye on the Slab Rap before the sun meets the horizon and this trip on Lake of the Woods – and this episode of In-Depth Outdoors – comes to an end.
"What do you learn from this type of episode?" Holst asks. "That even with [years of] experience fishing a body of water, every once in a while Mother Nature throws you something that you just can't handle – you end up hitting the pitch in the dirt. But you keep a good attitude, in the end you can put some real nice fish on the ice."