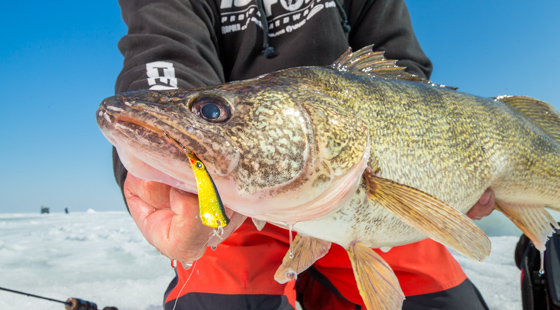 Across the Ice Belt, walleyes are biting VMC® baits on deadstick lines and Rapala® Rippin' Rap®s through jigging holes, report top fishing guides.
On Minnesota's Lake of the Woods, VMC's new Glow Resin Trebles have been "dynamite" on dead-stick lines and Rippin' Raps are producing through jigging holes, says ICE FORCE® pro-staffer and guide Brad Hawthorne. VMC Tumbler Spoons have been productive as well, he reports.
On Bemidji, Cass, Leech and other lakes in the Bemidji, Minnesota region, the "big ticket" for walleyes has been a VMC Tear Drop Jig on a dead-stick line, says fishing guide Bryan "Beef" Sathre. Walleyes and jumbo perch are hitting VMC Tingler Spoons as well, he says.
VMC Resin Treble
VMC Glow Resin Trebles comprise a classic VMC 9650 round-bend treble hook permanently dressed with a durable epoxy resin infused with Ultra Glow color. Five color patterns are available: Glow, Glow Chartreuse, Pink Chartreuse Glow, Orange Chartreuse Glow and Green Chartreuse Glow. The Ultra Glow resin will hold a charge for as long as 15 minutes.
"It's probably the best set-line lure that you can have when the fish go neutral," Hawthorne says. "It's got a lot of hooks on it, it has that little bit of glow, but it still allows you to make a really natural presentation."
To get bites when other anglers aren't, Hawthorne dresses Glow Resin Trebles with a frozen emerald shiner and parks it six inches of the bottom. He doesn't jig it at all.
"You'd think that it would be just the opposite — that you'd want your minnow kind of squirming down there, but that hasn't been the case," he says. "Although it doesn't move, the fish see that glow, come up and smell that shiner – because those emeralds are so oily – and then they'll pop 'em."
Hawthorne fishes his Glow Resin Trebles on 6-pound-test Sufix® Invisiline Ice Fluorocarbon tied to a 16- inch leader connected to his main line via a tiny VMC Rolling Swivel. He uses the same line for his leader as his main line.
Most of Hawthorne's recent walleyes are coming out of 28 to 32 feet of water. Despite the late start to the season, "the fish are still very, very active," he says. "If you run into a cold front, yeah, the fish kind of shut down, but two days later if the temperature bumps up, they pick back up."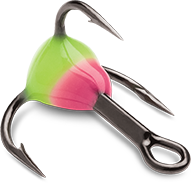 Rippin' Raps
When the walleyes get aggressive, Hawthorne enjoys success in his jigging holes with No. 5 Rippin' Raps and Ultra Light Rippin' Raps in Pink Tiger UV and Orange Tiger UV (the latter color pattern is available in the Ultra Light line).
"With the stained water in Lake of the Woods, that UV just adds an extra pop to the lure — especially when we're fishing 25 to 35 feet of water," he explains. "Any help you can get when your lure's that deep — as far as vibration and color —is a plus."
Hawthorne jigs his Rippin' Raps two to three feet off the bottom. "That's your fish call," he says. "Just give it a simple rip, shake and pause and then rinse and repeat. And every once in a while, open your bail and let it just fall and rattle on the bottom and stir up that muck a little bit."
Hawthorne fishes Rippin' Raps on 5-pound-test Sufix Invisiline Ice Fluorocarbon. Again, he doesn't tie direct to his main line, but rather to a 16- inch leader connected to his main line via a tiny VMC Rolling Swivel. He uses the same line for his leader as his main line.
"If you're jigging anything, there's no reason not to have a swivel above it — especially for walleye," Hawthorne says. "It makes your line last longer and it makes your lure do what you want it to do."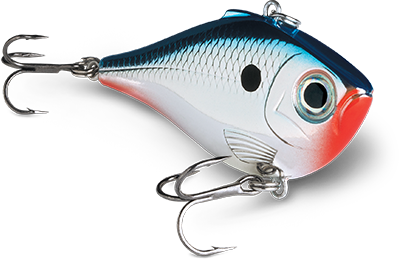 Tumbler Spoons
Tumbler Spoons tipped with a shiner head have been productive on Lake of the Woods as well.
"I think that has to do with the profile of that bait," Hawthorn says. "It's shaped more like an emerald shiner, being long and thin."
Additionally, Tumbler Spoons feature a unique "knuckle bend," which creates a slow-tumbling action, and a small, metallic attractor blade, which imparts additional flash and sound when it collides with the spoon and hooks. "That little flapper, it really helps call them in," Hawthorne says.
For the best results with a Tumbler Spoon, give it a 6-inch to 8-inch flick and then let it tumble. "And then you sit and shake that frozen shiner head, getting that scent and those scales flickering around," Hawthorne says. "On the aggressive days, if they get within 10 feet of that lure and see it, they'll eat it."
Hawthorne fishes Tumbler Spoons on 5-pound-test Sufix Invisiline Ice Fluorocarbon with the same swivel-and-leader system he uses with his other baits. "When you pause your spoon, you want those walleyes to see its profile, you don't want it twisting around," he says.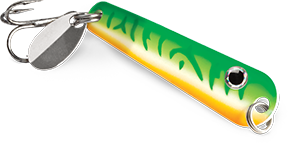 Tear Drop Jigs
Tipping Ultra Glow Tear Drop Jigs with minnow heads is producing Bemidji-area fish on dead-stick lines – fatheads for perch, shiner for walleyes. "Every now and then, I'll give it a jig to keep the minnow going," says Beef, who guides in the area on weekdays.
The other key? Regularly "re-charging" the jig.
"You gotta keep it glowing, so don't hesitate to pull it up, charge it, then drop it back down," Beef advises.
Tear Drop Jigs come in seven Ultra Glow patterns, each of which will hold a charge for about 15 minutes: Glow Blue Shiner, Glow Chartreuse Shiner, Glow Gold Fish, Glow Green Fire UV, Glow Orange Fire UV, Glow Pink Fire UV and Glow Red Shiner. Any one of those color combinations is likely to be effective right now on Bemidji-area lakes, Beef says – as long as you keep it charged.
To keep his Tear Drop Jigs glowing, Beef carries a Rapala Mini Charge N' Glow. "The stronger the light, the longer your baits will glow," he explains. "And the longer your baits glow, the longer they are in the water and not on top of the ice. Forget camera flashes, lanterns, cell phones and head lamps, a Charge N' Glow keeps jigs glowing longer."
Beef fishes Tear Drop Jigs on a main line of 6-pound-test Sufix Performance Ice Braid attached via a small VMC swivel to a leader of 6-pound-test Sufix Ice Magic Fluorocarbon. "I'm trying to keep the bait presentation as invisible as possible," he explains.
A slip-bobber positions the bait anywhere from four inches to a foot off the bottom. He uses as light a jig as possible – 1/8 oz. for water 20 feet and deeper; 1/16th in shallower water. "I don't want the fish to feel anything or see anything," he says.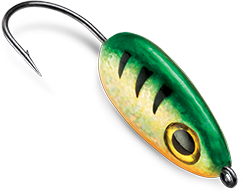 Tingler Spoons
In his jigging holes, Tingler Spoons "have been phenomenal this winter" for both walleyes and perch, Beef says. For walleyes, he dresses the spoon's treble hook with a minnow head. For perch, he dresses the treble with a chandelier of wax worms. For either species, he rarely uses a spoon heavier than 1/8th oz.
When he's targeting walleyes, Beef will drill holes over rocky or sandy areas and bounce his Tingler Spoon off the bottom, making a bit of noise. "Then, I bring it up about six to eight inches and watch the fish on my MarCum," he says. "They'll come in and just drill that spoon."
For perch, Beef targets mud-bottom areas, bouncing his Tingler Spoon into the muck to stir of a plume of sediment. "What that does is attracts them in," he explains. "I'm going to start a party down there and invite them all." After three or four bounces off the bottom, he'll hang his spoon right above the cloud, "so as they come in they smell it or they see and come in and get it.
On his walleye rod, Beef ties Tingler Spoons directly to 6-pound-test Sufix Performance Ice Braid. On his perch rod, he ties Tinglers to a leader of Sufix Ice Magic connected via a small VMC swivel to a main line of 6-pound-test Sufix Performance Ice Braid.