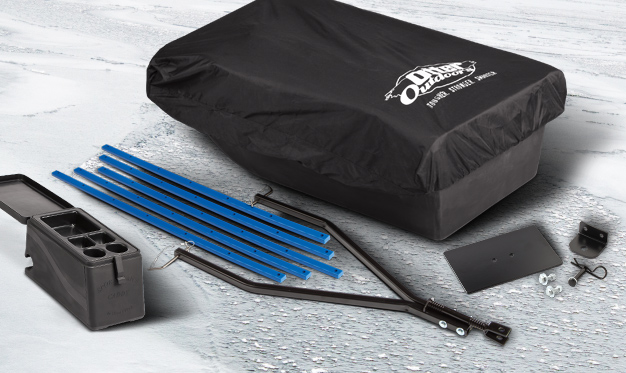 Forget your lips, apply Chapstick to your teeth – the zipper teeth on your Otter ice shelter, that is.
"Just a simple run of Chapstick up and down that zipper and you'll never have a jam up," says ICE FORCE pro "Jonny P" Petrowske, a full-time guide on Upper Red Lake. "The Otter zippers are pretty darn good when it comes to cold, but when it's zero, 20 below, and you've got wet feet walking on the zipper, ice, fish splashing water on it, the zipper's going to try to freeze up, no matter how good it is."
When you practically live on the ice, you pick up a trick or two. Jonny P is full of great tips for preparing your Otter sled and shelter for the ice season.
"I actually Scotch Guard my seat," Jonny P shares. "You get wet, slushy, snowy days, your bibs are all wet, everything you've got is soaking wet – a little bit of Scotch Guard will keep those seats from soaking up any water."
Because Jonny P takes care to dry and store his shelter properly after ice-out, he doesn't need to do much maintenance before first-ice. Otter's industry-leading construction and engineering has a lot to do with that.
Constructed from aircraft-grade aluminum square tubing anodized to ensure smooth operation, an Otter ice shelter's frame is designed to survive both use and storage without incident.
Some anglers start the season by wiping down their frame's tubing with a rag sprayed with WD40 or silicone. This lubricates, cleans grime and debris and creates a barrier that prevents water freezing from on your poles.
"You don't need very much at all," Jonny P says. "Just wipe down the interior poles."
Sled Set-Up
If you didn't install Hyfax runners [Product 'Sled%20Hyfax%20Runner%20Kit' not found!] under your sled when you first got it, Jonny P makes a pretty good case for considering an upgrade this year.
"The first thing and most important thing I do to my Otter is install Hyfax," he says. "The Otter sleds are tough, but Hyfax will make that investment last forever."
Made from 5/8ths-inch-thick, high-density plastic, Hyfax runners bolt into the molded-in pockets on the bottom of your Otter sled. They extend the life of an Otter considerably and improve the towing characteristics at speed behind your ATV or snowmobile.
The early-ice season is especially hard on sled bottoms, Jonny P says. "Usually you've gotta go across a gravel road and down a bunch of ripped up concrete. And of course, the ice always looks like a cheese grater turned upside down."
"You get Hyfax, so when it comes time for the gravel roads and bad ice, you don't have to worry about it," he says further. "These Otter sleds will go just about anywhere and haul a ton of gear. The trick is making sure that once ice season comes, you're set up and ready to rock and roll as efficiently as possible."
Speaking of efficiency …
"How you store your gear and how you prep your gear inside the Otter is important," Jonny P says. "One thing that has really made that a lot easier for us is the Otter Sportsman's Caddy [Product '200083' not found!].
"I used to have to make a lot of little compartments for a lot of little things," he explains. "Now, with the Sportsman's Caddy, I just stuff that thing plumb full and I have very little left in the sled that needs to be packed away."
One last tip – always install a rear hitch on your sleds.
"It's nice if you want to bring along a couple of houses, like I always do," Jonny P says. "And that rear hitch is awesome for tying your sled down to the trailer – just strap down the hitch, strap down the rear tow hitch and away you go."
About Jonny Petrowske
A fourth-generation guide in the Upper Red Lake area in northern Minnesota, Jonny P has been professionally guiding ice anglers for more than 20 years. The owner and operator of a full-service, four-season, fishing and hunting guide service, Outdoors with Jonny P, he spends more than 100 days a year on the ice, chasing walleye, perch, crappies and the monstrous pike Upper Red Lake and Jonny P are known for.