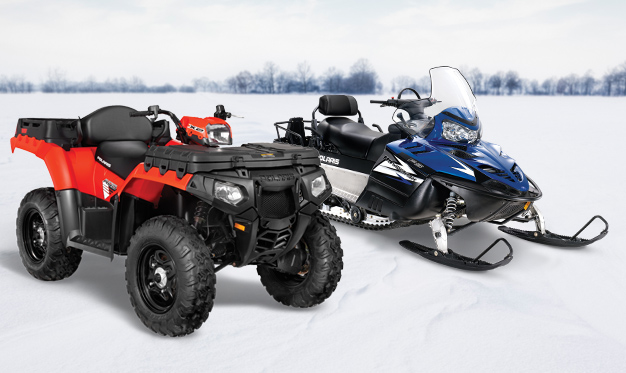 Before the water of Lake Bemidji turns to ice, fishing guide Bryan "Beef" Sathre focuses his attention on some other wet stuff – the fluids in the Polaris vehicles that get him on and off the hardwater.
"I don't hit the ice with my Sportsman 4-wheeler or Ranger side-by-side before the oil, transmission fluid, and front and rear drive fluid are changed," says the ICE FORCE pro. "You also want to check your coolant and brake fluid levels, topping them off, if need be."
Polaris vehicles use a full-synthetic oil which, Beef says, makes your engine start a lot easier in cold weather. "It's a really neat thing. You can be out in 10, 20-degree below zero and have no trouble. Polaris is an industry leader in terms of oil."
Also on Beef's Sportsman and Ranger pre-season maintenance checklists are changing oil filters, replacing spark plugs, checking tire pressure, greasing suspension components, and checking throttle cables connections.
"You want to make sure everything's working before the cold gets here," he says. "It's much easier to do now than when its sub-zero."
As with all pre-season prep, an ounce of prevention is worth a pound of cure.
"You never know what to expect out there on the ice," Beef says. "The more ahead of the game you can be with your pre-season maintenance, the less chance there is you'll waste a day of great fishing due to a preventable issue."
Snowmobile pre-season tips
Beef is equally proactive with his snowmobile pre-season routine.
When he hits the trail on a 4-stroke Polaris sled, it's never without new oil, oil filter, air filter and chain-case fluid. For 2-stroke snowmobiles, he says, replace old gas with new, clean your carbs and replace your chain-case fluid.
Whether he's running a 4-stroke or 2-stroke snowmobile, Beef starts the ice-fishing season with new spark plugs and freshly greased suspension zerks. And he always checks his belts for wear, replacing them if need be.
"Even if your plugs and belts are relatively new, it's still smart to stash a spare belt, set of plugs and plug wrench in your storage compartment, just in case," he advises. "I always make sure I have those on standby."
Mechanically inclined anglers can perform the maintenance prescribed above by following instructions in their owners' manuals. Others may want to turn to the professionals at their local Polaris dealerships.
Beef's "right-hand man" for service is Rick Connor at Bemidji Sport Center. "Rick and his team, like all Polaris dealerships, are knowledgeable, efficient and thorough – nothing escapes their attention. So if you don't have the time or temperament to do that important pre-season routine on your snow vehicles, you'll be in great hands at your local Polaris shop."
Lastly, Beef will check his luggage racks and hard boxes for loose fittings. "It's a real good idea to get in there and make sure all your nuts and bolts are all tightened up and everything, so you don't lose your gear off the back," he says.
About "Beef" Sathre
Owner/operator of Fathead Guide Service, Beef  specializes in multi-species guide trips in the Bemidji/Cass Lake Area. A multi-media master, he makes regular appearances in outdoor publications, videos, websites, and on radio and television as a fishing and hunting expert.