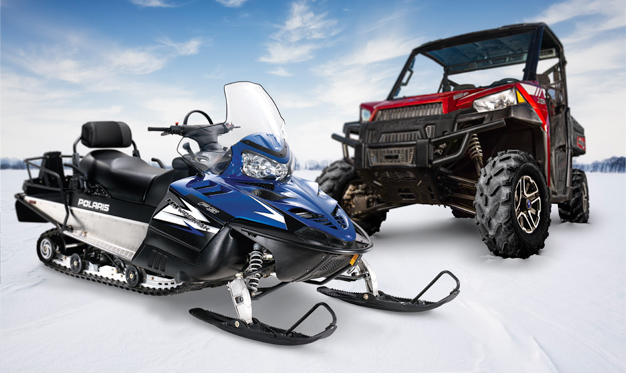 No matter how and where you ice fish, there's a Polaris vehicle to put you on your bite.
Prefer to fish in a group? Hole hop together in a Polaris RANGER side-by-side.
Fish far off the beaten path? Get there and back speedily and safely on an Adventure snowmobile.
Fish as hard as you work? Rely on a Sportsman ATV when punching holes and punching the clock.
"When it comes to getting ice anglers and their gear on and off the ice swiftly and safely, Polaris leads the way," says ICE FORCE Project Manager Lucas Farm. "Be it by sled, ATV or side-by-side, ICE FORCE pro-staffers across the Ice Belt get on fish powered by Polaris."
Polaris Ranger XP 900 Side-by-Side

A truly go-anywhere machine, the Polaris RANGER XP 900 utility vehicle can move more than a ton of guys and gear, making it perfect for anglers who fish with their friends.
The ease and speed with which the RANGER XP 900 can move fishermen and their machines is a major step forward in an ice-fishing trend that's led to improved catch rates – keeping on the move.
You and your fishing buddies can follow a feeding school much faster, easier and more comfortably with an accessory heated cab of a RANGER XP 900. Accessories such as windshield wipers, running lights and defrosters increase its ease of operation.
Got a lot of gear? The RANGER XP 900 can tow 2,000 pounds and carry a 1,000-pound payload in its bed.
Polaris Sportsman X2 550 ATV
For the ice angler that works as hard as he plays, there's the Sportsman X2 550, an ATV that meets your needs whether you're punching holes or punching the clock.
With 1-up and 2-up seating versatility, the Sportsman X2 550, easily switches from work to play in seconds. That's huge time saver for guys that have to knock out a honey-do list before they head out to their favorite fishing hole.
Like all Polaris ATVs, the Sportsman X2 550 is reliable for long journeys in challenging winter conditions. So you can fish confidently on the far side of big water or way back in the woods on a secret pond.
Featuring a 550cc engine, the Sportsman X2 550 will tow up to 1,500 pounds, carry as much as 120 pounds on the front rack and 400 pounds in the rear dump box. The box converts in three easy steps from 1-up work mode to 2-up play mode in less than 10 seconds.
Additional features include a rolled independent rear suspension for a smoother ride, and on-demand true All-Wheel Drive (AWD). True AWD keeps you moving automatically, engaging all four wheels when you need more forward traction and reverting back to 2WD when you don't.
Polaris Switchback Adventure Snowmobile
For anglers that travel far off the beaten path, and miles past plowed roads and groomed trails, there's the aptly named Polaris Switchback Adventure snowmobile.
The "Swiss Army Knife of sleds," the Polaris Switchback Adventure is full-featured and versatile, featuring a progressive-rate suspension for a more comfortable and fun ride. And the Adventure's Pro-Ride™ Switchback® Adventure Chassis delivers precise handling, even in the nastiest terrain.
Long runs require more gear, so the Adventure's cargo system features Lock & Ride® saddlebags for easy storage and transport.
Polaris WideTrak Snowmobile
For ice anglers that haul heavy ice houses and loads of gear, there's Polaris' workhorse snowmobile, the WideTrak.
Purpose-built to tow and haul, the WideTrak features a namesake extra-wide 20-inch track and a hi-low transmission. Anglers who must navigate uneven ice and heavy drifts before drilling their holes will find those features indispensable.
Anglers who ride tandem to their hot spots will appreciate how the WideTrak's cargo rack and roomy underseat storage can accommodate both of their gear. They'll also enjoy the comfort afforded by the WideTrak's new Lock & Ride® Backrest, which adjusts for a passenger's comfort. When riding solo, however, the system can be moved forward for the driver's comfort.
New INDY 550 Adventure Snowmobile
The 550 INDY Adventure 144 is the snow-going jack of all trades. Its impressive versatility is optimized by its innovative cargo system and new passenger seat option, great for carrying everything to the fishing hole.
The INDY's Adventure Cargo System features an aluminum rack that holds cargo and provides the mounting points for the Lock & Ride® Saddlebags, which can be installed (or removed) in seconds – without tools. The saddlebags lock securely onto the rack and offer convenient, protected storage.
The INDY Adventure can be converted into a 2-up machine quickly and easily with the installation of the new Lock & Ride® convertible passenger seat. This seat installs on the cargo rack – no tools required – and comfortably accommodates a passenger of up to 120 pounds (54.4 kg).
The 550-powered sled is built on the PRO-RIDE™ Chassis and has PRO-RIDE independent front suspension (IFS) and smooth-riding coil-over rear suspension with RydeFX® MPV shocks.
The INDY Adventure has comfort and convenience features such as electric start, mirrors, a protective tall windshield with side wind deflectors and more.