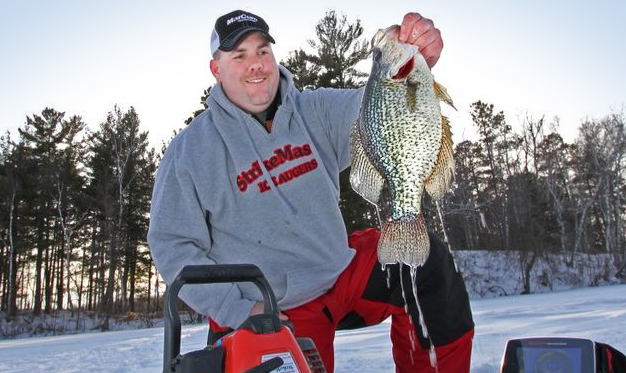 What makes the bite the toughest in Northern Minnesota and how do you overcome it to still catch fish?
Everyone goes to their favorite lakes again and again, even when the bite is slow. Drive a few more miles down the road, do some exploring. Ditch the permanent house, grab an Otter. Stay portable with the new Honda auger, pop some holes and underwater scout with a MarCum LX-9 [Product 'LX-9' not found!] to find a great bite nobody else knows.
What's the biggest myth in ice fishing?
That you don't need to have power. The days of sitting there staring at a hole in the ice are gone. Power on the ice matters. My MarCum electronics provide superior target separation, unbelievable sensitivity and I can see what's going on under the ice. And Marcum's products are easy to use and very intuitive, whether you are a seasoned ice angler or an ice rookie.
What's the number-one thing you see other anglers doing wrong when they are not able to get consistent bites?
I've seen permanent houses in the same spot all winter long. But ice fishing is more than drilling a hole and dropping a line.

How does ICE FORCE gear help you catch more fish consistently?
It's not a luxury to use the best products in the industry, it's a requirement. MarCum electronics are the best at finding biting fish and they are easy for my guide clients to use, even if they are beginners. When I'm guiding, I drill a lot of holes and haul a ton of gear, so my lightweight StrikeMaster auger and Otter sled allow me to move quickly and efficiently to keep clients on fish without a lot of malarkey.