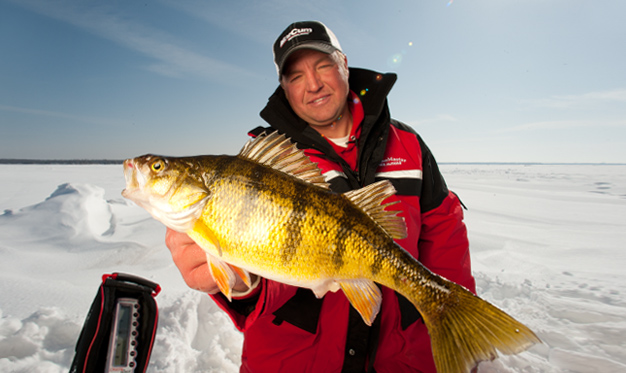 With three jumbo perch already on the ice nearby, Ice Force Pro-Staffer Tony Roach kneels beside an ice hole – one of dozens he's punched this day – and calls his shot. He's going to get bit again and he knows it.
"Look at that screen," he says pointing to his MarCum Showdown digital sonar unit, it's thin, vertical LCD display showing a stack of quivering blips hovering over a thicker black bar and the numeral 27. "That's unreal! … Look at all the fish on that screen!"
The number 27 indicates his water depth. The thicker the black bar marks the bottom. And each quivering blip is a perch he's about to put on the ice.
"And that's what's nice about the Showdown's target separation – you can pick out individual perch in the schools," he explains.
He flips the bail on his reel, untethering a tiny jig on light line. Suddenly, another digital blip enters his Showdown's LCD screen from the top, racing toward the blips pulsating near the bottom. The MarCum unit's sensitive sonar is marking his jig as it plummets towards the perch school.
"Watch this jig come down – it's so electric!" Roach enthuses. "Go, go!"
Suddenly, a perch separates from the pack and races up to meet Roach's plummeting jig – an encounter rendered on the Showdown screen so accurately Roach knows its time to act. With a fluid motion, he sets the hook and his rod tip loads up. Colliding blips mean bites.
"Fish on, baby! Just like that!" He hollers, grinning and reeling like mad. "That is Showdown perch fishing right there!"
Pro-Approved, Novice-Friendly
Although Roach is a professional ice-fishing media personality, it's clear from his demonstration that it wouldn't take a pro to find and catch fish with a Showdown. With both automatic and manual settings, Showdown delivers for ice anglers of all experience levels.
"Just put the transducer in the hole and the Showdown goes to work for you," says MarCum Brand Manager Steve Hanson. "The unit will automatically lock in on the bottom, show you what depth you're at, and take all of the guesswork out of it."
An elegant simplicity makes the Showdown's logical, vertical display easy to interpret.
"Top is top, bottom is bottom," Roach says.
The Showdown's ease of use doesn't mean it lacks features or performance, however.
Features
The target separation Roach raved about comes in at ½-inch, a level of performance that matches MarCum's newer digital platforms and bests all mechanical flashers on the market.
"Showdown's display technology yields instantaneous response of your lure and the fish," Hanson says. "If you're lowering your lure down through the water column, you can see it and you can stop it any time you see fish."
Fishing in a crowd? The Showdown's impenetrable interference rejection system features 10 levels of adjustability. "So if you're fishing near other anglers with other sonar, you can clear up clutter with a breeze," Hanson explains.
Cold weather might cause your fingers to fail, but it will have little ill effect on the Showdown's LCD screen. An Ice-Mode activated internal heater aids the LCD in extreme conditions.
Being digital units, Showdowns operate without any moving parts. No moving parts mean a long battery life and improved durability in extreme cold conditions. Additionally, the digital platform makes the Showdown "infinitely upgradable," Hanson notes. Firmware updates are posted on MarCum's website, www.marcumtech.com.
Showdowns are available in single- and dual-beam versions. The single-beam unit features an industry-standard 20-degree sonar cone angle; the dual-beam unit toggles between 20 degrees and more-precise 8.
Two zoom settings offer anglers options: Auto Bottom Lock Zoom adjusts to the bottom 25 percent of the water column; Moveable Zoom is infinitely adjustable, anywhere in the water column.
All Showdown units come with a soft pack, rechargeable battery and battery charger.
Back on the ice
Back on the ice, Roach's rod is doubled over again, another jumbo perch on the up-elevator to the ice surface. As he reels, the digital blip rises accordingly to the top of the LCD screen.
"Fish on!" Roach shouts, flashing a big grin and laughing, lifting a plump perch from his hole. "It just never gets old!"
Watch Tony Roach Use His MarCum Showdown to Find and Catch Jumbo Perch
Watch Steve Hanson Highlight the MarCum Showdown's Features