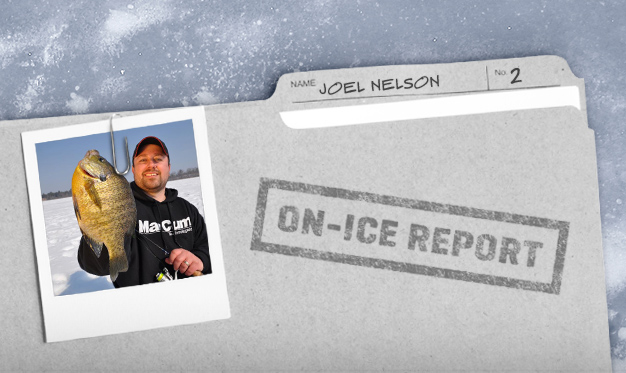 Everybody knows about the dog days of summer, the sun and scorching heat make fishing downright brutal. But have you heard about the Mid-Winter Blues?
"The blues happen every ice season, but this year they are coming a little later," reports ICE FORCE Pro-Staffer Joel Nelson.
When snow becomes thick this time of year, it reduces available light to aquatic vegetation, causing plants to decay. This reduces the amount of available dissolved oxygen to fish, creating a doldrum.
When the Mid-Winter Blues strike, you won't find Nelson headed to premier fisheries all over the state, but rather sticking close to home, fishing more predictable bites on backwater areas and small ponds. Hailing from the driftless region of Minnesota, there aren't a ton of unpressured lakes to choose from. This is where Nelson puts off-the-beaten-path techniques into play.
Seeking the Spot
The search seems to excite Nelson more than the actual catching, and he has come up with a dynamite recipe for finding mid-winter fish on backwaters and ponds.
When it comes to backwaters, Nelson begins by scouring maps. His favorite resources are aerial maps and old U.S. Army Corps of Engineers maps. Both allow him to key in on specific areas he intends to target. What he's looking for is areas that have been blown out by current, making them deeper than the surrounding water. There should be little to no current in those areas now.
"It isn't always the 10- to 15-foot holes that are productive like many may think," he says. "Try looking for holes bottoming out in 6 to 8 feet where the surrounding area is only 2 to 3 feet deep. Once you find your spot on the map, grab your gear and get out there!"
Backwater Perch attack!
On his backwater areas, Nelson looks for good weed growth and springs. Vegetation attracts fish and a spring will bring good clear water, making for an excellent perch bite.
"Keep in mind though that springs often create dangerous ice conditions, so go with caution!" he says.
Using a MarCum VS825SD underwater camera to pin perch down to the inch, Nelson often locates them very tight to weeds or another piece of structure, making for a spot-on-the-spot bite.
When the water is only as deep as he stands, Nelson won't be jigging on the bottom. Often the perch will be cruising in the top half of the water column, and he isn't afraid to fish directly underneath the ice.
"I treat these river perch more like gills, and tend to stay away from spoons, opting for big plastics instead," he says.
Like many of other bites this time of year, perch seem to bite the worst in the morning, peaking around mid-afternoon and again close to sundown.
Small-Water Panfish
About half the ponds Nelson fishes are public, the other half private. And while he's encountered a stigma with fishing small ponds, he says that shouldn't be the case.
"It's still a fishery, and it's amazing how well fish can hide in a 20-acre pond," he says.
The beauty of smaller bodies of water is that fish can be easier to find, and bites are often more predictable. This is especially important with frequent fronts passing through this time of year.
Once Nelson has located a school of bluegills, he doesn't load up a #32 ice midge, he goes big.
"I find the biggest piece of panfish plastic I can – big and gaudy is the best way to trigger these bluegill," he says.
And if the 'gills are being fussy, he isn't afraid to use some meat. His go-to bait is a single red spike strung all the way through the hook, so it's covering the entire thing.
Such little details have made a difference for Nelson this mid-winter.
He also wouldn't be caught dead without his MarCum LX-7 sonar unit when fishing on these small ponds.
"There are often times a lot of small fish mixed in with giants, so being able to sort through them with astonishing accuracy is a lifesaver!" he says.