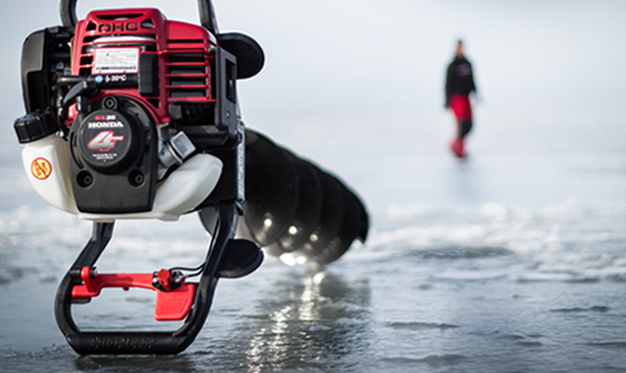 When you find a honey hole this winter, spend more time fishing through it and less time re-drilling it. Open the ice with StrikeMaster's new 10-inch Honda™ 35cc Lite [Product 'Honda%2035cc%20Lite' not found!].
Not only does a 10-inch hole better accommodate lunker fish, it takes longer to ice back up. That means more time fishing and less time drilling.
With a 10-inch bit, you don't have to re-drill productive holes continually –  a major convenience for someone who drills numerous holes and jumps from one to another and back again.
Someone like ice-trolling innovator and ICE FORCE Pro-Staffer Tony Roach? Indeed!
Roach agrees that StrikeMaster's introduction of the 10-inch Honda 35 cc Lite has made ice fishing's best auger even better.
"When StrikeMaster introduced the original Honda 35cc Lite last year, it was clear they had crafted a four-stroke masterpiece," says Roach, a full-time fishing guide on Minnesota's Mille Lacs Lake. "This year, the brand has taken the angling industry's premier ice auger a step further, arming it with an even bigger, sexier, 10-inch bite, all without sacrificing the steadfast reliability anglers have come to expect from this legendary company."
Powered by a state-of-the-art, emission-certified Honda four-stroke OHC engine, the  10-inch Honda 35cc Lite offers quick, effortless and environmentally conscious cutting through the thickest of ice. A two-year warranty on the engine provides peace of mind. Its heavy-duty 10-inch drill features twin stainless steel Lazer blades.
"From its razor sharp blades and tough-as-nails 10-inch drill, to its fantastic engine, StrikeMaster's latest innovation is a must-have for serious hard-water die-hards," Roach says.
Weighing in at a mere 26 pounds, the 10-inch Honda 35cc Lite is ice-fishing's lightest 10-inch auger.
"Auger weight can be a deterrent to drilling more holes " Roach says. "When schools of biting fish are on the move, you don't want to talk yourself out of moving with them because you don't want to lug your auger around."
StrikeMaster's engineers designed the Honda 35cc Lite with the goal of setting a new standard in quality and functionality. Mission accomplished, Roach says.
"There are no tricks or gimmicks with the latest addition to the Honda 35cc Lite family – only clean speed and unprecedented power," he explains. "Anglers will love how this auger takes them from crushing ice to reeling in the next catch in minutes."