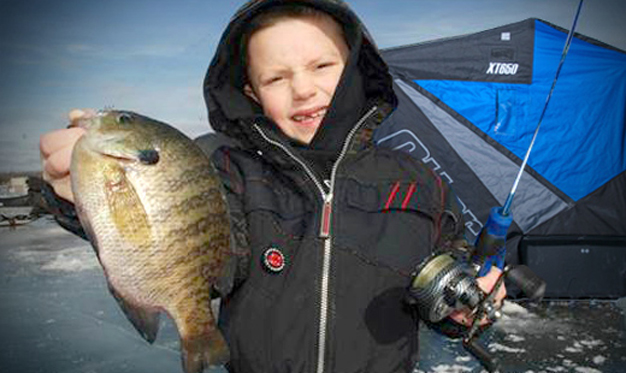 The little boy, 6, was amazed. In the darkness of the Otter ice shelter, the view down the hole was like the world had turned upside down and giant bluegills were swimming through clear skies above his head. So enthralled was he by the spectacle, thoughts of Gummi Bears and Gameboys melted away.
With some coaxing, the boy pulled his face away from the hole, got up off the ice, sat on his padded bench and dropped a bait to the beauties below. Before long, he was excitedly reeling in a big, blue gill.
"You don't get that experience in just any ice shelter," says ICE FORCE Pro-Staffer John Grosvenor, a fishing guide on the crystal-clear waters of Iowa's West Lake Okoboji. "Inside an Otter, it's so warm and comfortable, and the fabric is so rugged and well sewn, that it keeps out the outside world and you can really get carried away. And that makes ice fishing so much fun – whether you're 6 or 60!"
Grosvenor, a longtime Otter user, is looking forward to more fun this winter fishing in a new Otter XT650 [Product 'XT650%20Shelter%20Package' not found!]. Along with a sharp new look, the XT650 comes multiple new benefits.
First and foremost is a dual-layer 650 denier shell with full thermal top. That eliminates black-out interior coating, provides better wear resistance, locks in heat, and significantly reduces overhead condensation.
"Those aren't just bullet points in a catalog, those are things that make for a really comfortable fishing experience," Grosvenor says. "As a fishing guide, those are great assets for me. The less time I have to spend making clients comfortable, the more energy I can devote to putting them on big fish. When my clients are in my Otter, I can be confident their only concern is the fish below their feet, not cold hands and feet."
To further deliver on Otter's reputation of industry-best insulation, the XT650 features an interior draft skirt and extra-long perimeter skirting. Crack-resistant windows with insulated covers keep out drafts and block out light when you want total darkness to sight fish in clear water. Pull aside the window covers when you want more light inside.
XT650 Sled & Seating
Each XT650 is built on an Otter single-piece, roto-molded poly sled and packed with high-quality features. The key to its toughness is it's heavy-duty, oversized square tube aluminum frame, integrated with anodized receiver tubes and an ultra-glide system that gives anglers a rugged shelter they will always depend on.
"The shack's sturdy construction is key to catching fish in clear water," Grosvenor explains. "Its square tubes and tight shell cuts down on 'shack flap' in the wind.  A loose shack will flap around and spook the fish. I've been fishing in Otter shacks now for years, after I got tired of scaring my fish away."
As versatile as it is cozy, the XT650 is manufactured with a flip-over design that lets users set up the shelter in multiple positions and adapt to local weather conditions.
The shack's foam-padded bench seat presents owners with all-day comfort. Flip the seat up, and they can access gear from a convenient, built-in storage compartment.
Like the Pro XT1200 Series, the XT650 line offers incredible convenience. Each option has a custom trim-lock system that gives owners the ability to attach the house to the sled in less than one minute. Its molded-in hitch pockets seal the deal by making towing the sled to the perfect honey hole as easy as can be.
"The hitch system is perfect and with Otter's Hitch Pivot [Product '200037' not found!] accessory I can leave the hitches attached at all times, saving time because it just folds out of the way," Grosvenor says.
Otter's hitch system allows Grosvenor to easily accommodate larger groups.
"I can hook two or three shacks together and tow them behind my snowmobile out to a hot bite," he explains. "And I can just leave them all hooked together behind the vehicle and not worry about them blowing away."
Anglers can select from a variety of XT650 models to suit their needs: XT650 Cottage Ultra Wide (one-to-two person model); XT650 Cabin (two-person model); and XT650 Lodge [Product 'XT650%20Shelter%20Package' not found!] (two-to-three-person).