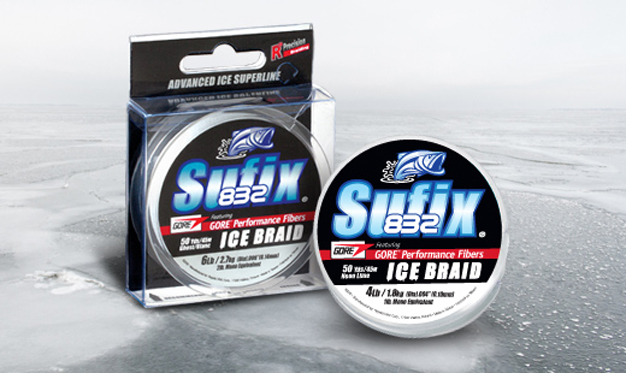 When fishing deep, hook-set speed can mean the difference between the fish of a lifetime and the one that got away. Fish with Sufix® 832® Advanced Ice Braid [Product '832%20Advanced%20Ice%20Braid' not found!] this winter and you'll have braggin' board photos to share rather than sob stories to tell.
"I like to use Sufix 832 Ice Braid when I'm fishing really deep water – 35 to 50 feet," says Minnesota Fishing Hall of Fame angler and Ice Force Pro-Staffer Tom Neustrom. "Because mono stretches, and that can result in missed fish when you've got a lot of line out to reach a deep school."
When monofilament line stretches on a hook-set, it absorbs much of the energy the angler imparts with the rod tip. That slows down and weakens your hook-set. And that can mean missed fish.
Sufix 832 Ice Braid solves that problem – and without the icing issues that plagued others' attempts at winter-fishing braid.
"The problems with braids of the past is that they absorbed water, so you'd get frozen spools and iced-up line guides," Neustrom explains. "Sufix 832 ice braid does not have those problems."
That's because Sufix 832 Ice Braid is inlaid with GORE® fibers, which allow it to shed water like duck feathers.
Like all Sufix 832 line, Ice Braid features a low diameter, owing to a tight, 32-weave-per-inch composition that includes 7 Dyneema fibers plus the GORE® fiber. That makes it both supple and strong, feather-light and user-friendly.
"It's smoother and easier to control than other winter braids," Neustrom says. "Its manageability is so much better."
It's also the fastest-sinking ice braid available. That's important when you're on a school and you want to get your bait down to biting fish as quickly as possible.
Sufix 832 Ice Braid comes in 50-yard spools of 4-pound test in a 1-pound diameter, an in 6, 8, 10, 20 and 30-pound test in an 8-pound diameter). It's available in both Neon Lime and low-vis Ghost colors.