Few can improve on perfection, but MarCum® has done it again with its new "M-Series," the most advanced flasher-sonar displays ever built. Each features brushless, dead-quiet operation with dazzling bright and crisp color definition of bottom, fish, baitfish and lure, all illuminated on the highest-resolution display available in a commercial-grade flasher.
"MarCum's legendary performance has improved yet again," says ICE FORCE® pro Tony Roach, an in-demand Minnesota guide and media personality. "Already having forever changed the game of hunting fish on frozen water, MarCum's still improving the angler experience in ways you'll appreciate immediately in both a shelter and out on open ice."
Each M-Series flasher-sonar display features TrueColor patented MBC brushless lighting and superior target separation in its class. Each comes with a two year system warranty, an 8-foot transducer cable, a padded red soft-pack and a three-stage automatic battery charger. The selectable depth ranges for each are 20, 40, 80 and 160 feet.
M5 Flasher System
The most advanced flasher-sonar ever built, MarCum's M5 offers dazzlingly bright and crisp color images of the bottom, vegetation, fish, baitfish and lure, all displayed with the highest resolution available. No other flasher can match its 2,500 watts of peak-to-peak output power, patented infinitely adjustable zoom and Super Fine Line technology, which improves screen resolution and enhances target separation to a razor-thin 3/4 inch.
"Super Fine Line display allows you to determine a fish's mood and adjust your jigging stroke accordingly," Roach explains. "A unit with sub-par target separation will show a single, blocky bar when a fish is within inches of your bait. So, if that fish backs off slightly, you won't see that reaction on an inferior flasher."
The M5's precision-tuned dual beam transducer allows the angler to switch between 8-degree and 20-degree cone angles for deep- and shallow-water use. Infinitely adjustable zoom allows for honing in on any segment of the water column. A patented, industry-best 12-level interference rejection system knocks out competing noise from nearby sonar units, so fishing in a group causes no problems. It comes with a rechargeable 12-volt, 9-amp battery.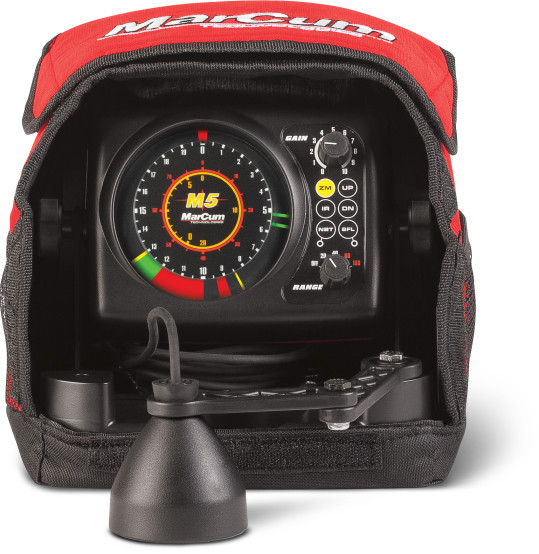 M3 Flasher System
When comparing all of the MarCum M3 specs to other flashers in its class, on paper, it beats them in all categories. The real proof, though, is in actual on-the-ice performance.
"MarCum calls it 'Total System Performance,'" says ICE FORCE pro Brad Hawthorne, an in-demand Minnesota guide. "While it proudly delivers the highest output power in its class, it also intelligently manages its wattage to work in concert with its precision-tuned transducer and operating system."
Featuring target separation down to 1 inch, the M3 excels at identifying both bottom-hugging Walleyes and schools of suspended Crappies. It features 2,000 watts of peak to peak output power, a patented infinitely adjustable zoom, a 20-degree transducer and a patented 12 step interference-rejection system. It comes with a rechargeable 12-volt, 9-amp battery.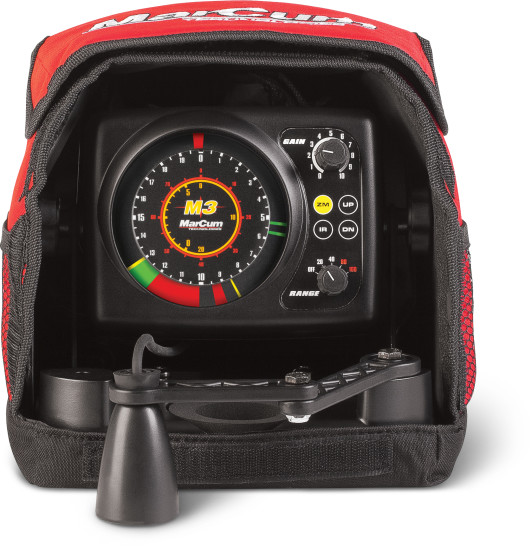 M1 Flasher System
MarCum's entry-level flasher, the M1 offers performance, pricing and features that the competition can't match, including split screen 5-foot bottom lock, 2-inch target separation and a 20-degree transducer.
Boasting 1,000 watts of peak to peak output power, the M1 is a fish-finding powerhouse. Capable of producing incredible detail, it will help anglers fish tiny jigs in deep water and find fish hiding in thick cover. Its patented multi-step interference-rejection system cleans up stray signals from nearby electronics, making it not only possible, but enjoyable, to fish in a group on the ice. It comes with a rechargeable 12-volt, 7-amp battery.
"If you're a guy that goes out maybe four or five times a year, you can't beat the M1, feature for feature," Hawthorne says. "To get those features in any other brand, you're going to pay a lot more."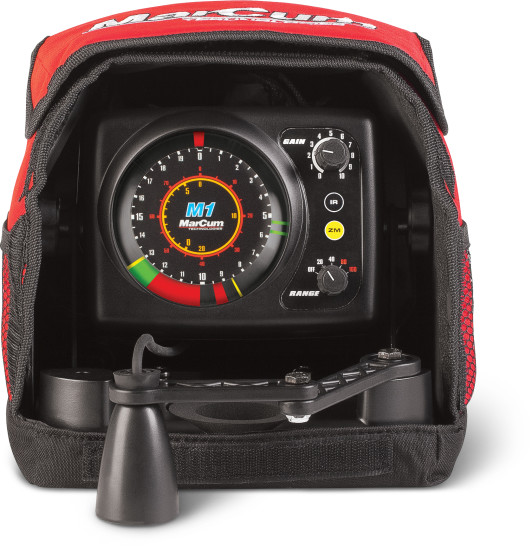 See MarCum® M5 Flasher System
See MarCum® M3 Flasher System
See MarCum® M1 Flasher System