Ice anglers are a rare breed. They flock to the frozen tundra with gusto in search of the Ice Belt's most prized gamefish, often braving sub-zero temperatures for the chance to hook a big, golden-bellied 'eye, mammoth pike or coveted crappie. This holiday season, up their odds for on-the-ice success with gifts from Rapala® and ICE FORCE®, a collection of the most iconic names in hardwater fishing.
From big-ticket items like augers and underwater cameras that are sure to knock the socks off any ice-head on your list to tried and true ice lures, line and accessories, Rapala and ICE FORCE are a one-stop holiday shop for family and friends who love spending their time pulling lunkers through the ice. For all the gift-giving inspiration you'll need this season — including apparel fit for the rigors of cold-weather fishing — check out the gear showcased below.
MarCum® Lithium Shuttles
Compact, lightweight and long-lasting, the new MarCum® Lithium Shuttle is an all-in-one gift solution perfect for the ice angler who is always on the go.
With the ability to extend a sonar unit's continuous run time by as many as 40 hours, the Lithium Shuttle is a revolutionary new way to will for ice anglers to power their favorite system and enjoy non-stop action from sunup to sundown with no charging needed in between.
The Lithium Shuttle is self-contained and includes a built-in 12-volt, 12-amp hour Lithium ION polymer battery. When its battery finally runs dry after hours of fish-catching fun, the Lithium Shuttle recharges fast when connected to the unit's included 3-amp hour charger.
Additional powered features include a LED light positioned to illuminate ice holes and charge glow lures, dual USB Power Ports, a battery status indicator and two 1/4-20 ports to accommodate additional accessories.
The Lithium Shuttle also comes equipped with an articulating handle with locking spokes that adjust to fit most ice-sonar systems on the market, and an inverted transducer rest to help eliminate freeze-up.
Mounting holes are pre-drilled to allow anglers to outfit their unit with a handy gimbal bracket. The Shuttle's carriage is designed with dual rod holders, integrated cable storage and grips and dual transducer support-arm mounts.
Adding even more convenience, each unit comes with a 5-gallon bucket for safe storage during travel to, and on, the ice.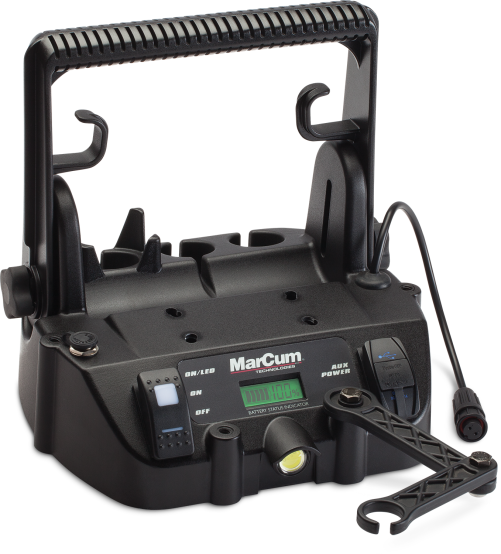 MarCum® Recon Underwater Cameras
This holiday season, put the power of underwater viewing in the palm of your loved one's hand with the pocket-sized MarCum® Recon 5 systems.
Small in size, but built with big features, the MarCum Recon 5 and 5 Plus will make it easier than ever for friends and family to peek below the ice and pinpoint fish wherever the may lurk, with all the technology that keeps MarCum electronics the No. 1 choice of hardwater enthusiasts across the Ice Belt.
Both units are powered by a long-lasting lithium battery and come complete with a powerful camera and a high-resolution LCD screen the size of a smartphone for added portability. The underwater cameras built into each unit feature a 1/3-inch CMOS sensor, darkwater LED or infrared lighting, a 110-degree field of view and a 50-foot cord, allowing anglers to search deep for their next big catch.
The cameras offer three angle settings: straight down, horizontal and looking up. Color-kill technology aids anglers fishing in stained water or in low light. In these conditions, switching from a color picture to black-and-white provides an amazingly crisp and clear image.
For an option with extra bells and whistles, choose the Recon 5 Plus, which boasts a built-in DVR and the ability to take a screenshot, record to an external micro-SD card (up to 32GB), play back video and delete footage, so anglers can show off each exciting bite of the season.
The Recon 5 Plus also indicates depth of camera, direction of view and water temperature. Both models provide an impressive six hours of continuous run-time.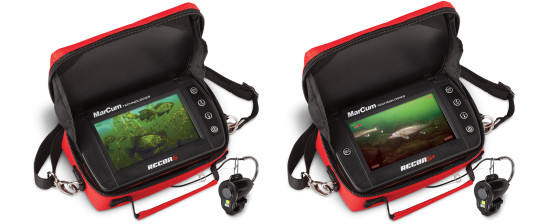 StrikeMaster® 40V Lithium Auger
For a gift sure to make jaws drop this holiday season, look no further than the new StrikeMaster® 40V Lithium Auger.
Available in-store now at ice fishing retailers, this juggernaut of an auger is powered by a lightweight lithium ion battery and packs a serious ice-crushing punch. Offering the speed and power typically only found in conventional gas augers, the StrikeMaster 40V Lithium Auger can cut up to 100 holes through 16 inches of ice on a single charge, making hole-hopping quicker and catching fish more efficient than ever before.
Legendary Finnish-made Mora full-length spiral and Swedish-made stainless steel Lazer blades provide fast, high-performance cutting, while dual forward/reverse control enables both drilling holes and flushing slush from them.
The Lithium 40V's custom impact-resistant handles feature an ergonomically placed, opposing dead-man/power switch and built-in LED lights. A 2-amp rapid-charge station can get its battery back to full charge in 2 ½ hours. When fitted with twin 8-inch blades, the 40v weighs in at only 24 pounds. With 10-inch blades, it weighs only 27 pounds.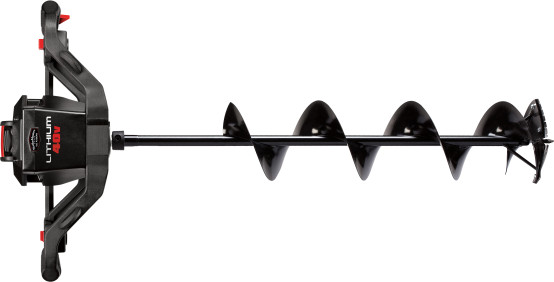 Rapala® Fish 'n Fillet®
The fillet knife choice for generations of anglers worldwide, the iconic birch-handle Rapala® Fish 'N Fillet® is a sure-fire gift option guaranteed to deliver quality and durability.
Made by respected Finnish blade manufacturer Marttiini for over 50 years, this is the blade that taught the world to fillet. With more than 40 million sold to date, this knife is used in more fishing camps and ice shacks than any other.
The Fish 'n Fillet is the pinnacle of artisan blade-making. Each is outfitted with a progressively tapered, flexible, full-tang blade of European stainless steel that takes and holds a razor-sharp edge, securely anchored in the brand's legendary (and comfortable) birch handle.
The Fish 'n Fillet comes with a fine-tooled leather Laplander sheath with a free-swing belt loop that keeps the sheath and blade clear of the body for added safety. An easy-to-use single-stage sharpener is included with every knife. With four blade sizes to choose from, you can find the perfect model for any filleting chore and help your friends and family enjoy years of delicious fish fries.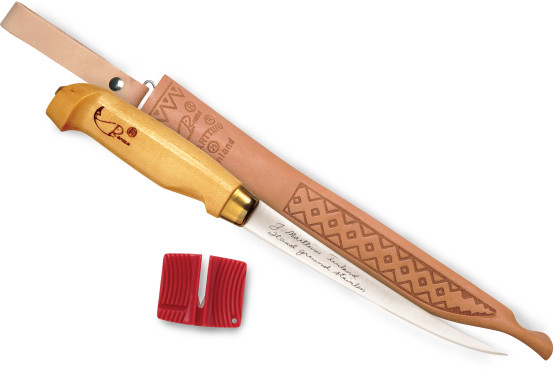 Rapala® Ice Baits
Nothing will excite a hardwater die-hard like unwrapping a selection of Rapala's best-in-class baits. Including world-renowned options like the iconic Jigging Rap® — the world's No. 1 ice lure — and innovative models like the Slab Rap® and new smaller-sized Ultra Light Rippin' Rap® No. 3, Rapala's family of ice baits is sure to help any angler land their fill of fish this season.
Swimming in tantalizing circles under the ice, the Jigging Rap features a balanced, weighted minnow profile. Single reversed hooks with center treble and eyelet, this bait can also be bottom-bounced yo-yo style with unbeatable results. Available in a wide range of sizes and color patterns, no adventure on the ice is complete without a handful of these bad boys.
Another outstanding option when anglers impart quick rod snaps, the Slab Rap delivers a wide-searching, erratic action beneath the ice, circling back to center after each pause. A simple lift-and-drop presentation creates a subtle vibration on the rise, followed by evasive side-to-side motion on the fall. The lure's weight-forward design enables a rocking action for triggering negative fish in extra-frigid conditions.
Last, but certainly not least, the new Ultra Light Rippin' Rap No. 3 may be the hardwater scene's most anticipated new weapon. This walleye magnet flutters on the drop with a hard-vibrating action accented by a loud, distinctive BB rattle system. Drop it above a bottom-transition area, give it a few aggressive rips, then shake it gently in place to trigger big bites all day long. A versatile new option, the Ultra Light Rippin' Rap No. 3 is sure to nab its share of bruiser perch and pike in addition to coveted 'eyes.
Rapala® Jig Box
Keeping your tackle organized is a seemingly minor detail that can make a big impact on an angler's experience on the ice. Help a lucky someone spend less time fussing with their rig and more time rippin' lips with the Rapala® Jig Box.
A must-have stocking stuffer this year, the Rapala Jig Box features four-sided tackle storage, a waterproof seal, high-compression hook clips, slotted compression foam for protection and extra jig storage. It's the perfect portable place to store and protect the jigs fishers depend on to catch their limit for the evening's fish fry.
Built by ice anglers for ice anglers, this jig box offers a heavy-duty construction that outlasts lesser products. It comes in two sizes – small (4-3/4 x 4 x 2 inches) and medium (6-3/4 x 4 x 2 inches).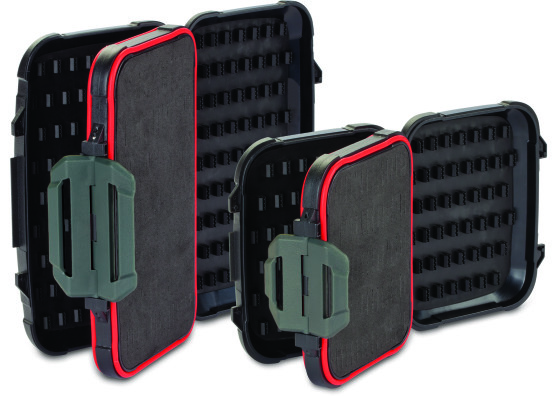 Sufix® Ice Fishing Line
When temperatures plummet, it's essential to have ice rods and tip-ups spooled with a line that stands up to the frigid temps and remains flexible. Surprise a lucky angler this year by tucking a spool of Sufix® ice fishing line in their stocking.
Stronger than any other line on the market, Sufix's portfolio of ice line offers the perfect option for any hardwater angler.
When targeting panfish, Sufix Ice Magic monofilament in 2-pound or 3-pound test is the ticket to success. Made with special additives to deter water absorption, Sufix Ice Magic resists ice build-up on your line, guides and spool. It also sinks faster than traditional monofilament, allowing for a more natural bait presentation. For heftier walleye or perch, Ice Magic in 6-pound test can't be beat.
If your favorite angler prefers battling hard-fighting pike or lake trout, Sufix Invisiline Ice 100% Fluorocarbon is your go-to choice. With stealth-like invisibility, this line boasts superior strength and handling and is low-stretch for optimal hook setting power. Invisiline Ice Fluorocarbon is abrasion-resistant and sinks four times faster than monofilament.
Sufix 832® Advanced Ice Braid is the ultimate solution for eliminating line breaks this winter, offering limited stretch and superior abrasion resistance. With Sufix 832 Advanced Ice Braid, anglers fishing deeper water — where limited stretch means the difference between a fish on the ice and a missed opportunity — and anglers who require the ultimate in sensitivity can enjoy the advantages found in the industry's leading open-water braid, regardless of temperature.
Sufix 832 Advanced Ice Braid, inlaid with GORE Performance Fibers, sheds water like duck feathers, helping anglers avoid ice forming on their line and spool. Visit Rapala.com to review the full catalogue of Sufix ice line options.
ICE FORCE® Apparel by Rapala®
Outfit the anglers in your life with comfortable and functional ICE FORCE® apparel from Rapala® to ensure they look and feel great as they haul their next trophy up through the ice.
From toasty warm caps and gloves to keep them on the ice in sub-zero temperatures to sweatshirts and hoodies perfect for relaxing in the ice house, your loved ones will love any item from the brand's cold-weather clothing options.
Stylish options for outings off the ice are available as well. Choose from a host of T-shirts, long-sleeved shirts, sweatshirts, jackets, hats and plenty of other accessories to round out any outdoor enthusiast's wardrobe.
With overnight shipping (if ordered before 1 p.m. CST), Rapala and Respected Rapala Brands apparel provide the answer to your last-minute shopping needs.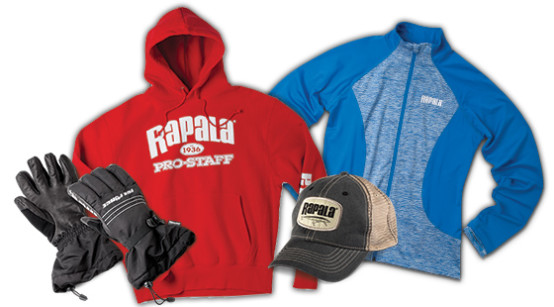 Rapala® Fishing Pro Series for PS4 & XBOX One
The most trusted name in fishing is taking the thrill of competitive angling to the digital world just in time for the holidays with the introduction of the brand-new Rapala® Fishing: Pro Series video game for XBOX One and PS4.
The perfect substitute for the real thing on days when it's just not possible to hit the ice, Rapala Fishing: Pro Series' realistic gameplay experience allows players to fish with their favorite Rapala lures, from the iconic Original Floater to the Shad Rap and the bass-slaying DT-Series and more, on real-world fishing hotspots in high-stakes tournaments across the nation.
A great gift to help youngsters embrace their love of sport fishing, Rapala Fishing: Pro Series is a can't-miss option for outdoors enthusiasts who also like to unwind with a night of gaming.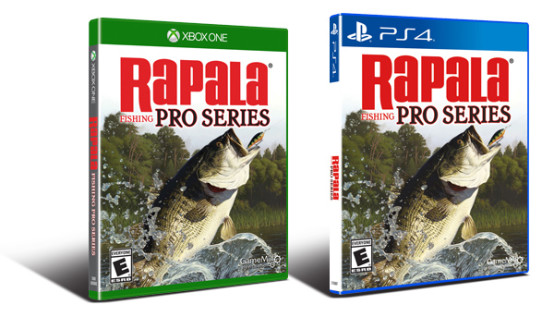 Stop by your local sporting goods store or visit Rapala.com to purchase can't-miss holiday gifts. Be sure to check out Rapala on Facebook at Facebook.com/RapalaUSA for special offers, tips and techniques, new product updates and much more.