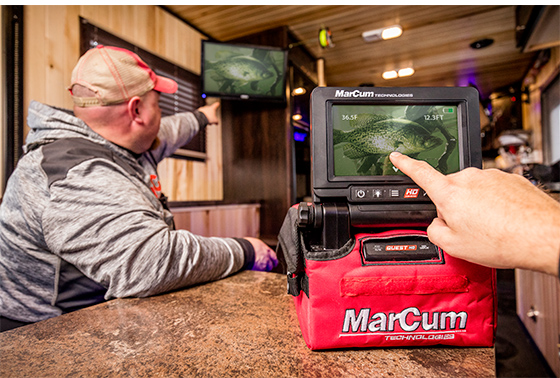 Ready to watch jumbo perch on your own personal Jumbotron? Connect an HDMI cord from your hard-side's TV to a new MarCum® Quest HD underwater viewing system and enjoy movie-quality displays of the fish biting below your floor.
"This is the perfect solution for the hard-side fish house angler looking to see, for the first time, crisp, clear underwater video as it was intended to be seen – on the big screen," says Ice Force Pro Tony Roach, an in-demand guide on Minnesota's famed Mille Lacs Lake. "You're going to love it. It's mind-blowing."
MarCum's Quest HD is the only underwater viewing system that empowers anglers to explore the underwater world in razor- sharp, high-definition detail by combining a high-quality Sony camera with the ability to send an HD video signal to a TV over HDMI in full 1080p.
"I can't tell you how blown away I am by the quality of the new Quest underwater camera from MarCum," Roach says. "I've had this thing out, chasing multiple species – from perch to walleye to pike, even ciscoes – and it's unbelievable how clear it is."
The Quest HD system's Sony 1080p HD camera – the most optically superior underwater camera on the market – boasts the most powerful lowlight-capable image sensor to produce unmatched image quality. Solar Intelligent Technology offers 100 percent daylight view-ability of the system's 7-inch, widescreen, 800 x 480-pixel, vivid display screen – the brightest LED screen MarCum has ever produced.
Sensors in the camera housing measure depth and temperature to give anglers a comprehensive understanding of the water under their feet. The monitor screen displays battery-charge level and a relative direction arrow that points in the same direction as your camera is pointing.
The Quest HD system's Color Kill Technology aids anglers fishing in stained water or low light. In these conditions, switching from a color picture to black-and-white provides an amazingly crisp and clear image.
Additional feature:
• 1/3-inch image sensor
• .01 Lux Camera
• On-screen brightness, contrast and sharpness controls
• Padded soft-pack shuttle case
• 12-volt, 9-amp battery
• Automatic three-stage battery charger
• 75 feet of cable
• Darkwater LED lighting
• Down-view stabilizer fin
• Sunshield
• One-year warranty