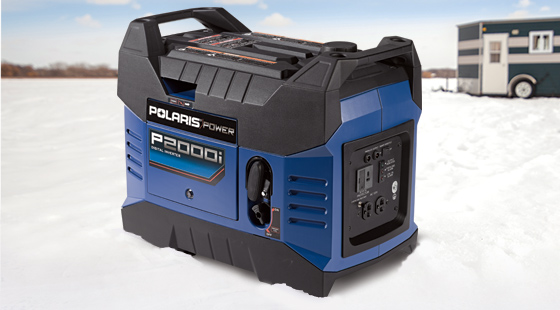 Not only will Polaris® power get you on the ice in winter, it will also run the extra-curricular electronics in your ice house.
New for the 2015-16 ice-fishing season are three versatile Polaris POWER digital inverter generators. Built to suit the needs of ice anglers and other outdoor enthusiasts alike, Polaris generators are tested to the same rigorous standards as are Polaris snowmobiles, side-by-sides and ATVs.
"Polaris leveraged more than 60 years of technical expertise in developing and testing outdoor performance to ensure that these generators can handle any task for years to come," says ICE FORCE® Pro-Staffer Joel Nelson. "I'm looking forward to my ice house's power source being as reliable as my snow machine."
Polaris POWER digital inverter generators deliver clean power in a fuel-efficient, quiet, and compact package. Highly portable, they are perfect power sources for not only ice fishing, but camping, hunting, tailgating and other outdoor activities. They're valuable also as emergency back-up home power sources.
"Digital inverter generators provide a convenient and reliable power source for today's outdoor lifestyle consumers," says Steve Eastman, Polaris vice president of parts, garments and accessories. "Our new family of Polaris POWER products offer rugged and portable designs which are perfectly suited to meet their power needs."
Available in three models – the P1000i, P2000i and P3000iE – Polaris' new generators deliver 1,000, 2,000 and 3,000 watts of maximum AC output, respectively. Each model features an economy throttle, which allows power management output to maximize run-time. The P1000i and P2000i are both parallel-capable, meaning multiple units can be linked to provide additional power. This makes them ideal for powering tailgate parties, running small appliances at campsites, and powering work lights.
"By delivering a consistent, stable level of voltage anytime, anywhere, these generators really give you the power to enjoy the outdoors in the way you want," Nelson explains. "Beyond all the applications for ice fishing, I can see all sorts of other uses for outdoors enthusiasts and their families – work on your laptops in the middle of nowhere, watch a movie at the campsite – the possibilities are really only limited by your imagination."
Polaris validated each generator's sound output in real-life outdoor environments, like campsites and tailgating lots, "so you can be confident in the decibel-level accuracy," Nelson says. "They operate quiet enough to hold a typical, casual conversation nearby."
Digital inverter generators, compared to conventional generators, are smaller, making them much more portable and easier to store. The other advantage of a digital invertor generator is how it produces electricity. The engine rotation produces raw AC power, which is converted into DC power, which is then digitally inverted back into AC power that's clean and safe for power-sensitive electronic devices like laptops and smart phones
P1000i
Weighing in at a mere 36.4 pounds, the P1000i is light and compact, with two handles ergonomically designed to make it easy to transport. It's exceptionally fuel efficient too. With the Smart Throttle turned on, one tank of gas will run it for more than 10 hours at 25 percent load.
With a maximum AC output of 1000 watts, the P1000i is perfect for powering small electronics, such as a TV while you're tailgating, or a laptop while away from home.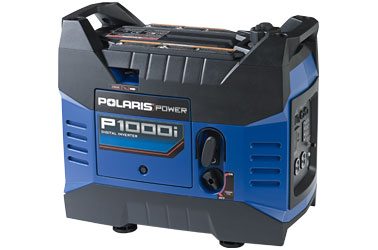 P2000i
Best for running multiple devices or for added surge and start-up wattage, the P2000i weighs in at only 53.3 pounds. Also built with two ergonomic handles, it's very easy to move around to the ideal location.
Capable of producing 2000 watts maximum AC output (1600 watts rated), the P2000i is extremely simple to operate and delivers exceptional fuel efficiency. On one tank of gas (.98 Gallons), running at 25 percent load (400 watts), it will deliver more than 10 hours of run time, utilizing its standard economy throttle switch.
Featuring dual 120-volt AC outlets with circuit-breaker protection, the P2000i is re-settable while the engine is running. It comes with a fused 12-volt DC outlet and charging cord. It also features a low-oil sensor to stop and protect the engine from mechanical damage.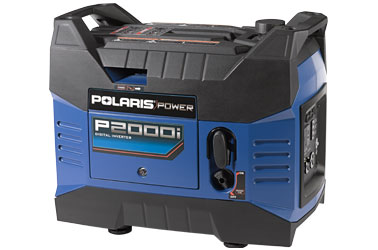 P3000iE
With its high power output and 21 hours of runtime, the P3000iE is built to handle larger jobs, such as powering an RV air conditioner. With a maximum AC output of 3000 watts, it has enough power for any outdoor activity and offers a 30-amp outlet for higher output needs, such as a standby power source during a storm outage.
The P3000iE features a convenient electric start for minimal effort and offers a run time of more than 21 hours at 25 percent load. Its locking wheels and rugged handles make transportation simple.