When ice anglers requested a lighter, more mobile battery-powered auger, StrikeMaster® delivered with the new Lithium 24v, a tough "little brother" to its legendary 40v auger.
"A lightweight, hole-punching powerhouse, the Lithium 24v crushes the performance of standard, hand-held cordless drills," said ICE FORCE® Pro Staffer Tony Roach, and in-demand guide on Minnesota's famed fishery, Lake Mille Lacs.
Fitted with an 8-inch auger, StrikeMaster's new Lithium 24v weighs 14.3 pounds and can punch as many as 50 holes on a single charge. Fitted with a 6-inch auger, a Lithium 24v weighs only 13.3 pounds and can punch as many as 100 holes on a single charge. Punch performance results are based on repeated tests through 16 inches of ice.

"Rest assured, this auger is built to handle the roughest and coldest conditions and keep cutting holes with ease," Roach said.
"Take care of your battery – don't leave it outside all night, for one – and your 24v will keep punching above its weight class with performance you can rely on."
Boasting stable ergonomic handling in the lightest, most compact package in its class, the Lithium 24v comes standard with a 24-volt/4-amp-hour Lithium Ion battery and a lightweight LiteFlite Lazer Dril unit, available in 6- and 8-inch-diameter models.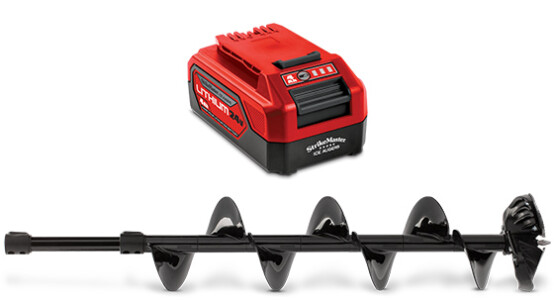 The Strikemaster Lithium 24v powerhead includes an electric DC brushless motor, a 50:1 gear-ratio planetary gear system, forward and reverse, a power button with a deadman safety switch and impact-resistant long-filament handles.
The Strikemaster Lithium 24v's power system includes:
An internal battery-management system to ensure battery longevity.
A 3-LED battery-status indicator.
A wall-mountable 2-amp charging station that can bring a battery from empty to full charge in as little as two hours.
Lite-Flite Lazer Drill Units feature an impressive suite of cutting-edge features, including: full-length, segmented synthetic-resin-molded flighting; twin serrated stainless steel Lazer blades; a carriage formed from exclusive engineered compounds; a reinforced "T" connection to the carriage, via heavy-duty steel hex shaft; and a power point specially engineered to keep the drill unit in place.
KickYourGas
Finding and catching the fish of a lifetime through the ice no longer requires burning gas. After introducing the first electric auger in 1977, StrikeMaster in 2017 revolutionized ice fishing again with its Lithium 40v.
StrikeMaster's tradition of redefining augers and drill units – without sacrificing the reliability consumers are used to – continues with the introduction of the Strikemaster Lithium 24v auger. Celebrating the revolution it's leading in battery-powered ice fishing, StrikeMaster launched its #KickYourGas campaign.
"#KickYourGas highlights what savvy anglers already know – the future of ice fishing is battery-powered," Roach said. "No more gas and oil required. No more hard starting. No more lugging around a heavy two-stroke auger."
the StrikeMaster® 24v Lithium Ice Auger will be available Oct 1st at retailers.