When winter winds howl and temps plunge, StrikeMaster's new Pro Suit, the ultimate in cold-weather outerwear, will keep you warm, comfortable and safe on the ice.
"StrikeMaster® is committed to outfitting ice anglers with nothing less than the best possible outerwear to keep us warm, comfortable and safe in the toughest conditions winter can throw us," said ICE FORCE Pro Tony Roach, an in-demand guide on Minnesota's expansive Mille Lacs Lake. "When they picked the brains of a bunch of us who spend more days on the ice than off every winter, we told them 'be different, be tougher, build for the roughest conditions with more options, and with safety first and foremost in the design.' And they delivered, refining, improving and upgrading everything."
The result? StrikeMaster's new Pro Suit jacket and bibs.
Both the StrikeMaster Pro Jacket and Pro Bibs feature an upgraded water-repellant and breathable, 100% polyester rip-stop outer material. As comfortable to wear as they are durable, they combine a great fit, incredible warmth and all the features serious ice anglers demand, including floatation technology. StrikeMaster's innovative SOS – "Stay on Surface" – system* provides up to two hours of floatation when the jacket and bibs are worn together.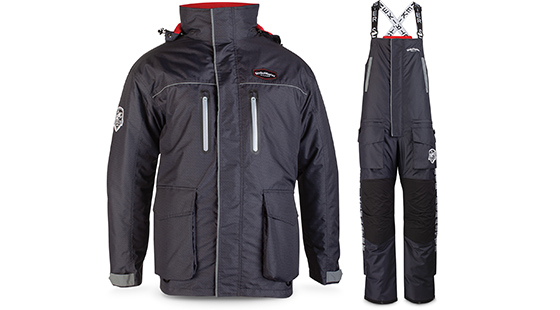 "Whether you're in search of a serious ice suit or simply upgrading for comfort and safety, StrikeMaster suits stand above the fluff in the market today," said James Holst, host of In-Depth Outdoors TV on the Fox Sports North channel. He was among the influential pros StrikeMaster consulted in designing the new Pro Suit.
The Pro Suit features a 3-in-1 interchangeable top comprising an outer jacket and an inner zip-out puff jacket (100g 3M™ Insulation). Both the outer jacket and bibs feature 140 grams of 3M™ Insulation + (EPE Foam – 40g equivalent). Each features D-Rings in strategic locations for attaching accessories, premium YKK zippers shielded by magnetic storm flaps, and reflective trim for added safety. The rip-stop weave of the bibs and outer jacket strengthens the fabric and prevents tears.
Additional Features of the Pro Jacket Include: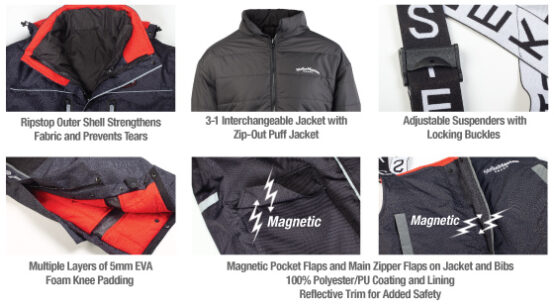 The Pro Jacket is available in standard sizes of XS through 4XL and in Tall sizes of L through 2XL at leading ice fishing tackle dealers throughout the U.S. and Canada.
StrikeMaster Pro Bibs boast feature a waterproof hem; zip-to-hip side zippers with full-length magnet-closed flaps; fleece-lined, hand-warming chest pockets; multiple layers of 5 mm EVA foam knee padding to provide comfort while kneeling on sharp and jagged ice; and a fully adjustable inseam that allows the wearer to "tailor" to the perfect length. Pro Bibs are available in sizes XS through 4XL.
* The SOS system provides Non-Coast-Guard-Approved floatation.