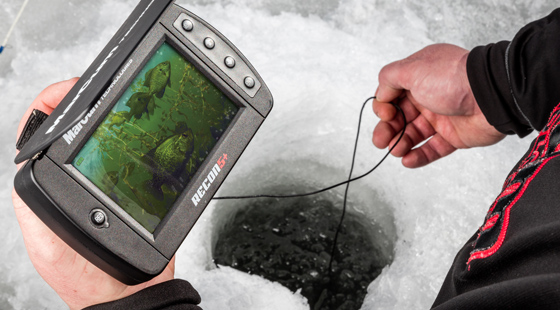 To get on one of the best early-season panfish bites in recent memory, find green weeds with a MarCum Recon 5 underwater camera. Fish in the weeds will be eagerly feeding on insects, so drop 'em a VMC Tungsten Tubby Jig dressed with a Trigger X panfish plastic.
"It is going to be a banner year for panfish," says Brad Hawthorne, an in-demand fishing guide and ICE FORCE pro. "And it's going to be a really good early-ice year for the new Recon  cameras. Guys are going to be down-viewing, looking for green weeds, finding fish, and those fish are going to be in there chowing on bugs."
MarCum's new Recon 5 and Recon 5 Plus units are lithium-battery-powered underwater viewing systems complete with a powerful camera and a screen about the size of a smartphone. "You're getting features that are in $600 to $700 cameras in a camera that fits into your pocket," Hawthorne says. "It's the best thought-out carrying case to go with a camera that I've ever seen. It will strap to your fist if you want. It will strap to your leg if you want. You can hang it around your neck while you're walking.
"If this was a car show and you were judging," he continues, "this thing is a prize-winning Corvette – all original, low miles and Grade A. It's a show winner."
You can win early-season panfish success with a game plan that starts with using a Recon 5 to find healthy green weeds. That's where the bugs and baitfish will be, and so will the panfish.
"The fish will be in the same weeds they were in at the end of the fall," Hawthorne says. "Those weeds are going to be bright green, like a forest, for the first couple of weeks. It's going to be totally awesome. The fish won't move too far, so it's just a matter of drilling out the area and s­­couting with that Recon camera to find the best, green weeds."
The underwater cameras that come with both the Recon 5 and Recon 5 Plus feature a CMOS sensor, darkwater LED and infrared lighting, a 90-degree field of view and a 50-foot cord. The cameras offer three angle settings: straight down, horizontal and looking up. Both units come with high-resolution color LCD monitors that feature a 5-inch widescreen flat-panel screen with a 16:9 aspect ratio.
Best Panfish Baits in Weeds
Hawthorne is anticipating what he calls a "meat-and-potatoes panfish bite" to start the season. "I'm going to be using Tungsten Tubbies with some sort of 'meat' on it – either larvae or Trigger X panfish plastics."
Perhaps the perfect panfish jig, VMC's Tungsten Tubby Jig boasts a super-fast drop speed, allowing ice anglers to deliver their favorite Trigger X panfish plastics to the strike zone faster.
"It's silly to use lead when you're fishing in weeds," Hawthorne says. "Cabbage is a pretty stout weed, so if you drop your line down with lead, you have a better chance of that lead jig just sitting on a leaf of cabbage, stopping it from going down. But when you drop a Tungsten Tubby down the hole, that sucker's going to the bottom like a bullet. It's knocking through those weeds and getting through them."
Tungsten Tubby Jigs are available in three sizes, two per pack: 1/64 oz. (size 14 hook); 1/32 oz. (size 12 hook); 1/16 oz. (size 10 hook). They come in two natural color patterns, Crappie Minnow and Mayfly, and six Ultra Glow patterns: Glow, Green Orange Glow, Orange Chartreuse Glow, Pink Chartreuse Glow, Glow Chartreuse, Glow Red. Ultra Glow plastics will glow for as many as 15 minutes after charging.
Hawthorne's "go-to" panfish offering this time of year is a Glow-color Tungsten Tubby Jig dressed with a red Trigger X Wax Tail or Trigger X Mustache Worm. He fishes them, and all of his panfish baits, on 2-pound-test Sufix Invisiline Ice 100% Fluorocarbon line. He ties directly with a Palomar knot.
"I don't use swivels because a lot of times with panfish, they look at that swivel and for whatever reason – maybe it looks like a bug – it can take the attention away from your jig," Hawthorne explains. "So I just eliminate that from the equation."