Want to fish even when winds whip up and temps plummet downward? StrikeMaster's new Surface Suit, the ultimate cold-weather outerwear, will keep you warm, comfortable and safe on the ice.
"As the saying goes, you can't catch 'em on the couch," says In-Depth Outdoors TV Host James Holst. "If the conditions keep you off the ice, you're not even in the game. But StrikeMaster's new Surface Suit is built to withstand the toughest winter conditions, giving you more opportunities to catch a limit or a fish of a lifetime."
Both the Surface Suit jacket and bibs are completely waterproof and breathable. They combine a comfortable fit, incredible warmth and all the features serious ice anglers demand, including floatation technology. StrikeMaster's innovative SOS – "Stay on Surface" – system provides as many as two hours of floatation when the jacket and bibs are worn together.
"You can fish with confidence that StrikeMaster's SOS system will be there if you need it," Holst says.
The Surface Suit's jacket and bibs are both constructed with a 100-percent nylon oxford fabric shell and 100-percent Trycot polyester interior lining. They're both filled with 120 grams of padded insulation and 40 grams of SOS floatation foam. Each features premium YKK zippers shielded by magnetic storm flaps.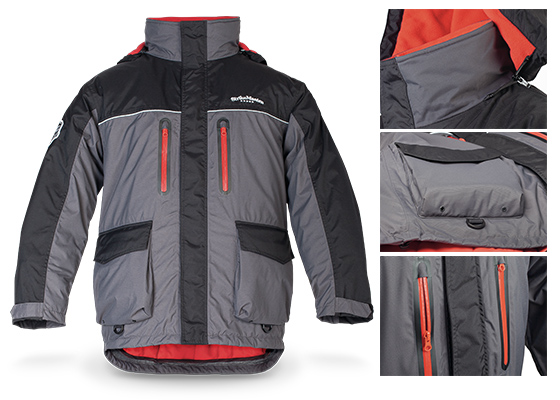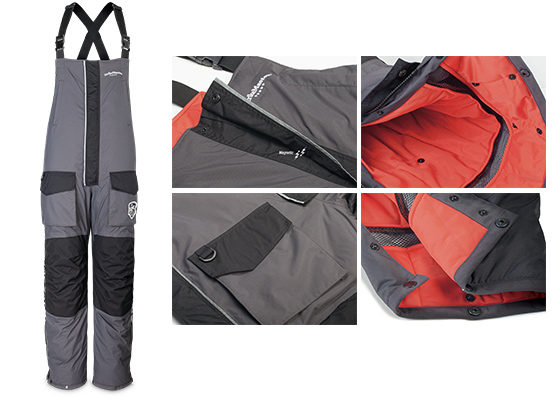 "StrikeMaster's reputation for quality construction and attention to detail can be found from head to toe," Holst says.
Boasting a comfortable cut that affords anglers both unrestricted freedom of movement and unsurpassed warmth, the Surface Suit jacket features fleece-lined hand-warming pockets, internal chest-zip pockets for your wallet and cell phone, D-rings below the pockets, and a removable, insulated hood. Angler-friendly features in the Surface Suit bibs include zip-to-hip side zippers with magnetic flaps, D-Ring accessory-attachment points on the cargo pockets, multiple layers of E.P.F. knee padding, and adjustable cuff hems.
See StrikeMaster® Surface Jacket