Rapala's innovative SmartHub™ system optimizes ice-angler efficiency and organization in both wheelhouses and portable shelters by eliminating on-ice clutter by strategically positioning fish-catching essentials within arm's reach, rather than underfoot.
A new video unveils the innovative power of the Rapala® SmartHub system, designed to help ice anglers tie into more fish by increasing their ability to put their hands on the right gear at exactly the right moment.
Each year, Rapala® continues to refine the system, delivering more and more value to hardwater anglers. Five new accessories make the SmartHub system even more essential for serious ice anglers. The Rapala SmartHub system is one of the dozens of innovative ICE FORCE® fishing products. The ICE FORCE comprises four brands – Rapala®, VMC®, Sufix®, and StrikeMaster® – each of which provides top-of-the-line ice-fishing gear. The five new SmartHub accessories include SmartHub Work Station, SmartHub Clamp Mount, SmartHub Bucket Mount, SmartHub Cup Holder and SmartHub Rod Storage Accessories.
Each SmartHub accessory can be mounted within easy reach of any hole you're fishing, no matter if you're camping overnight in a wheelhouse, hole-sitting at dusk in a portable shelter, or hole hopping at dawn with a flasher in one hand and a bucket in the other.
SmartHub accessories can be secured to flat walls, round or square shelter poles, and good 'ol buckets, making it easy to mix, match and move around your favorites in a manner most convenient for you and most conducive for your fish-catching mission.
Each SmartHub accessory extends from a sturdy base, which slides effortlessly over an exclusive SmartHub Connector and clicks in securely, giving you endless options to effortlessly adjust and adapt for all your fish-catching, camera and storage needs.
SmartHub Clamp Mount
With Rapala's new SmartHub Clamp Mounts, ice anglers can now achieve in soft-side shelters all the hole-side efficiencies enjoyed last winter in wheelhouses. The new Clamp Mounts attach perfectly to frame poles in most portable shelters. Clamp Mounts include a built-in, threaded ¼-20 receiving port for cameras and other accessories. They attach easily to both round and square tubing and to edges up to 1 ¼-inch wide.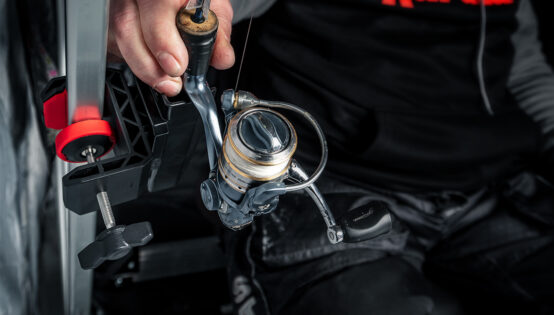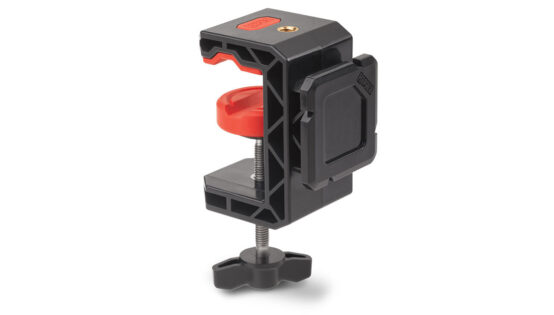 SmartHub Work Station
Rapala's handy new SmartHub Work Station comprises a fold-down bait-prep tray, three tackle compartments with easy-open, clear lids, and more than a dozen secure spots from which to hang at-the-ready lures. Suspend a few go-to baits from the slotted foam under the bait-prep tray. Hang more from the dozen-plus hook holes strategically located around the WorkStation's perimeter.
To further increase your at-the-ready efficiency in your hard- or soft-sided ice-fishing shelter, the SmartHub Work Station features four drop-in tool-storage slots and two lanyard-hanger hooks – one on each end. It comes with one adjustable Rapala SmartHub Connector and all the required mounting hardware.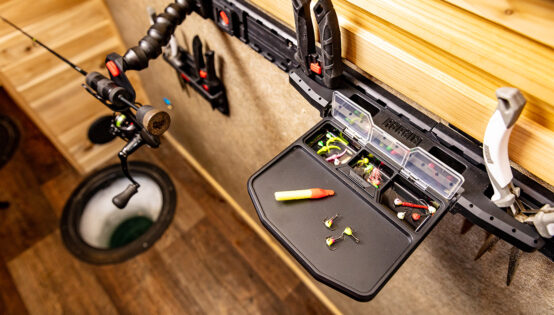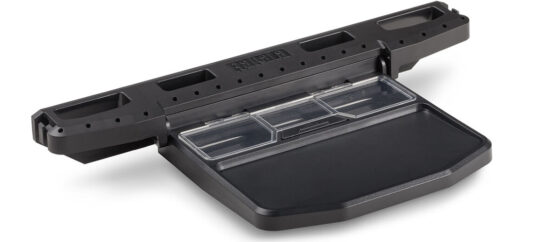 SmartHub Rod Storage
Designed to store and protect a spare or not-currently-being-used ice rod-and-reel in a safe and out-of-the-way spot, Rapala's new SmartHub Rod Storage sturdy sleeve will fit most custom and off-the-shelf ice-fishing rod-and-reel combos. It attaches to a SmartHub Mount, which is not included, but sold separately.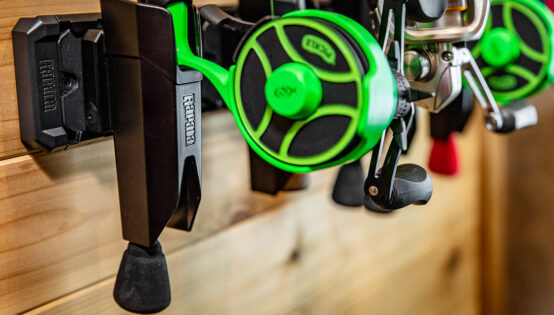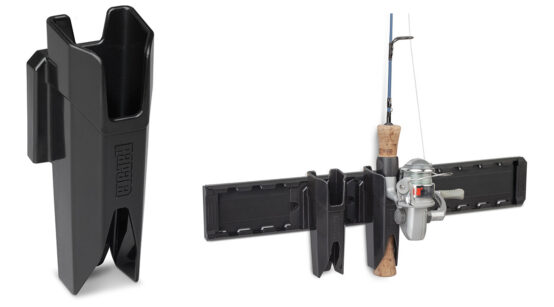 SmartHub Bucket Mount
Rapala's new SmartHub Bucket Mount is exactly what its name conveys. It pairs 3M VHB High-Strength Bonding Tape with a custom, curved-surface mount to extend SmartHub angling efficiencies to the bucket brigade. Bucket Mounts are sold two per package.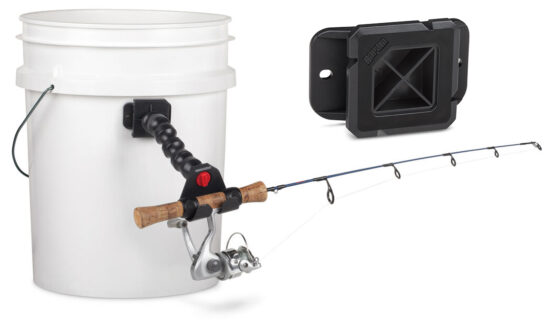 SmartHub Cup Holder
Rapala's new SmartHub Cup Holder positions your hot cocoa, water bottle, or soda within easy reach of your seat, bench or bucket while ice fishing. It fits most standard-sized beverage cans, cups and mugs. It attaches to a SmartHub mount, which is not included, but is sold separately.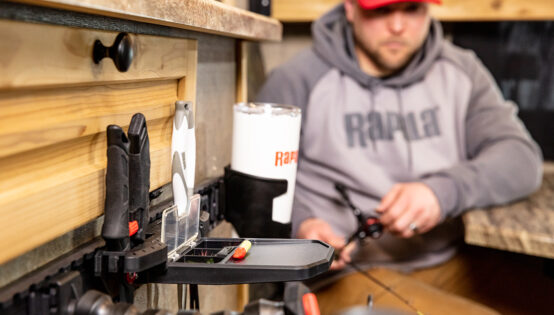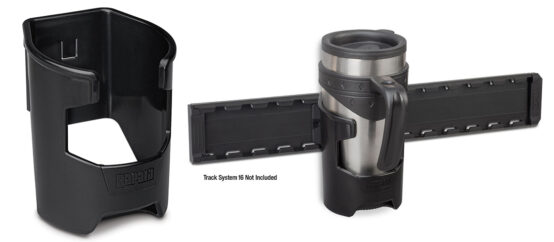 SmartHub Track System 16
In ice shelters with flat, solid walls, anglers can mount multiple SmartHub accessories together within a SmartHub Track System 16 mount (sold separately). The interlocking system comprises one 16-inch SmartHub track and three SmartHub Connectors. Multiple tracks can be securely connected to easily expand your ice-fishing command-and-control center to 32 or 48 inches – or longer, even.
Adjustable SmartHub Connectors can be positioned anywhere along a SmartHub Track. A red, center-set screw locks and holds each Connector in your desired location. Each SmartHub Track comes pre-drilled with mounting holes compliant with stud location in standard wheelhouse construction. Mounting hardware is included.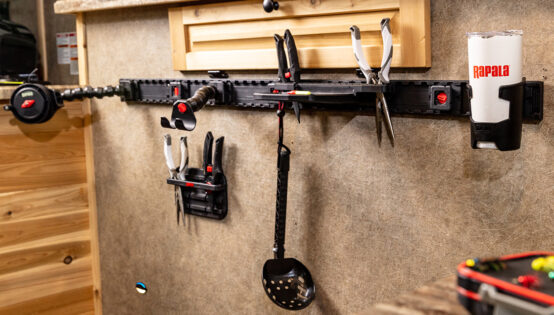 SmartHub Rattle Reel
Designed to hold any Sufix Rattle Reel or Sufix Tip-Up Line spool, Rapala's previously released SmartHub Rattle Reel fits 14-mm and 15-mm spools. It comes pre-loaded with 25 yards of Sufix 30-pound-test Rattle Reel Line. It features a built-in hook keeper, a variable spool-tension knob and a glowing Rapala logo to aid location in low-light conditions.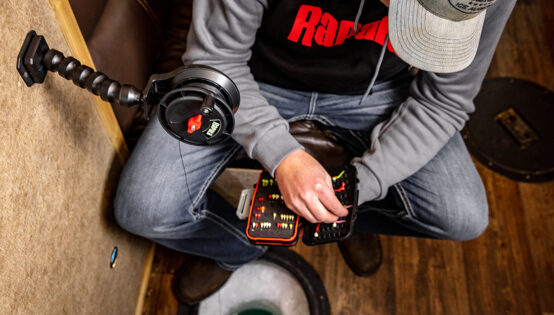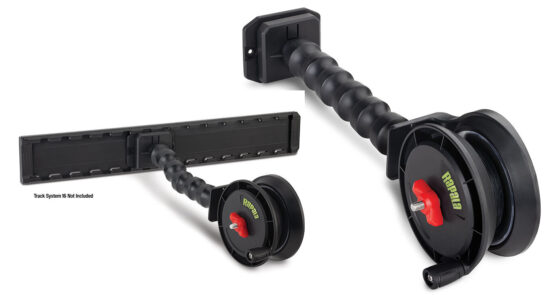 SmartHub Rod Holder
Featuring an adjustable arm, Rapala's SmartHub Rod Holder offers hands-free holding of a rod while you're actually fishing, allowing the angler to position it within easy reach, but safely above the trample zone underfoot and around your hole. It can rock freely or be locked in place for "tip down" or "dead rod" applications – simply adjust and re-tighten its set screw accordingly. It comes with one adjustable SmartHub Connector.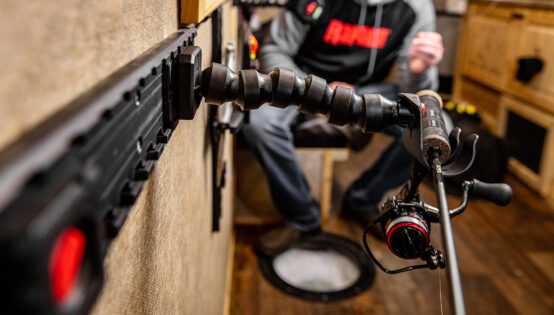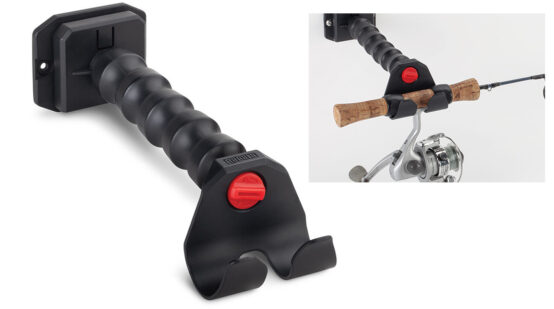 SmartHub Adjustable Arm
Interchangeable and infinitely flexible, Rapala's SmartHub Adjustable Arm with SmartHub support mount enables anglers innumerable placement and positioning options for a GoPro® or similar cameral, an Aqua-Vu®, MarCum® or similar underwater-video accessory, and more. It will accommodate any accessory that will thread onto a ¾-inch, 1/4-20 x ¾" male bolt. It comes with one adjustable SmartHub Connector.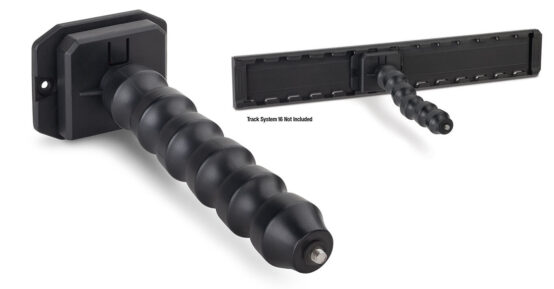 Shop SmartHub Wheelhouse Accessories