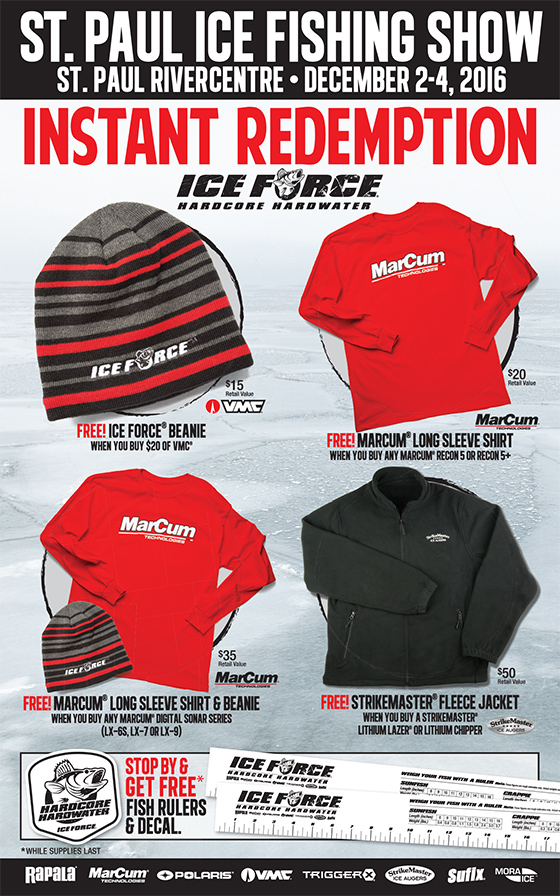 Get free winter garb with your purchase of gear from ICE FORCE brands MarCum, StrikeMaster and VMC at the 24th Annual St. Paul Ice Fishing & Winter Sports Show Dec. 2-4. Talk about getting outfitted for the ice-fishing season!
In addition to offering several great "instant redemption" gifts of free gear – jackets, long-sleeve tees and beanies – at the Winter Sports Show, ICE FORCE will be displaying its latest and greatest tools for catching more and bigger fish through the ice, including MarCum's innovative new RT-9 device, which unites sonar, lake maps and an underwater camera into a 9-inch ruggedized touchscreen tablet. The Winter Sports Show venue is St. Paul's RiverCentre, located at 175 Kellogg Boulevard West.
These instant-redemption gifts will be available at ICE FORCE's booth at the show (while supplies last) with these qualifying StrikeMaster, MarCum and VMC purchases:
Admission to the St. Paul Winter Sports Show will cost $10 for adults and children older than 12 and $5 for children between the ages of 6 to 12. Children 5-years-old and younger will be admitted for free. Cash or Credit Cards are accepted.
"Whether you are an avid fisherman looking for a few new accessories, an experienced angler in need of an upgrade, or totally new to the ice fishing scene, you will find what you are looking for at this show!" Winter Sports Show promoters promise.
Learn more about the Winter Sports Show here.
Numerous ICE FORCE pro-staffers will be deployed at the St. Paul show to talk tackle, gear and tactics. No matter where you hail from in the Ice Belt, there'll be an ICE FORCE pro-staffer in the booth that can offer fishing tips for your area. ICE FORCE pro-staffers enjoy the best reputations in the fishing industry. They include in-demand fishing guides Tony Roach, Tom Neustrom, Bryan "Beef" Sathre and Brad Hawthorne, as well as James Holst, host of the popular "In-Depth Outdoors" TV show.
ICE FORCE comprises the ice-fishing industry's premium brands, including Rapala, StrikeMaster, MarCum Technologies, Sufix, VMC and Polaris, providing consumers and tackle dealers with a complete line of ice-fishing products, including augers, electronics, lures, line, accessories, snowmobiles and off-road vehicles.