The most supple, strong and sensitive mono ever spooled on a reel is available now for ice fishing. New Sufix® Advance® Ice Monofilament, featuring 50 percent less stretch than standard mono – is the new secret weapon for ice anglers hunting walleye, northern pike, bass, panfish and lake trout.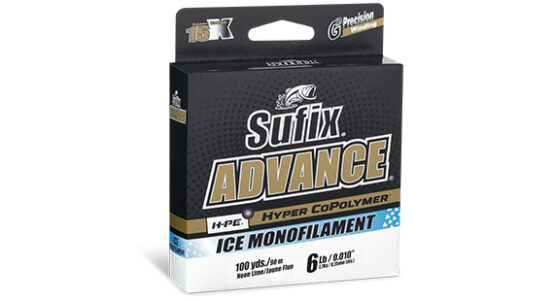 "That means your hooksets are rock-solid, with virtually no line memory, no matter how cold the conditions," said James Holst, host of In-Depth Outdoors TV on the Fox Sports North channel.
Combining HMPE and hyper copolymer, Sufix Advance Ice Monofilament boasts superior sensitivity, low memory, unbeatable knot strength and 50 percent less UV-light absorption than standard monofilament.
Hydrophobic water-repellent protection allows the line to resist freezing. Exclusive G2 precision winding virtually eliminates line memory.
"The line you choose is your direct connection between you and your next big bite," Holst said. "With Sufix, there's nothing you can't catch."
Sufix Advance Ice Monofilament comes in two colors, clear and neon lime. It's available in 100-yard spools in five strengths – 2, 3, 4, 6 and 8-pound test. Sufix Advance Ice Monofilament is available at fishing tackle retailers across the U.S. and Canada, as well as at Rapala.com.
See Sufix® Advance® Ice Monofilament