Throughout Ice Fishing Country, the temperatures are dropping and you can start to see the lakes and ponds develop that first thin layer of ice. The small lakes first, and then the big lakes. But you know it's coming, and it won't be too soon before you'll be ice fishing.
For Ice Force® angler Tony Roach, the top-flight fishing guide, tournament angler and outdoor communicator, it's a special time of year. He's like a kid waiting for Christmas morning. But in this case, it's about that first day where you can safely get on the ice to score some early ice walleyes. We know that many of you who are reading this, share that same feeling.
It's safe to say that no one has drilled more holes than Tony Roach, the nephew of legendary angler Gary Roach. So to help you get ready for this year's ice fishing season, we asked Tony for his advice and tips on when to fish, where to fish and what to fish with. With the abrupt shutdown of last year's ice fishing season due to Covid-19, we also asked Tony for his thoughts on this year's ice fishing season and how anglers should safely approach the season as the pandemic wages on.
We hope you enjoy this interview. Have fun and stay safe out there!
It's been about eight months since last ice! How does it feel to know the ice season is right around the corner?
"Minnesota is the perfect place for me. I love the changes in the seasons — Spring, Summer, Fall and Winter. Every season brings the opportunity of fun new fishing experiences.  Fall hunting always gets me thinking about the upcoming ice year. The colder temps this fall should make for an early ice year. After staring at trees during deer season, I am ready to start drilling holes and hit the ice running."
How is Covid-19 going to affect your guide season?
"If this summer was any indication, lots of people will be ice fishing. I believe we will set records for angling hours this winter. It will be great for guiding. However, it will be challenging to stay on fresh fish and stay away from the crowds."
As a full-time guide on Lake Mille Lacs in central Minnestoa, how do you think fishing will shake out this season?
"The fishing should be really good again this winter especially with early ice. No doubt the fishery is full of nice walleyes of all year classes. What is unique about Mille Lacs is that day or night, you have a shot at a giant or several. The big fish potential is always there!"
Besides guiding for walleyes on Mille Lacs, any other locations or species you will target this season?
"We (Roach's Guide Service) spent the last half of the ice fishing season chasing panfish and perch on lakes all over north central and northern Minnesota. After the early ice walleye bite slows down, we start targeting panfish and perch in February and all of March/April.  I love chasing panfish and perch; they are always on the move. My favorite part of guiding is finding new fish. We spend our days drilling and finding new bites across the northern part of the state. It truly is what drives me to get out of bed in the morning. I live for it!"
What are you most excited about for the 2020-2021 Ice season?
"Cold temps!  Steady cold temps always get me excited for early ice and first ice. First ice is such a special time of year, I am ready."
Which new product are you most excited to use this year?
"StrikeMaster® Lithium 24v with a Lite-Flite Lazer™ Drill. Drilling is a large part of what we do, day after day. I cannot wait to drill early ice with the 24V."


What is going to be your favorite technique or lure this season?
"That is a tough question…I try not to have favorites. However, for walleyes its really hard to beat a Jigging Rap® Green Tiger UV in size number 5."

What modifications will you do to your lures this season to catch more fish?
"I really like swapping out treble hooks. I like adding VMC® dressed trebles and VMC bladed trebles to my presentations. It is a simple way to dress up baits and increase your hook up ratio."
Any special tactics for early ice this season that you are willing to share?
"I love finding shallow water green vegetation for panfish. I spend the fall looking for and marking these spots on GPS. I cannot wait to hit the ice in search of gills with the new VMC Tungsten Mustache Jigs."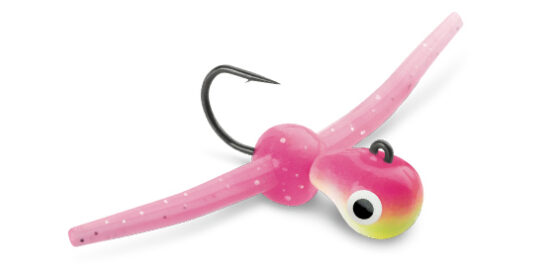 Is there anything specific you are really looking forward to this ice season?
"I look forward to fishing, exploring and finding fish. It's a game that I live for — a few short weeks of the soft water and I am ready for ice."
When you are on a good ice bite, how do you break down that bite for customers to catch more fish?
"Our guides work as a team, drilling, finding, outfitting, teaching and assisting. I think teamwork is a key aspect to our success. As a guide team we have logged years of combined experience putting people on fish. In my opinion, our guides are the best in the business when it comes to finding fish and putting customers on them."
What is the hardest part about being an ice guide?
"The weather and conditions…the weather is by far our biggest challenge. It's hard on equipment, staff and can be tough on the bite."
What is the #1 question you are asked about ice fishing?
"How many holes do you drill in a season? My answer: I don't know…lots!"
What is the number one tip or trick you would give to an ice angler for this season?
"Don't set up to fish until you find them. We are blessed to have amazing gear for ice fishing now days. However, all that gear can slow you down if you are looking for fish. We find fish first before we unload all the gear. Once you have found the fish, then unload all the toys."
As the season gets closer, any preparation tips you would be willing to share?  What does your prep look like (rods/reels/houses/augers/etc.)?
"It's always a process for me. I would like to say I am fully prepared ready to go the moment we get fishable ice …but that's not always the case. It's a work in progress. For me, I have to hit the ice first to figure out what I am missing (Lol!). Here is my general check list."
•  Charge batteries
•  Sharpen auger blades
•  Pack rods/reels, tackle, and respooling line
•  Shelters, hitches and sleds
•  Check ATV or snowmobile, trailer and fishhouse
•  Charge electronics/GPS units so they're ready to go
•  Pack safety equipment — StrikeMaster Surface Suit or Pro Suit, spud bar, and ice picks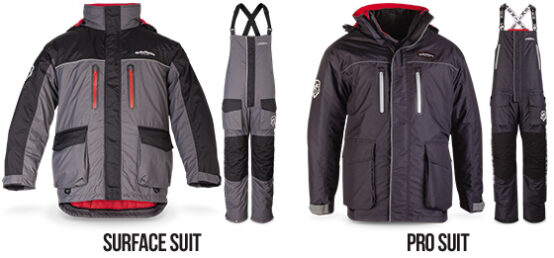 "The gear preparation for ice guiding is an ongoing process that lasts until ice out!"
If you were to fish only one time this season, where would you go, when would you go and for what?
"Lake Winnipeg in March for the lake's legendary giant greenbacks (walleye)."
Lots of people are ice fishing for the first time this year. What advice would you give them?
"Ice fishing is a great sport. It's affordable, it's comfortable and it's fun. My advice to a new person wanting to get into ice fishing is to go with someone who is experienced – or maybe with a small group of friends or a guide. That way, you will have a safe experience and success right away."
See StrikeMaster® Lithium 24v Ice Auger
See StrikeMaster® Lite-Flite Lazer™ Drill
See VMC® Tungsten Mustache Jig
See StrikeMaster® Surface Suit