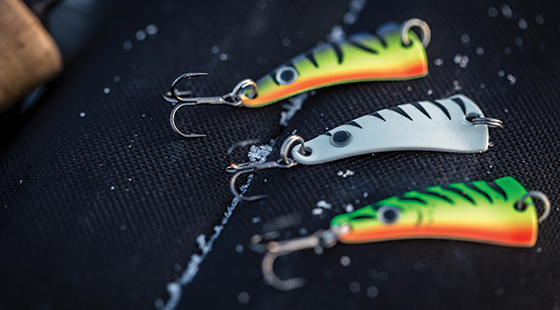 Your favorite, fish-catching VMC® spoons are now available in three new eye-catching color patterns: Glow Fire Tiger, Glow Hot Perch and Glow Tiger.
"When you really need to entice bites, these new color patterns are going to be great," said ICE FORCE® Pro Brad Hawthorne, an in-demand Minnesota fishing guide. "The new colors will be perfect to attract walleyes in the stained water of lakes such as Red Lake and Lake of the Woods. They will shine in the depths of Mille Lacs as well."
The new attention-grabbing color patterns are available now in all these leading VMC ice-fishing baits: Rocker Spoon, Flash Champ Spoon, Tingler Spoon, Tumbler Spoon and Rattle Spoon. These new color patterns are available at trusted ice fishing tackle dealers throughout the U.S. and Canada.
"Walleyes being my target species in the winter, I've been a big fan of the VMC spoon line for years," Hawthorne said. "Whether you're fishing large rock reefs, deep mid-lake humps, mud flats or sand breaks VMC has the right spoon, in the right color, for the job."
Tingler Spoon
The VMC Tingler Spoon search bait is designed to draw distant fish into the sonar cone below your hole. It features a large, thin body that flutters slowly and seductively on the fall. Its mesmerizing, wounded-baitfish action both triggers strikes. To work best, Tingler Spoons must be dropped on slack line. These lures are available in three sizes: 1/16, 1/8 and 3/16 oz.

Tumbler Spoon
While the Tingler is a flutter-type spoon, the VMC Tumbler Spoon is drop-type spoon. A small, metallic attractor blade imparts additional flash and sound when it collides with the Tumbler Spoon's body and hooks. This lure is available in two sizes, 1/12th and1/8th oz. "The Tumbler Spoon's crippled-baitfish action strongly triggers walleyes' instinct to bite," Hawthorne said.

Rocker Spoon
VMC's Rocker Spoon attracts bites with an exceptionally slow, horizontal rocking action on the fall. Features include a black-nickel dropper chain, glow-resin Octopus hook and 3D holographic eyes.

Flash Champ Spoon
Constructed of heavy-duty brass, the Flash Champ Spoon by VMC is designed to get down to the action quickly. Beveled edges and a tapered design give it an erratic, fluttering fall. Available in four sizes – 1/32, 1/16, 1/8 and 1/4 oz. – Flash Champs work best in clearer water.

Rattle Spoon
The Rattle Spoon's specially designed resonance chamber – made of heavy-duty brass and multiple beads – allows anglers to make a racket with just a subtle jig stroke, while still delivering action to the lure. This lure is available in three sizes – 1/16, 1/8, and 1/4 oz.