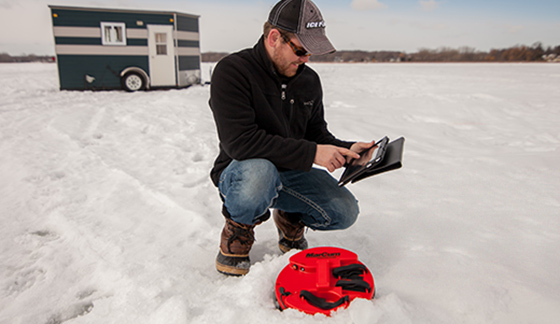 Although every state in the Ice Belt allows anglers at least two lines, fishing two holes at the same time has never been easy. Until now.
With the innovative new MarCum® PanCam system, you can fish the hole at your feet and see a live feed on your smartphone from an underwater camera up to 300 feet away. Finally, the freedom to hole hop without missing the action at home base.
"No matter how many fish you're catching here, you always want to know what's going on over there!" says MarCum pro-staffer Chip Leer. "The PanCam system allows you to do that — whether you're monitoring a tip-up, or a dead-stick on a break line, you can watch what is happening below the ice."
Redefining the term fishing "hot spot," the PanCam system uses a free, downloadable app to turn every fishing hole into a Wi-Fi hotspot, transmitting a live video stream from your underwater camera to the palm of your hand. You can network multiple cameras to one phone or tablet, and multiple anglers in a group can access the camera's live feed with their phones.
"You can make it visible to your fishing buddies," Leer says. "So if you're fishing in a couple different areas, you can set these out, link up with them, and keep an eye on what's going on in multiple places."
Paired with the PanCam Panner, MarCum's free app turns any iOS or Android smartphone or tablet into both a camera monitor and a remote control — change camera direction, adjust lighting and transform your device into a digital video recorder capable of capturing underwater video and still images.
"One of the big things with this is the ability to swipe the screen to rotate the camera left or right," Leer says. "Swipe-to-Rotate allows full, 360-degree control of your camera."
With the MarCum app, you can capture both still photos and video clips from your underwater camera and save them directly to your phone or post them instantly to Facebook or Twitter.
"You get on a hot bite, you get on a mess of fish, you want to share that with the world. You can do that right from your phone instantly," Leer says. "That's the kind of world we live in now, where we're sharing information in real time."
Because it works with almost any modern underwater camera, MarCum's PanCam device can be purchased with or without a camera. "So you have the ability to connect it to an existing product you already own," Leer says.
Features of the PanCam Panner include:
•    Wi-Fi transmitter base
•    Fully integrated camera panner
•    Internal battery (6- to 8-hour run time)
•    110V wall charger
•    Deluxe, padded soft case
The full PanCam Camera System comes with everything above as well as the following:
•    MarCum Manta Camera 1/3-inch Sony Super HAD II
•    50-foot camera cable
•    Built-in spool reel for cable storage