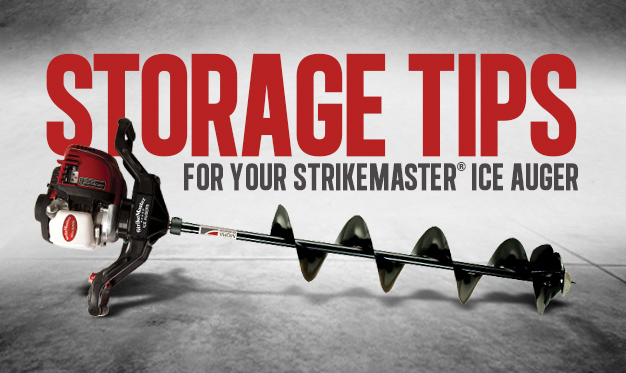 When the ice season ends – or when you tire of winter, whichever comes first! – it's time to properly store your StrikeMaster ice auger. Follow these tips to ensure your StrikeMaster remains the fastest and most reliable auger on the ice.
Engine Storage
StrikeMaster recommends performing a wet shutdown before storing your gas-powered auger. Fill your fuel tank more than ¼ full with fresh, stabilized fuel, then start and run your motor for five to 10 minutes. This will ensure even distribution of stabilized fuel throughout the carburetor and fuel system. Next, drain the remaining fuel from your tank.  This will prevent damage to plastic parts due to prolonged exposure to fuel. StrikeMaster recommends running your engine once a month for five to 10 minutes, using fresh, stabilized fuel.
Do not run your engine out of fuel. Leaving fresh, stabilized fuel in the carburetor will keep components from drying out. Store your gas-powered StrikeMaster auger in a cool dry place in an upright position.
Electra Lazer Battery Maintenance
StrikeMaster Electra Lazer owners should charge their battery once a month over the course of the off-season to maintain battery life.
Prepare Blades For Storage

Carefully remove the blades from your auger's blade carriage. Inspect the blades for any signs of damage or dulling. If there's any sign of nicks, chips, or roll-over, it's time to replace your blades. Order them here.
Before storing your auger, apply a light coat of oil to the blades, blade bolts and blade carriage. This will help deter rust build-up, which can dull the blades and affect auger performance. Reinstall your blades and attach the blade guard. Warning: Blades are razor sharp. Use extreme caution while removing the blade guard and blades.
4-Stroke Maintenance Adjustments

For Honda™ 35cc LITE 4-stroke auger owners, it's a great time for a preventative adjustment on your powerhead. Four-stroke engines use far more moving parts than 2-stroke engines. Taking the time to get the motor inspected and adjusted will keep your auger running faster and longer.
StrikeMaster recommends getting your auger's valve lash adjusted once a year by an authorized Honda service center. Find a nearby dealer here. This is a precise, internal adjustment that should only be done by an authorized Honda mechanic. If this adjustment is not periodically performed, your Honda 35CC LITE's performance can be affected. Refer to provided Honda and StrikeMaster owner's manuals.
When the cold and ice returns, you'll be happy you followed these simple instructions, which will extend the overall life of your StrikeMaster ice auger. For more helpful tips, visit StrikeMaster's video library here.
More questions? Visit StrikeMaster's website here.