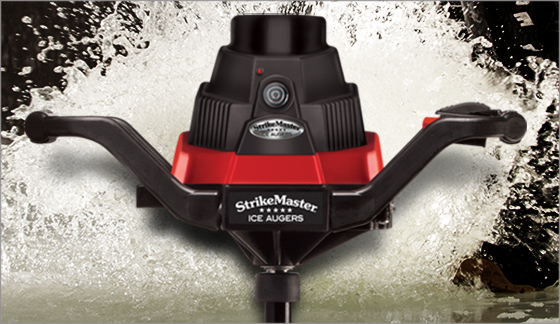 Harnessing the most modern technology available, the new StrikeMaster® Lithium Lazer auger can cut an amazing 56 holes through 2 feet of ice on a single charge. Call it the Little Lithium Auger That Could.
"Other Lithium Ion augers boast 40 holes in 24 inches of ice," says StrikeMaster pro-staffer Tony Roach. "We can get 56 — sometimes more."
No half-pint show pony, the Lithium Lazer is a bonafide workhorse. "It's a true full-size drill, so you're not hunched over when you use it," Roach says. "No sore backs or extensions."
With a removable 50-volt Lithium Ion battery under the hood, the Lithium Lazer provides consistent speed and torque from hole to hole without reduced power or slow-down from waning battery.
"Providing clean, quick, efficient power, the Lithium Lazer is the perfect choice for permanent houses, wheeled fish houses and general use," Roach says. "You're able to quickly get through thick ice and crusty holes with zero emissions."
Built on a proven StrikeMaster 25:1 transmission with heat-treated steel gears and polymer gear casting, the Lithium Lazer delivers maximum efficiency with a lighter weight than ever before. Fitted with twin 8-inch, Swedish-made Mora™ stainless steel Lazer blades, it weighs in at only 24 pounds.
Featuring an on-board indicator for easy battery level checks, the Lithium Lazer comes with a fast-charging, two-hour, two-amp battery charger. "So you can be back up and running in two hours on a completely dead battery," Roach explains.
An over-sized throttle makes the Lithium Lazer easy to operate with gloves on, while VANDAR® long-filament high-impact handles make for comfortable operation for anglers who spend long days on the ice.
The Lithium Lazer comes with a limited three-year warranty on its motor and a limited one-year warranty on its battery.