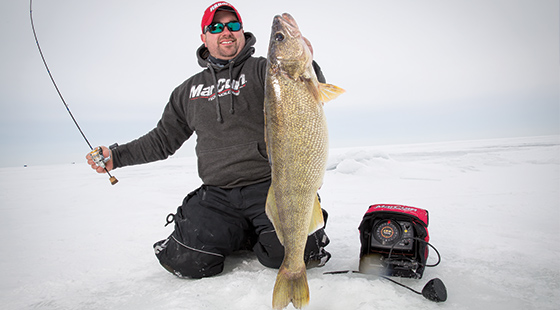 When fish show interest but they're biting funny, ease your troubles with new trebles. Switch out your hooks with VMC Glow Resin Trebles and start converting lookers to biters.
"Often times, certain species — especially bluegills — you'll see on your underwater camera come in and investigate your lures, but they don't know what part of the bait to bite," explains ICE FORCE® pro Joel Nelson, a frequent on-camera contributor to "In-Depth Outdoors" on the Fox Spots North channel. "These Glow Resin Trebles will focus their attention where it needs to be for you to hook up."
Glow Resin Trebles comprise a classic VMC 9650 round-bend treble hook permanently dressed with a durable epoxy resin infused Ultra Glow color patterns that will hold a charge for as long as 15 minutes. Five color patterns are available: Glow; Glow Chartreuse; Pink Chartreuse Glow; Orange Chartreuse Glow; and Green Chartreuse Glow.
"When the fish are hitting funky, these hooks will make a huge difference," Nelson says. "And because it's easy to switch them out with a split-ring pliers, you'll start hooking those fish in no time."
Available in two sizes, No. 14 and No. 12, Glow Resin Trebles are constructed of 1X-strength high-carbon steel with a black-nickel finish and sticky-sharp cut-point tips. They come two per pack.
"I really like these and it's super convenient they're available as stand-alone items," Nelson says. "You'll appreciate the ability to mix and match colors and sizes to fit the conditions as you see fit."