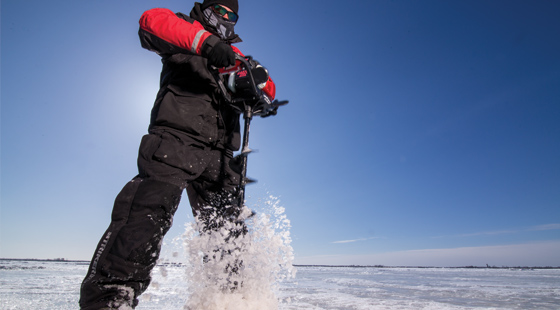 Do you need to take a bigger bite out of the ice? A 10-inch StrikeMaster Honda 35cc Lite might be the power auger for you. But maybe an 8-inch drill will suffice. How do you know? It depends on how you fish.
The following are the Top 5 Reasons for an 8-inch and 10-inch drill, respectively, as discussed by forum contributors on StrikeMaster Pro-Staffer James Holst's In-Depth Outdoors website.
Top 5 Reasons to Use and 8-inch Drill
1. You Enjoy "Ice Trolling"
"Ice trolling," made popular by StrikeMaster Pro-Staffer Tony Roach, involves moving with – and not waiting for – biting fish in order to target multiple productive spots, much in the same way an angler would in a boat in open water. "I drill a lot of holes," says Roach, verging on understatement. "Sometimes as many as 500 to a thousand."
When IDO forum contributor kroger3, of Blaine, Minn, goes ice trolling for walleyes, he says, an 8-inch blade ensures "less fatigue and quicker cuts when drilling a ton of holes in a day."
For an angler on the move, power and cutting speed are not the only important considerations. Weight is important too. That's why StrikeMaster augers are made lighter than their major competitors, often by a significant amount. With an 8-inch blade, a Honda 35cc Lite weighs only 23 pounds.
A fishing guide and media personality who spends more than 90 days on the ice each winter, Roach has relied on StrikeMaster augers for more than a decade. "In ice fishing, you can live without a lot things – certain creature comforts," he says. "But I can't get by without a StrikeMaster."
2. You Fish Mostly For Panfish, But Sometimes For Walleye and Other Species
If you fish almost exclusively for panfish through the ice, StrikeMaster's Lazer Lite with a 6-inch blade might be your best bet. But if you fish for panfish, walleye and other species, you're going to want a Honda 35 cc Lite with an 8-inch blade – but not larger.
"I go 8-inch because a nice crappie can turn around in a 10-inch hole in the blink of an eye and leave you no chance to grab it!" explains kroger3.
3. You Fish with Small Children
"I experienced a scary moment when my son fell into a 10-inch hole that someone else drilled then covered with slush," says IDO commenter outdoors4life, of Stillwater, Minn. "My 2- year-old fell down all the way to the arm pits!"
IDO commenter stretchout, of Menomonie, Wisc. agrees that "10-inch holes and kids just don't mix." Although kids will often still end up with wet feet around an 8-inch hole, "that's where it ends," he says.
Unless you plan on "stashing many things in your ice hole – up to and including small children," jests commenter cat-stevens, of Rochester, Minn,  "I would stick with an 8-inch auger."
4. You're Clumsy and/or Absent-minded
If you're the type of person who can trip over a gum wrapper, and might forget their head if it weren't screwed on (as is the author of this article, on both accounts), you might be best served by an 8-inch hole.
"10-inchers also have a way of swallowing up gear," notes IDO forum contributor outdoors4life, of Stillwater, Minn. "Most flashers will not go in an 8-inch hole, but a 10-inch they will go in."
5. You Live In the Sticks
You live in a small town, far from the traffic jams, noise and claustrophobia of the Big City. And you love it. But there's trade-offs – like the closest outdoor retail store is two hours away, and if the opposite direction of your honey hole. Sure, you can order replacement parts off the Internet, but deliveries can take a week or more, and the fish are biting now!
Because 8-inch augers are "the most common size," IDO commenter foofer points out, they're the "easiest to get replacement parts for." That means more stores are more likely to carry any replacement parts you need and have them in stock. Which means you are more likely to find what you need at a store on Main Street than need to drive down the highway a couple hours and back.
Top 5 Reasons To Use A 10-inch Drill
1. You Fish Predominantly for Big Predators
"If you're going for bigger fish like walleye and northern, a 10-inch is a lot nicer," says IDO forum contributor onestout, of Hudson, Wisc. "I've lost a few nice fish from not being able to get them to turn their head and come up an 8-hole. It's not as big a deal when the ice is thin and you can reach down and grab them, but when it gets thick there isn't a good way to get to them."
Powered by a state-of-the-art, emission-certified Honda four-stroke OHC engine, the 10-inch Honda 35cc Lite offers quick, effortless and environmentally conscious cutting through the thickest of ice. A two-year warranty on the engine provides peace of mind. Its heavy-duty 10-inch drill features twin stainless steel Lazer blades.
2. You Want To Fish More, Drill Less
With a 10-inch bit, you don't have to re-drill productive holes continually –  a major convenience for someone who drills numerous holes and jumps from one to another and back again. As a 10-inch hole shrinks, kroger3 notes, "you have a lot longer before you need to re-drill it."
The Honda 35 cc Lite is the only 4-stroke power auger you can run with a 10-inch drill. The 10-inch version weighs 26 pounds, making it the lightest 10-inch auger available.
3. You Fish In A Hard-side Shack
"Guys that fish in hard-side houses want bigger holes, so it takes longer for them to ice back up," Holst explains. And if they're staying overnight in their wheelhouses – not driving home – they might want a little extra room in their ice holes for other reasons. "In the permanent shack, I will go 10-inch so I can float a beer while fishing," kroger3 says.
4. You Fish Where Hole Size Is Restricted By Law
On lakes inside the Minneapolis, Minn. city limits, for example, ice holes are limited to 10 inches. But 10-inch drill bits can sometimes "cut a hair bigger," than 10 inches, cautions kroger3. "I have been checked and my holes been measured out there," he says.
5. It's Auger-extension Time
"When there is 50-plus inches of ice, you need some space," says IDO forum contributor jetro, of Mayer, Minn. So a 10-inch drill would come in handy late in the season on famed, far-North ice-fishing destinations like Lake of the Woods and Lake Winnipeg.
Boasting the perfect balance of power, size and speed, StrikeMaster's 10-inch Honda 35cc Lite will deliver an efficient, clean cut, time and time again.
Bonus: Both Save On Gas!
Whichever StrikeMaster Honda 35cc Lite you choose, you won't make as many trips to the gas station.
"They're misers on gas," says StrikeMaster Pro-Staffer Mark Martin. "A lot of times, I only fill that thing up twice a year, and I'm drilling hundreds and hundreds of holes with that.
"So if people are looking for something with gas economy and quietness and power," Martin says, "those StrikeMaster Honda four-strokes are the way to go!"
Note: Contributors to the In-Depth Outdoors forum quoted above did not specifically endorse StrikeMaster or any other brand of power auger. They were offering opinions only on their preferred auger blade sizes for specific situations and use-cases.