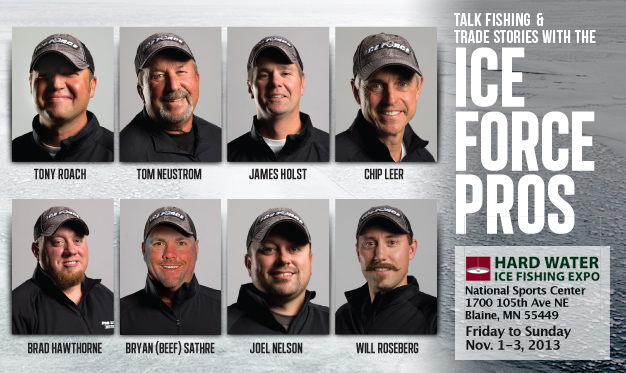 A platoon of ICE FORCE pros will deploy Nov. 1-3 to the Hard Water Ice Fishing Expo to share fishing tips and answer questions about the industry's best augers and electronics, lures and line, snow machines and ice shelters.
ICE FORCE pros Tony Roach, Tom Neustrom, James Holst, Chip Leer, Brad Hawthorne, Bryan "Beef" Sathre, Joel Nelson and Will Roseberg will make camp at the ICE FORCE display, along with StrikeMaster, MarCum and Otter Outdoors factory staffers, to talk ice fishing and hand out free ICE FORCE decals, while supplies last. Buy any ICE FORCE product valued at $10 or more and get a free ICE FORCE beanie, while supplies last.
The Hard Water Ice Fishing Expo will be held inside the 21,000-square-foot Sport Expo Center at the Schwan Center on the National Sports Center campus, at 1700 105th Ave NE in Blaine, Minn.
Expo admission costs $10 per day for adults and $7 a day for youth, ages 12-17. Children 11 and younger can attend for free. Parking is free. Expo hours are:
• Friday, Nov. 1 – 2 to 8 p.m.
• Saturday, Nov. 2 – 10 a.m. to 6 p.m.
• Sunday, Nov. 3 – 10 a.m. to 4 p.m.
Additional expo features include:
• Ice shelter and wheelhouse displays
• Instructional seminars
• Outdoor fishing pond for kids
• Sale prices on ice-fishing gear
• Environmental education
• Guide and resort booths
• Product demonstrations
ICE FORCE comprises the ice-fishing industry's premium brands, including legendary Minnesota-based Rapala, StrikeMaster, MarCum, Otter, Sufix, VMC and Polaris, providing consumers and tackle dealers with a complete line of ice-fishing products, including augers, shelters, sleds, electronics, lures, line, accessories, snowmobiles and off-road vehicles. Learn more about ICE FORCE products and pro-staffers here.

See The Polaris Snowmobile You Can WIN!
While you're at the expo, check out the grand prize in ICE FORCE's Ultimate Giveaway – a custom-wrapped ICE FORCE Polaris INDY Voyager 550. (Register to win it online here.)
A lightweight snowmobile that overachieves in its value category, Polaris' new INDY 550 is a utility sled versatile enough to perform and handle well in both deep snow and on the ice. Purpose built for getting you and everything you need out on the ice and back, it comes standard with a rear hitch for towing and rear storage rack, perfect for towing your Otter sled and storing your MarCum electronics. Learn more about the INDY 550 here.

Meet The ICE FORCE Pros
Tony Roach has been a successful fishing guide, media personality and tournament angler in northern Minnesota for more than a decade. He guides on Mille Lacs, Winnibigoshish, Lake of the Woods, and more. With a vast knowledge of multi-species fishing tactics, Roach teaches everything from Fishing 101 to subtle adjustments anglers can make to put more fish in the boat.
Tom Neustrom, a Freshwater Fishing Hall of Fame "Legendary Guide," guides in and around his home base in Grand Rapids, Minn. A tireless promoter of the fishing industry with 33 years of experience, he guides on more than 35 lakes throughout Minnesota. Since 1992, he has hosted "Guides Corner" heard on KMFY-FM radio from Grand Rapids, Minnesota. He has made a career of the sport he loves through dedication to learning new techniques, his willingness to share his knowledge and his commitment to conservation. He believes by giving back to the sport that has given him so much he can impact the future of fishing in Minnesota for years to come.
Brad Hawthorne, of Isle, Minnesota, a guide for more than a decade, is one of the most recognized and respected anglers on Mille Lacs. He spends more than 200 days a year on water or ice and hosts two web-based fishing shows, "Hooked On The Ice" and "Hooked On the Water."
Bryan "Beef" Sathre is owner/operator of Fathead Guide Service and specializes in multi-species guide trips in the Bemidji/Cass Lake Area. A multi-media master, he makes regular appearances in outdoor publications, videos, websites, and on radio and television as a fishing and hunting expert.
Chip Leer's name and face is a familiar one as he has appeared on or in almost every major outdoor publication and appeared as a guest on numerous regional and national outdoor TV programs. Chip launched the world's first "all ice fishing" TV program, Fishing the WildSide On-Ice, as well as an "open-water" TV program and three different magazines. He also has worked for In-Fisherman as a TV host and tournament director for the Professional Walleye Trail, as well as a product and business consultant for industry manufacturers.
James Holst, founder, host and producer of In-Depth Outdoors TV, has caught more 10-pound plus walleyes live on camera than most will catch in a lifetime. He began teaching fishing as a fulltime guide, spending more than 250 days a year on the the Upper Mississippi River as well as track and hook walleyes in Minnesota's Lake Mille Lacs. In 2000, he lauched his In-Depth Outdoors website. In 2006, he launched In-Depth Outdoors TV.
Joel Nelson, a TV personality on In-Depth Outdoors on Fox Sports, has advanced degrees in the natural sciences, including fisheries and digital mapping technology. Those allow him to both think like a fish and find them, providing the tools necessary to locate new bites on undiscovered bodies of water. A maverick amongst ice-heads, he's always looking for the next tactic or destination, while putting new spins on old techniques to catch more and bigger fish.
Will Roseberg, a TV personality on In-Depth Outdoors on Fox Sports, North grew up on the shores of Lake Mille Lacs. A walleye-trolling expert, he brings a lighter side to the business while maintaining an enviable work-ethic.