A quick-sinking, minnow-shaped jigging lure, VMC's new Bull Spoon falls with an erratic, fish-attracting wounded-baitfish action that will improve your odds of hooking up in your next outing on the ice – no matter what species of gamefish you're targeting. Packing a mean punch in a compact package, it features a 3D holographic eye and an ultra-sharp VMC® treble hook.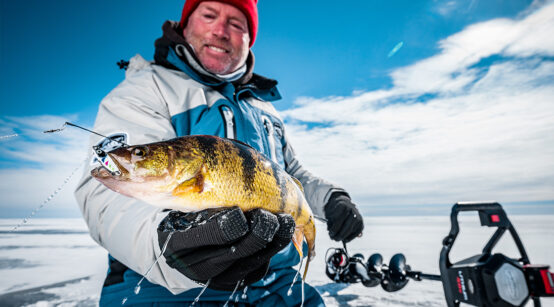 "We absolutely smashed some really nice walleyes on prototype Bull Spoons last winter," says James Holst, an ICE FORCE Pro and host of the influential In-Depth Outdoors TV show on Bally Sports North channel. "Not only do they give you that classic, wounded-baitfish action on the fall, but they also dart around this way and that with every movement of your rod tip when you're fishing them. That action triggers aggressive strikes even from fish that you might normally expect to be a little negative and reluctant to bite."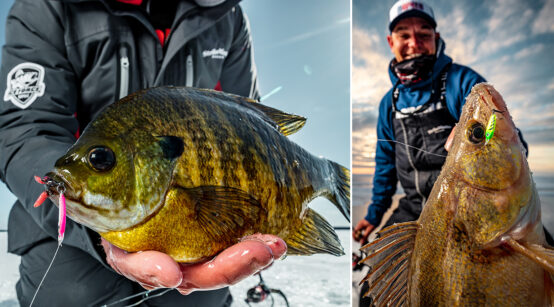 VMC's new Bull Spoons are available in three sizes – all sizes that are perfect for targeting bluegill, perch, crappies and walleye. The smallest model weighs 1/32 oz., measures 3/4 of an inch, and comes armed with a sticky-sharp No. 14 VMC treble hook. The next size larger weighs 1/16 oz., measures 7/8 of an inch and comes armed with a No. 12 VMC Treble Hook. The largest model weighs 1/8 oz., measures one inch long and comes armed with a No. 10 VMC Treble Hook.

Bull Spoons are available in 16 color combinations, including several UV shades and UltraGlow pigments that provide maximum visibility. These color patterns include: Glow Blue Shiner, Glow Black Wonderbread, Glow Chartreuse Shiner, Glow Fire Tiger, Glow Gold Fish, Glow Green Fire UV, Glow Hot Perch, Glow Juicy Lucy, Glow Tiger, Glow Orange Fire UV, Glow Pink Fire UV, Glow Pink Squirrel, Glow Red Shiner, Glow Slimy Lime, Perch and Shiner. UltraGlow luminescence lasts about 15 minutes on a single charge from a bright light.